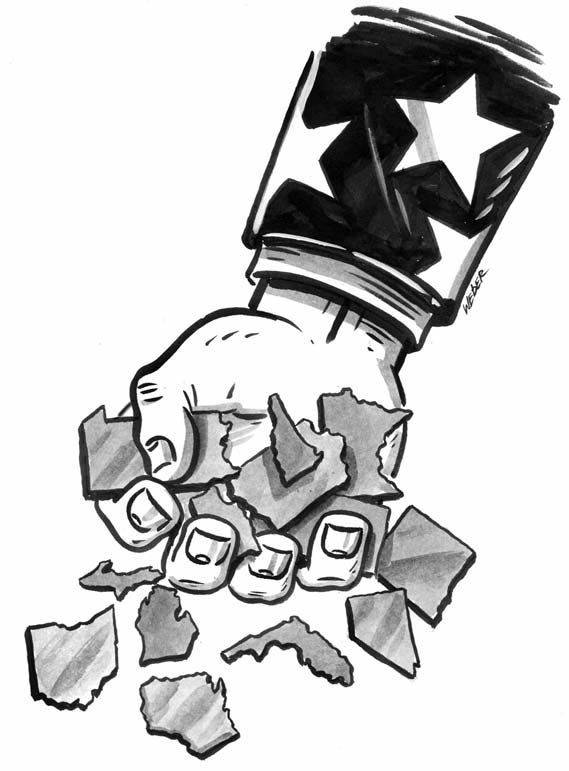 Kavanaugh (redux). I'm writing this while also watching the Senate Judiciary Committee circus hearing. Let's cut past the snap commentary and get to two questions: 1) does the process worsen the Republicans' already-weak standing with women; 2) could Republicans use Kavanaugh's struggles to Democrats' disadvantage in key red-state Senate races?
At least one opportunistic Democrat is taking advantage of the moment – California Sen. Kamala Harris reportedly posting thousands of Facebook ads (many going down one of two roads – President Trump or Roe v. Wade).
But what of the Republican Senate candidates in the three states where Democratic incumbents voted to confirm Neil Gorsuch? That would be Indiana, North Dakota and West Virginia. Will Brett Kavanaugh's treatment become a debate topic when the two candidates go head to head? Will a national organization run ads in the three states (where statewide buys are relatively cheap) tying the Democratic incumbents to the likes of, say, Michael Avenatti?
Texas (redux). It wouldn't be an election cycle without the media's fascination with the thought of Democrats scaling the walls of Fortress Republican Texas. And in 2018, that fascination centers around Rep. Robert Francis "Beto" O'Rourke, the El Paso Democrat trying to take out Sen. Ted Cruz.
Nationally, O'Rourke is a progressive rock star (name the number of Texas Democrats last seen hanging with Bill Maher, skateboarding at Whataburger and pledging -- yes, even before he's won a Senate seat -- that he won't seek the presidency in 2020).
But "all politics is local", as Tip O'Neill famously noted, and a local vote last month was a reminder that Texas remains problematic for Democrats. That would be the election in Texas' Senate District 19, where a GOP businessman scored a six-point victory in a special election – in the same district that Hillary Clinton carried by 12 points in 2016.
Yes, there was Democratic infighting, But the victorious Republican, Pete Flores, had help from the likes of Texas Right to Life, which did its best to undermine former Democratic Rep. Pete Gallego with socially conservative Hispanic voters.
It's one district in a big state. But it's also a reminder that O'Rourke will have to a run a policy gamut in October as Republicans do their best to remind voters that the Democratic challenger is pro-choice, wants to cut defense spending and weaken marijuana laws.
Turnout. How does O'Rourke spring the upset? Monster Democratic turnout.
It won't be for a lack of effort.
Tuesday was National Voter Registration Day and Corporate America got in on the act. Levi Strauss debuted a television spot showing a group of voters against the backdrop of the late Aretha Franklin's "Think". In all, about 150 companies – that includes Levi Strauss, Walmart, Southwest Airlines – have enrolled in a joint "Time to Vote" campaign.
But do such efforts work?
A survey released in June showed that voters under the age of 30 may turn out at a percentage likewise under-30. Seniors voters could turnout at a percentage that runs into the 70's, appropriately enough. This, despite the likes of MTV doing its hippest best to "rock the vote" for nearly three decades now.
Note to progressives: maybe there are wiser ploys than trotting out Snooki to snooker young Americans into going to the polls.
Already Voted. Here's a scary thought: with another month-plus of unknowns between now and Election Day, voting is already underway.
By the end of September, 27 states will have dropped absentee ballots in the mail. The remaining 23 won't do the dirty deed until the calendar flips to October.
Some statistics: more than 57 million Americans cast a ballot before the last nationwide election – about 42% of all Americans who went to the polls in 2016. That's double what it was in 2004. Only 4% of voters took advantage of early voting in 1974.
The Trump campaign wagered correctly on early voting in 2016 – namely, that a lack a enthusiasm for Hillary Clinton would translate to a drop-off in absentee voting. Indeed, that was the case in Iowa, a state the Clinton campaign foolishly targeted rather than increasing its investment across the Rust Belt.
An ominous sign for Republicans in 2018: Florida, scene of highly competitive Senate and gubernatorial races.
Miami-Dade received requests for 312,000 vote-by-mail ballots – a 7.5% increase over 2014. That's an uptick of about 22,000 ballots. Then again, what are the odds of a few thousands votes deciding an election in Florida?
Cherchez La Femme. It's French for "look for the woman". And, no, it's not a reference to the hit disco song from the 1970's.
Here's an Elle list of 10 women "who could make history this November". Yes, it's tilted toward Democrats. It leans heavily on ethnicity. And, in some cases, it's not realistic (in Idaho, for example, Democrat Paulette Jordan faces an uphill climb to become the nation's first Native American governor).
Une femme who didn't make the list but bears watching: Tennessee Rep. Marsha Blackburn, the Republican in that state's open Senate race.
She and her Democratic rival, former Gov. Phil Bredesen, debated last week. Blackburn tried to connect him to the Democratic establishment in Washington, with Bredesen pushing back that he would "not be with Chuck Schumer".
What the race boils down to is messaging.
Let's start with Blackburn:
"As I talk to Tennesseans around the state, the No. 1 thing that they talk about is making certain that we keep the jobs and the economy growing as it is. The No. 1 thing they talk about is they want to make certain that we continue to confirm federal judges and justices that are constructionists, that are constitutionalists, that are going to abide by the rule of law and are not going to legislate from the bench."
Ok, so that's two "No. 1 things". But note the lack of reference to specific accomplishments in this current Congress. And that's a problem for her.
As for Bredesen:
"I think the No. 1 issue for Tennesseans today has got to be the overarching issue of how dysfunctional Washington has become."
Note that he's not taking on Trump in a decidedly red state. That's not a coincidence. And it's his best shot at winning.
Daily Show. Republicans long for Ronald Reagan; if 2018 and 2020 don't go their way, Democrats will further miss Barack Obama.
Personally, I miss Jon Stewart.
And I'll be reminded of this on Election Night, when Trevor Noah hosts a live episode of The Daily Show("Democalypse 2018: Let's Try This Again, America").
Noah has his moments, like this mock calendar spoofing what it'd be like for George Washington as a Supreme Court nominee.
And if Noah were a Supreme Court nominee? Would he make it past these tweets?
Sure he'd try to make light of his past.
But no one's laughing about past indiscretions these days.
Bill Whalen is a research fellow at the Hoover Institution, where he studies and writes on current events and political trends. In citing Whalen as one of its "top-ten" political reporters, The 1992 Media Guide said of his work: "The New York Times could trade six of its political writers for Whalen and still get a bargain." During those years, Whalen also appeared frequently on C-SPAN, National Public Radio, and CNBC.