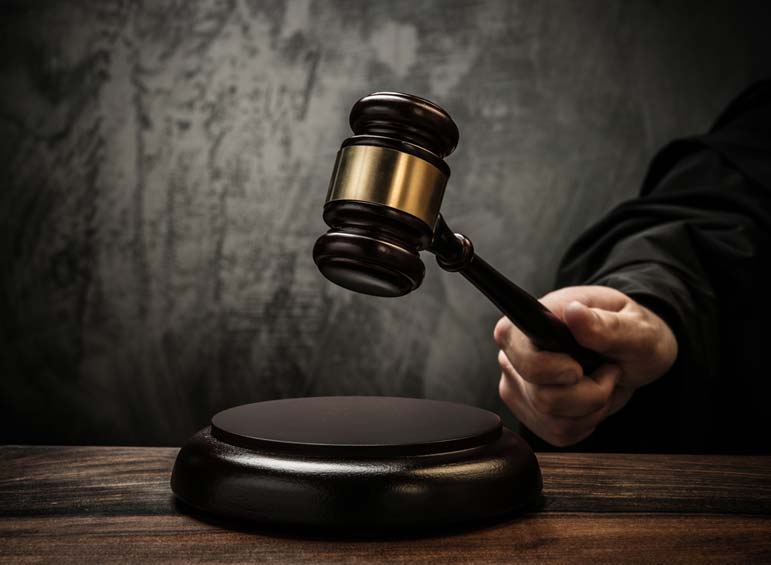 When local prosecutors in northeastern Germany made an announcement about 96-year old defendant Hubert Zafke, it appeared like standard procedure. Zafke's dementia, they said, had "reached a severity that the defendant is no longer able, inside and outside the courtroom, to reasonably assess his interests or coherently follow or give testimony."
Those few words, however, could mark the start of the end of an era of war crimes prosecutions.
Zafke stood accused of assisting in the killing 3,681 people at the Nazi's Auschwitz-Birkenau concentration camp. Although he has denied the charges, a Polish court established in 1951 that he served in the medical unit of the Auschwitz concentration camp, after joining the SS at age 19. At the end of World War II, he was sentenced to four years in prison in Poland, but German prosecutors urged for a separate trial in 2013.
It subsequently took three more years until the trial against Zafke was set to start in the northeastern town of Neubrandenburg in 2016. By that time, Zafke's health had faded, and so had the hopes of thousands of relatives of the victims worldwide who still seek justice for some of the worst crimes in history. His case could be one of the last such trials in Germany, as investigators themselves acknowledge that it is becoming increasingly difficult to find new suspects who are still alive, and legal obstacles that may have hampered extensive prosecutions for too long.
"There are few days which I do not spend wishing that we could go back in time by a couple of years or decades. We could have found so many more suspects," Jens Rommel, the chief prosecutor of the German Nazi crimes agency, told The Washington Post on Friday.
Zafke's case was part of 30 investigations that were handed over to local prosecutor's offices across Germany in 2013 by the Central Office for the Investigation of National Socialist Crimes in Germany. "While the (Central Office) in Ludwigsburg has specialists who investigate the cases and develop the theory of prosecution, actually prosecuting a case falls to a state prosecution office," explained Elizabeth Barry White, a senior historian with the Holocaust Museum in Washington.
The Ludwigsburg-based agency is the world's largest cold cases investigatory unit focused on Nazi crimes, but its legal limits essentially mean that each case consists of two consecutive and separate investigations: first by the national office and later on a local level. "It takes time for prosecutors to review and understand the evidence (and) given the age of the suspects, their capacity to stand trial can change very quickly, so that a once-promising case can overnight become impossible to prosecute," said White.
Of the 30 suspects who were accused of Nazi crimes in 2013, 27 have died before their trials could start or were unable to defend themselves due to their ailing health. Only two have been sentenced: Oskar Gröning and Reinhold Hanning - Hanning died this summer before he was supposed to go to prison.
Zafke could have been the third, and sentencing him would have been easier than at any other point of time in recent German history.
"By 1960, murder and abetting murder were the only Nazi-era crimes that prosecutors could charge," said White, the Holocaust Museum historian. As a result, even high-ranking Nazi officers could often not be convicted of their most gruesome crimes, but were instead charged with lesser offenses. The prosecution of lower-ranking guards or soldiers was even more difficult.
"As time passed and the higher-ranking perpetrators died out, the pool of potential defendants shrank to those against whom evidence was hardest to find," said White. A radical rethink was needed, and it came in 2011 with the conviction of former Nazi guard John Demjanjuk.
Whereas prosecutors previously had to prove that individuals were responsible for the crimes themselves and proceeded independently, Demjanjuk's sentence was based on the fact that he had been a guard in a Nazi facility whose primary function was mass murder. The judges assumed that anyone who worked in any such facility abetted the murders carried out in it.
Demjanjuk died before his appeal against the sentence could be rejected. It took until the rejection of Oskar Gröning's appeal last year for that approach to be confirmed as legally viable. Gröning's conviction was the first such ruling that will likely result in a former guard being sent to prison, given that the now 96-year-old was declared fit to serve his sentence this August.
Some fear that it may also be the last.
If it had come years or decades earlier, hundreds more guards could potentially have been sentenced.
Since the 1960s, the Nazi crimes investigations office has shrunk from 120 employees to now 20. Only eight of them are prosecutors who are actively involved. "We have to do things one by one. There are entire death camps we haven't yet been able to get to," said Rommel, the chief prosecutor.
It remains unclear how much longer Rommel and his colleagues will be able to hunt down the last remaining untried Nazi guards. "A number of countries have had specialized offices charged with bringing to justice the perpetrators of Nazi crimes, but these efforts have diminished significantly or halted altogether in recent years," said White.
Between 2015 and 2016, the number of cases Rommel handed over to local prosecutors declined by more than 50 percent. He and his colleagues have recently come across multiple new names, but Rommel declined to provide details as the investigations are ongoing.
"We need to keep in mind that the age range of the suspects we now focus on is 90 to 99," said Rommel.
Previously:
• 07/19/17 13,000 girls in Germany at risk of genital mutilation following refugee influx, report warns
• 07/25/16 Germany has some of the world's strictest gun laws, yet illegal weapons remain a threat
• 07/11/16 Leaked document says 2,000 'Middle East' men allegedly assaulted 1,200 German women on New Year's Eve