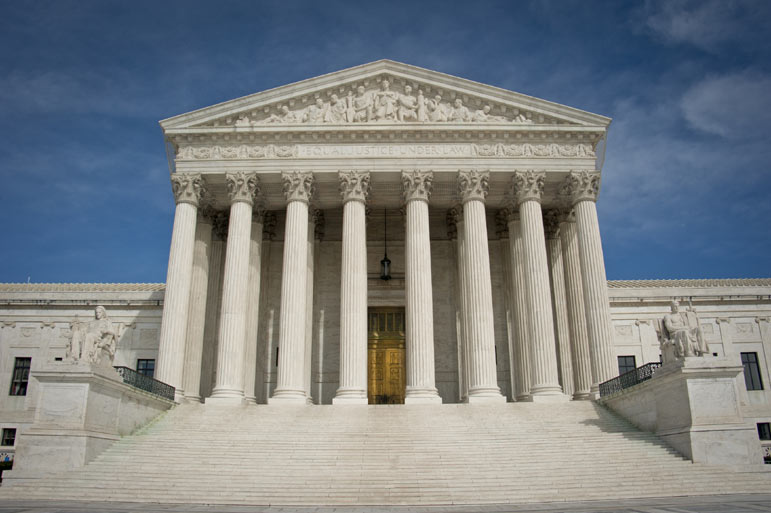 Of all the central national issues our presidential candidates are hotly debating only eight weeks from Election Day - disputed medical conditions, a border wall that won't be built and who's a bigot - the most important topic is tagging along as an afterthought.
That is the Supreme Court and the three, maybe four, appointments the next POTUS will make. The average age of Supreme Court retirements the last half-century was a little past 78. Three justices now are older than 77, and one is 83.
Those jurists, including the late Justice Antonin Scalia's replacement, will reshape American life for the next generation or two as they solidify the court or tilt it in a different ideological direction.
So far the two most distrusted, disliked major-party candidates in modern history have only paid lip service to that enduring presidential power.
Maybe, if it's on moderator Lester Holt's question list, the issue will finally emerge during the first debate Sept. 26, a week before the eight surviving justices reconvene.
But so far the two most distrusted, disliked major-party candidates in modern history have only paid lip service to that enduring presidential power.
Often that attention emerges merely as an ominous fundraising warning: Give me money now or else the other side gets to pick.
To be sure, in an effort to create conservative bona fides during the primary era last spring, Donald Trump released a list of respected judges he could consider candidates. He said they were "representative of the kind of constitutional principles I value."
The eight men and three women are state supreme or federal appeals court judges, all appointed by Republicans.
The field drew widespread praise from conservative circles. Less noticed was Trump's wiggle-room qualification when asked whether any nominees would come from that list: "Or people like them."
Through the July convention, Trump made much of what conservative radio host Hugh Hewitt calls "Trump's trump card."
Does it really matter whether they share their Supreme Court plans? Would you even believe them?
And the real estate deal-maker seems quite confident of his leverage. "They have no choice," Trump declared last summer. "Even if you can't stand Donald Trump, you think Donald Trump is the worst, you're going to vote for me. You know why? Justices of the Supreme Court. If they pick judges, we're going to end up with another Venezuela, just a bigger version."
Clinton has said: "We need to appoint Supreme Court justices who will get money out of politics and expand voting rights, not restrict them. And we'll pass a constitutional amendment to overturn Citizens United!"
Significantly, Clinton has not committed to renominating President Barack Obama's pick, Merrick Garland, the chief judge of the U.S. Court of Appeals for the District of Columbia Circuit. He's stalled in the Senate, where a slim Republican majority could be endangered if any Trump antipathy trickles down-ballot on Nov. 8.
Liberals grumble that Obama threw away a galvanizing election issue by not naming a flaming progressive, instead of the more moderate Garland. Having a more intense confirmation fight with Senate Republicans could have given Clinton a better rallying cry to bring out the Obama base she needs to win.
"If you don't believe this election is important," added socialist Sen. Bernie Sanders, trying to ignite support without mentioning Obama's candidate, "If you think you can sit it out, take a moment to think about the Supreme Court justices that Donald Trump would nominate."
But wait! Does it really matter whether they do share their Supreme Court plans? Would you even believe them?
The latest Fox News Poll of registered voters finds that only 31 percent see Clinton as honest and trustworthy while 35 percent say that about Trump.
Have Americans become so cynical about politicians and so accustomed to lying leaders - like the incumbent's serial Obamacare promise about keeping your doctor - that they now tolerate or even expect dishonest candidates? Barring a political earthquake high on the Richter scale, 21st-century Americans as of now are about to elect a commander in chief whom only 1 in 3 trust.
Andrew Malcolm
McClatchy Washington Bureau
(TNS)
Comment by clicking here.
Malcolm is an author and veteran national and foreign correspondent covering politics since the 1960s.