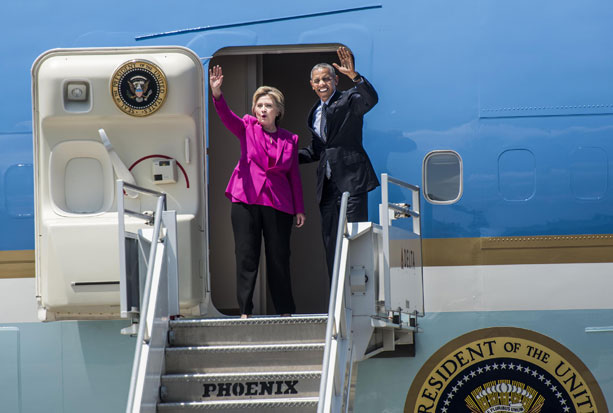 The low point of Donald Trump's campaign so far came about a week after the conclusion of the Democratic convention. His mediocre convention was followed by Hillary Clinton's successful one, which was followed by Trump's fight with the family of a Muslim servicemember who was killed in Iraq. By Aug. 8, Trump trailed Clinton by 8 points in the RealClearPolitics average of national polls. Since then, he has steadily climbed back, thanks in part to undecided voters coming on board and thanks in part to Clinton's support fading a bit.
I have found that the most informative benchmark for measuring Trump's success is by comparing it to Mitt Romney's. Romney lost in 2012, of course, so Trump must win at least a few of the states that Romney lost in order to pass the 270-electoral-vote threshold. Which states he needs to win is a bit more in flux; various combinations can get him over the necessary margin.
As it stands, Trump is performing a bit better now nationally than Romney was at this point. Romney saw a surge shortly before the election thanks to his strong performance in the first debate; that surge pushed him into the national lead in the polling average. (Though we hasten to note that the final Real Clear Politics average was lower than the actual result, thanks in part to pollsters underestimating the turnout of nonwhite voters.)
The release of a new survey from NBC and the Wall Street Journal on Wednesday evening showing Clinton with a 7-point lead helped reverse the direction of the trend over the past few days. Time will tell if that reversal holds.
As the national polls have moved toward Trump, so have the state polls. If we look at the 11 states which are closest right now in the RCP average, Trump has gained about two points on average since the start of the Republican convention. In only two states, Georgia and New Hampshire, has he lost ground over that period. He still trails in four of those 11 states (Colorado, Wisconsin, New Hampshire and Virginia), and is tied in a fifth, Florida. He leads in Ohio, Iowa, Nevada, Georgia, Arizona and North Carolina. Obama won the first three of those.
In about half the states, he's faring better than Romney did four years ago, by varying margins.
The three states where he's performing at the widest discrepancy from Romney are Ohio, Nevada and Arizona. In all three, he has a lead of around 2 points. Obama won Ohio by 3 and Nevada by almost 7 points; Romney won Arizona by 9.
In Ohio, the big shift toward Trump has been fairly recent, bolstered by a slew of polls showing him with a sudden lead. Add that to Romney's collapse in the state at this point four years ago, and you see a big difference.
The closest states right now mirror Romney's performance a bit more closely. In Florida, Trump is tied with Clinton; Romney trailed Obama by a bit at this point in 2012.
In North Carolina, Trump's finally taken the lead after trailing slightly for some time.
But remember: Romney won North Carolina, too, along with Arizona. That's the problem at the heart of Trump's electoral math: The map is already working against him.
Consider this. If we apply the current RCP averages to the states nationally, Trump wins a majority of states.
But he still trails Hillary Clinton by 37 electoral votes. Give him Florida (currently a toss-up) and he still trails by 8. In other words, Trump can win seven of the 11 closest states -- Florida, Arizona, North Carolina, Ohio, Nevada, Georgia and Iowa -- and still lose. If Clinton wins Florida, Trump needs to win all 10 of the other states to win the election (which he would do by 6 electoral votes). Where Clinton leads, she leads by an average of 5 points.
Remember, though, that Trump's position two weeks ago was much worse. His national improvement showed up in state polls, meaning that the electoral math has shifted in his favor. If the national polls keep shifting his way, it will keep dragging states into his column, changing the math.
Previously:
• 07/07/16: Hillary's campaign will probably pay only a fraction of the cost of Obama's endorsement stop
• 07/04/16: What would have happened if Joe Biden had run?
• 06/27/16: Hillary Clinton leads, but Donald Trump supporters are more certain they'll vote
• 06/15/16: Tenure vs. Toughness: Hillary's terrorism fighting background would seem to be an advantage. Thus far, it really hasn't been
• 05/25/16: Donald Trump's primary success may have convinced him to make a critical error
• 05/06/16: So you want an independent candidate for president? You're running out of time
• 04/27/16: How Donald Trump dominated Tuesday's primaries
• 04/14/16: Trump's complaints about process are just whining
• 04/11/16: Trump's terrible night in Colorado exemplifies his campaign's Achilles' heel
• 04/04/16: In the year of Trump, a made-up news website run by an ex-convict finds success
• 03/30/16: Is Donald Trump a politician? An investigation
• 03/29/16: California could hand Donald Trump the GOP nomination --- and then doom him on election night
• 03/28/16: Let's uproot the pernicious, unproven claim that Ted Cruz attacked Donald Trump's wife
• 03/24/16: Why Donald Trump is poised to win the nomination and lose the general election, in one poll
• 03/23/16: The Brussels attacks and the increasing isolationism of Donald Trump
• 03/21/16: Will the GOP really keep trying to Stop Trump for four more months? It'll be tough
• 03/10/16: The unravelling of a political messiah
• 03/08/16: Hillary's bogus electability argument
• 03/07/16: Donald Trump has not brought 'millions and millions' of people to the Republican Party
• 03/02/16: Trump cites his $100,000-a-year golf resort as proof of his efforts on equality
• 02/23/16: Ted Cruz isn't running a dirty campaign, but that perception just cost a staffer his job
• 02/22/16: How Donald Trump won South Carolina
• 02/19/16: Trump says he'll win independents and New York state, but the numbers don't
• 02/19/16: Does Trump have a ground game? We probably still won't know after South Carolina
• 02/17/16: The Bush family reinvented itself to dominate politics --- which is now Jeb's problem
• 01/27/16: The dead people of America really don't want Hillary Clinton to be president
• 01/21/16: Sarah Palin's son, and the link between combat duty and veteran violence
• 01/18/16: The dark undercurrent for Hillary Clinton in Sunday's Dem debate
• 11/23/15: Just so you know: The government already has a list of Muslims in the U.S.