Jewish World Review Sept. 26, 2003 / 29 Elul, 5763

Jack Kelly
Blackout on progress in Iraq?
http://www.NewsAndOpinion.com | The commentary by Doug Saunders of Toronto's Globe and Mail began in a fashion familiar to readers and viewers of the Western news media:
"Six months before, the world had cheered as the statues of the dictator came crashing down. The Americans had seemed heroic. But now things were going very badly. The occupation was chaotic, the American soldiers were hated and they were facing threats from the surviving supporters of the dictator, whose whereabouts were uncertain.
"Washington seemed unwilling to pay the enormous bill for reconstruction, and the president didn't appear to have any kind of workable plan to manage the transition to democracy. European allies, distrustful of the arrogant American outlook, were wary of cooperating."
Doug Saunders was writing not of Iraq in September, 2003. He was writing about Germany in November 1945. His article provided something rare in the news media today: perspective.
Biased, unbalanced news accounts are giving Americans a false picture of what is going on in Iraq, and are harming our prospects of creating a democracy there, said Georgia's Rep. Jim Marshall, after a visit to that country.
The news media "are dwelling upon the mistakes, the ambushes, the soldiers killed, the wounded," Mr. Marshall said. "Fair enough. But it is not balancing this bad news with the rest of the story, the progress made daily, the good news. The falsely bleak picture weakens our national resolve, discourages Iraqi cooperation and emboldens our enemy."
Mr. Marshall's comments could be written off as just another Republican defense of the embattled president. Except Mr. Marshall is a Democrat, one of the few in the Copperhead party to put the welfare of the country ahead of short-term partisan advantage.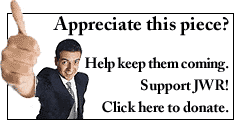 "Outside of Baghdad, things really aren't as bad as they look on the news," said UPI defense correspondent Pamela Hess in an interview last week with CSPAN upon her return from Iraq. "Now, naturally on the news, we're gonna focus on where the troubles are, because that's what makes news. But there are places in Iraq where things are going pretty well. You can't say 'just fine' because the power is down, there is no phone service. But things are pretty peaceful. People are patient and are slowly rebuilding things back together."
Last week, I covered the return to Pittsburgh from Iraq of a Marine reserve military police company. These Marines made the march of Baghdad with the 1st Marine Division, and spent the bulk of the postwar period escorting convoys between Basra and Najaf. Each of the seven Marines I interviewed said that more than 90 percent of the Iraqis they encountered were friendly.
The accounts of these Marines square with those of most other servicemen returned from Iraq, and with my own experiences as a reporter embedded with the 3rd Armored Cavalry Regiment in western Iraq, and with the 1st Armored Division in Baghdad. But it's a story you hardly ever hear on the evening news.
Iraq is a dangerous place. Saddam Hussein is still at large, as are thousands of his diehard supporters. They've been joined by hundreds, perhaps thousands of foreign terrorists. Though these "insurgents" cannot challenge the U.S. military for control of any part of the country, they'll be able to conduct remote ambushes and terror bombings for months to come.
But viewed in historical perspective, things in Iraq are pretty good, and getting better. The insurgents are a tiny - and dwindling - minority. Most of the country is at peace. Nobody is starving. Signs of reviving economic activity are everywhere. In no country in the Arab world are Americans as popular as they are in Iraq.
Contrast this with Germany in November 1945: "Six months after VE Day, the New York Times reported that Germany was awash in unrest and lawlessness," Saunders wrote. "More than a million displaced persons roamed the country, many of them subsisting on criminal activities."
Iraq hasn't been transformed into Switzerland in less than six months. No reasonable person ever expected that it could be. But an unrealizable ideal should not obscure the significant progress that has been made.
Every weekday JewishWorldReview.com publishes what many in Washington and in the media consider "must reading." Sign up for the daily JWR update. It's free. Just click here.


JWR contributor Jack Kelly, a former Marine and Green Beret, was a deputy assistant secretary of the Air Force in the Reagan administration. Comment by clicking here.
© 2003, Jack Kelly