Jewish World Review Sept. 22, 2003 / 25 Elul, 5763

Jack Kelly
Tracing Clark's military map
http://www.NewsAndOpinion.com | Retired General Wesley Clark has thrown his helmet into the ring. He has improved the Democratic presidential field by entering it, just as he improved the Army by leaving it.
Clark is a brilliant man, and a brave one. A Rhodes scholar, he was decorated three times for heroism as commander of an armor company in Vietnam.
"Those of us who knew him as a captain thought the country would be short-changed if he didn't rise to very high rank," said a retired Army colonel who was a student of Clark's when Clark taught at West Point. But Clark's kindergarten teacher probably noted that he doesn't play well with others.
Clark "is able, though not nearly as able as he thinks, and has tended to put his career ahead of his men to the point of excess," said a defense consultant well acquainted with the Army's senior officers. "He is opportunistic and lacks integrity. He will be an absolute menace if he gets into a position where he can exert influence on the Army because he lacks true vision and is prone to be vindictive."
Clark "regards each and every one of his subordinates as a potential threat to his career," said an officer who served under him when Clark commanded a brigade of the 4th Infantry Division in the 1980s. An officer who served under Clark when he commanded the First Cavalry Division said he was "the poster child for everything that is wrong with the general officer corps."
Clark doesn't get along terribly well with superiors or with allies either, which lead to his premature departure as commander of NATO.
Clark was CINCEUR when the Kosovo war began, and bears much of the responsibility for President Clinton's decision to try to bomb Serb dictator Slobodan Milosevic out of Kosovo. Clark argued that after a few days of bombing, Milosevic would fold his tent and slink away. When the Serbs didn't budge after months of bombing, Clark lost Clinton's favor.
As the war dragged on, Clark advocated the use of ground troops. This put him at loggerheads with Gen. Henry Shelton, the chairman of the Joint Chiefs of Staff, and with Gen. Eric Shinseki, chief of staff of the Army, who thought this was a terrible idea. These generals faulted Clark for getting America into an unnecessary war, and for having done a poor job of preparing for it.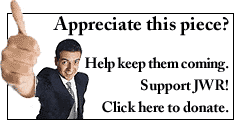 "NATO did not expect a long war," wrote former Clinton national security aide Ivo Daalder. "Worse, it did not even prepare for the possibility."
The conduct of the war drew unprecedented criticism from Clark's predecessor, Gen. George Joulwan, and a quiet rebellion by subordinate commanders. "Clark found his control over ongoing operations eroding," wrote retired Army Col. Andrew Bacevich. "Rather than the theater commander, he became hardly more than a kibitzer."
What may have triggered Clark's early departure from NATO was a confrontation with the British general who was to command NATO peacekeepers. After a Serb surrender had been negotiated with the help of the Russians, Clark ordered Sir Michael Jackson to parachute troops onto the airport at the Kosovar capital of Pristina, so that NATO would hold it before Russian peacekeepers arrived.
Jackson refused. "I'm not going to start the third world war for you," he told Clark, according to accounts in British newspapers.
Shortly after the confrontation with Jackson, Clark was told his tour as CINCEUR would end two months early. Neither Shelton nor Defense Secretary William Cohen attended his retirement ceremony, a remarkable snub for a four star general.
Clark read Milosevic wrong, helping to provoke the Kosovo war, which he then fought badly. Clark picked up where he left off in his second career as a television kibitzer of military operations. As an analyst for CNN, Clark harshly criticized the war plan for Iraq devised by Gen. Tommy Franks, the CENTCOM commander, and Defense Secretary Donald Rumsfeld. Clark turned out to be completely wrong.
It says something fascinating about the Democratic field that this failed general is the class of it.
Every weekday JewishWorldReview.com publishes what many in Washington and in the media consider "must reading." Sign up for the daily JWR update. It's free. Just click here.


JWR contributor Jack Kelly, a former Marine and Green Beret, was a deputy assistant secretary of the Air Force in the Reagan administration. Comment by clicking here.
© 2003, Jack Kelly