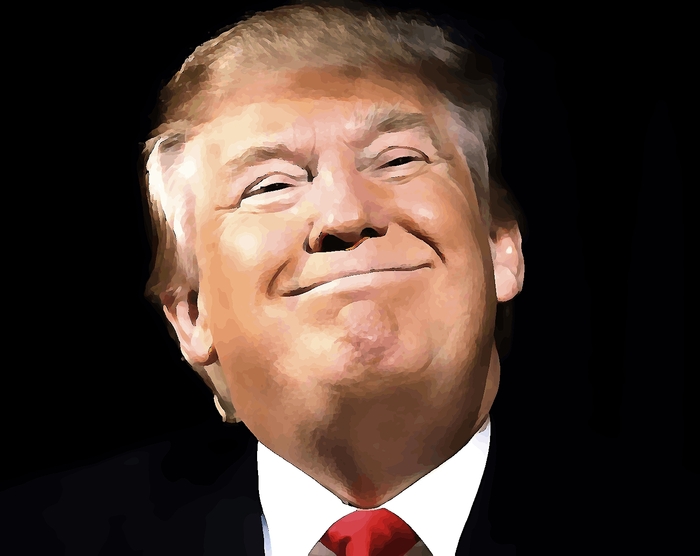 President Trump took a vacation earlier this month.
Not that you would've noticed.
In true Trump fashion, the President didn't take a break from tweeting. Nor did he temporarily recede from the news cycle as some presidents do when the photo-op of the day is tooling around in a golf cart, cruising aboard a sailboat, or working the land.
How did Trump pass his time during his 2019 "time away?" Yes, he played golf (made easier by the fact that, for the third straight summer, Trump's August vacation took place in Bedminster, New Jersey, and the golf course he owns there).
Otherwise, try this for "time off": Trump held a pair of re-election fundraisers in the Hamptons; he visited a Shell petrochemical factory in swing-state Pennsylvania; and he jetted up to New Hampshire (also a 2020 battleground state) for a campaign rally — just hours after Trump had called two AOC "squad" members "very anti-Jewish and anti-Israel."
Meanwhile, the President tweeted — by the bushel. That included statements on the China trade dispute, The New York Times' long-term outlook, the death of Jeffrey Epstein (Trump played a conspiracy card popular with inveterate Clinton-haters), as well as praise for baseball's Curt Schilling ("a great pitcher and patriot") and brickbats for CNN's Chris Cuomo "He's nuts!").
If that sounds exhausting . . . well, yes it is.
And it likely won't change — not as long as Trump holds office. If there's such a creature as a second Trump term, maybe the President can do the nation a favor and take a real August vacation — a break from politics that includes radio, television and Twitter silence.
One of the sadder developments of American journalism during the course of the past three presidencies has been dime-store psychology supplanting actual reporting. Thus Bill Clinton's actions — most notably, taking up with a White House far closer to his daughter's age than that of his spouse — were viewed through the lens of a man raised by steel magnolias, George W. Bush's decision-making was the function of a son trying to please his father. Barack Obama was a curious blend of charisma and solitude ("A community organizer who works alone," Vanity Fair once lamented).
Trump's summer vacations ("working vacations," the White House insists) fall under the same rubric.
The President's alpha-male swaggering, the theory holds, doesn't allow for relaxation lest his critics slander him as weak (think Gordon Gekko's "lunch is for wimps" line in Wall Street). Indeed, during the 2016 campaign, Trump regularly denounced Obama as a "habitual campaigner" and promised not to take much time-off if elected. Trump himself has allowed a little insight into his psyche's working. "Don't take vacations," Trump tweeted back in November 2012. "What's the point? If you're not enjoying your work, you're in the wrong job — Think Like a Billionaire."
Of course, there's a flip side to Trump's vacation approach: it's Trump being Trump. He can't decompress because that's how he thrives . . . on perpetual motion and constant friction.
Should Trump take a traditional, low-key presidential summer vacation — think Bush 43 clearing brush at his Crawford ranch; the Obama's kicking back at Martha's Vineyard (where they just bought a $15 million oceanside spread) — then the nonconventional Trump begins to resemble . . . a more traditional president.
Where does the Trump White House go from here?
Perhaps there's another detour to Bedminster next August, before Labor Day and the general election beginning in earnest. If Trump's reluctant to do so, maybe a clever White House aide will come up with an excuse for the President getting out of Washington (in 2017, Trump had to vacate the West Wing for two weeks while improvements were made to the its heating and cooling system, the result being a 17-day presidential stay at the secluded New Jersey golf club).
A less likely scenario has Trump advisors telling the boss that a cleverly orchestrated, strategically located vacation might achieve a little presidential image-polishing (think back to the 1996 campaign and the Clinton basing their summer retreat on what "married people with kids" approved of for vacation activities).
Poll numbers in hand, Bill Clinton headed west to Wyoming (hardly a Democratic bastion) and the Tetons for summer stays in the summers of 1995 and 1996. The First Family camped in a real tent (but otherwise stayed at a nearby Rockefeller estate), attended a rodeo, ate at a restaurant picnic table, hiked around a lake, navigated the Snake River's rapids and went searching for bison, at night, in a Chevy Suburban.
Golfing, by the way, was not a popular pursuit with Clinton's focus group.
Ivanka Trump was in Wyoming earlier this month — vacationing with her family and headlining a presidential fundraiser in Jackson Hole. Maybe her father follows her lead next year.
Trump carried 68% of Wyoming's vote in 2016. If he wants to vacation in the Tetons, he won't lack for fans willing to host him for a couple of weeks.
Preferably, that's summer lodging at high altitude . . . where the air and cellular coverage is thin — and Twitter out of the question.
Sign up for the daily JWR update. It's free. Just click here.