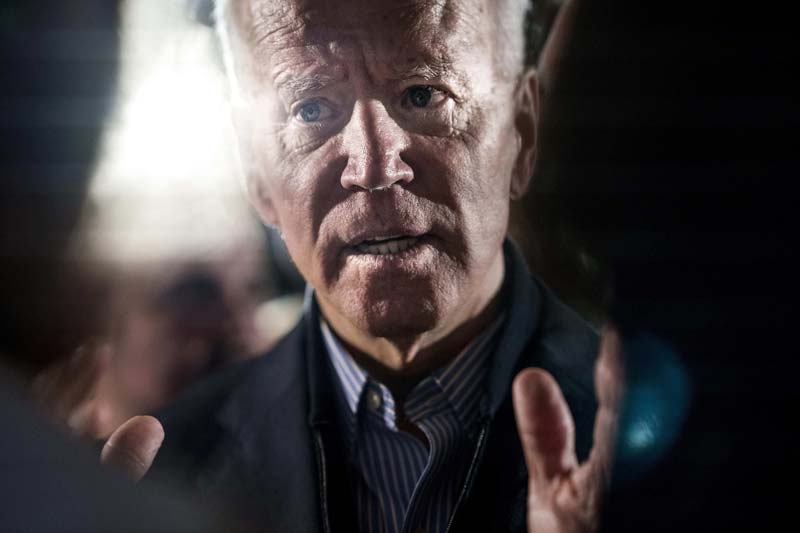 If you want to go dizzy, do an Internet deep-dive on the phrase: "age is just a number."
What come up: books, relationship advice — plus the question of to whom the adage should be attributed.
But do a second Internet dive on "age and the 2020 election" and whose name and image pops up?
Joe Biden.
In case you're not aware, Biden is trying to make political history by becoming the oldest man elected, for the first time, to the American presidency (Biden's 78th birthday is 17 days after next year's nationwide vote). If that happens, he bests the standard set by one Donald John Trump, who was 70 at the time of his victory in 2016.
What intrigues me about Biden as the town elder in this, a mob of angry Democratic villagers:
It's not only Biden's third presidential run, but the last act in a quest that spans three decades and two centuries (Biden previously ran for president in the 1988 and 2008 cycles).
Biden first came to Washington as a newly-elected U.S. senator in early 1973 — a job he'd hold until assuming the vice presidency in 2009 (sadly, 36 years in the U.S. Senate barely places Biden in that chamber's top-20 for longevity).
The significance of a career that dates back to 1973?
Six of Biden's competitors in the long list of non-fringe 2020 Democratic hopefuls — South Bend Mayor Pete Buttigieg, former HUD Secretary Julian Castro, Hawaii Rep. Tulsi Gabbard, Massachusetts Rep. Seth Moulton, Ohio Rep. Tim Ryan, businessman Andrew Yang — had yet to enter this world.
Another Biden rival — former Texas Rep. Beto O'Rourke — celebrated his first birthday in the fall of 1973. New Jersey Sen. Cory Booker was a four-year-old preschooler. California Sen. Kamala Harris (born in 1964) and New York Sen. Kirsten Gillibrand (born in 1966) were grade-schoolers (1973 also marking the tail-end of busing in Harris' Berkeley).
That's 10 Democrats — enough to fill one debate night.
Here's another way to look at Biden's length of tooth: born in 1942, the 1964 election was his first opportunity to cast a vote for president (the lower voting age not taking effect until 1972). Biden plagiarized Bobby Kennedy during his first presidential run; had the her of "Camelot" lived, Jack Kennedy would have received that first Biden vote.
While we're at it — and at the risk of sounding macabre: the currently life expectancy in the U.S. is 78.6 years; life expectancy for the birthday class of 1942 is roughly 68 years. Biden's closing in on one milestone and is well past the other.
On the one hand, it's not like Biden looks the part of an old man: he appears to be hale and vigorous. His mother passed away in January 2010 at the age of 92. Joseph R. Biden Sr., the future vice president's father, passed away in 2002 at the age of 86.
Where age does matter, however, is in the tradition of how Democrats produce winning presidential candidates.
Dating back to 1932, only five Democrats have managed either to unseat a sitting Republican president (Franklin Roosevelt in 1932, Jimmy Carter in 1976, Bill Clinton in 1992) or prevail in an open-seat contest (JFK in 1960 and Barack Obama in 2008).
(FYI: I'm omitting Harry Truman and Lyndon Johnson from this conversation as they inherited the job)
If we then eliminate FDR fr0m the conversation as that was the age of radio and not television (acoustics vs. optics) and also table Carter as the Watergate hangover draped over the 1976 election, that leaves us with the trinity of Kennedy, Clinton and Obama.
What they had in common: youth, generational shift, timely messaging.
Kennedy was 43 at the time of his victory. Clinton was 46; Obama was 47 (FDR, by the way, was 50; Carter was 52).
As for generational shift, Dwight Eisenhower was born nearly 27 years prior to Kennedy. George H.W. Bush preceded Clinton by 22 years. George W. Bush was born only 15 years before Obama. However, John McCain (the Republican nominee in 2008) was nearly 25 years Obama's elder.
And Biden? He's three years and seven months older than President Trump, who turned 73 in June.
We could be at a point in presidential process where the age/generational dynamic and the instinct to turn to younger successors is no longer etched in stone. In 2016, neither party produced a nominee who was younger than Obama, who was 55 at the time.
Voters in November 2020 could see two septuagenarians on the same debate and say meh to the notion of "too old for the job."
The bigger problem for Biden is a candidacy, as currently structured, that misses what worked for Kennedy, Clinton and Obama: big ideas (the New Frontier) and the sense that something different was afoot (triangulation,"hope").
Biden is not the "issues" candidate in the present Democratic field. That distinction currently belongs to Massachusetts Sen. Elizabeth Warren, whose campaign has been a steady drumbeat (no tom-tom jokes, please) of policy proposals (taxing the rich, universal child care, college debt relief).
Nor is Biden tossing around big ideas. Then again, if you look at the polling numbers for the likes of Medicare-for-All and slave-descendant cash reparations, that's not a bad place to be — especially when media outlets ordinarily in the business promoting the liberal cause are starting to question the "factual plausibility" of said big ideas.
The question moving forward: what does Biden have to offer the electorate other than the notions of "Trump fatigue" and Obama nostalgia? Does he want to usher in a new era of government, or is his fate that of a placeholder presidency — which is what it'd be without control of Congress — until a younger Democrat comes along in 2024?
Life begins at 40, the America psychologist Walter Pitkin proclaimed in a best-selling, self-help book that was published a full decade before Joe Biden came into this world.
For Biden, does presidential life begin at 77?
Sign up for the daily JWR update. It's free. Just click here.