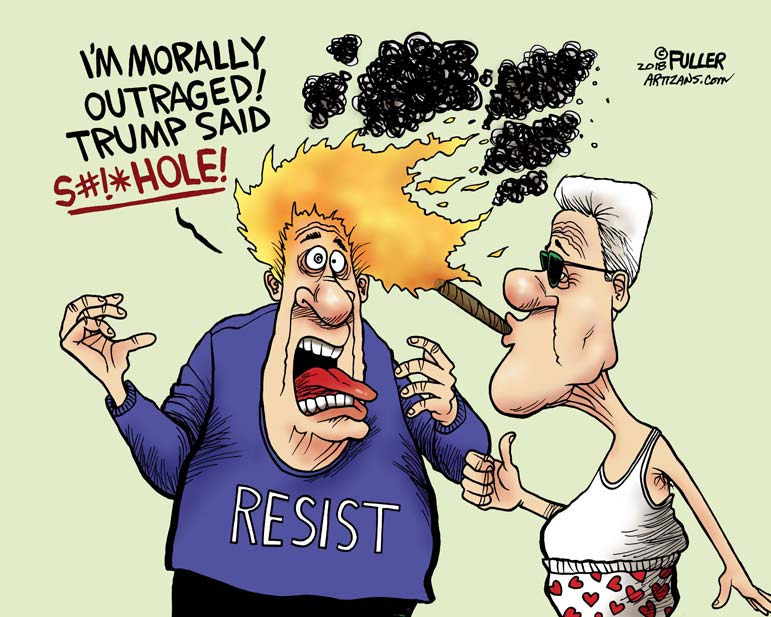 Some dates are etched in the American landscape: December 7, November 22, September 11, July 4.
Still other events beg the question of "what if." Does JFK survive his visit to Dallas if the bubble-top stays atop the presidential limo? Do the final chapters of the Cold War play out the same if Ronald Reagan doesn't recover from an assassination attempt?
Here's another what-if: Bill Clinton and impeachment, a judicial and political saga we may be revisiting in 2019 depending on the outcome of the November election and what else there's to learn about Donald Trump's affairs (political, business, legal and otherwise).
To recap: on December 19, 1998, then-President Clinton was impeached by a partisan-divided House of Representatives on charges of lying under oath and obstruction of justice – the end-result of a four-year investigation into multiple alleged scandals (improper Arkansas real estate deals, cronyism, fundraising violations and claims of sexual harassment that culminated in the revelation of an affair between the president and a White House intern.
On Feb. 12, 1999 (yes, Lincoln's birthday), the U.S. Senate voted on the articles. The perjury charge received only 45 "guilty" votes (10 Republicans crossed over and voted not-guilty). The chamber was evenly split, 50-50 (5 Republicans crossing over), on obstruction of justice.
(Here's the roll-call votes, if you're curious).
For argument's sake, let's suppose that history takes a different course. Instead of riding out the impeachment trial, President Clinton instead goes on television on the night of August 17, 1998 (which he did). After admitting to the affair, Mr. Clinton tells the nation that he's stepping down from the presidency at noon the following day for the good of the nation – and the health of his family.
This would have been 24 years and 9 days after Richard Nixon did the same in this televised address to the nation, thus averting a likely Senate conviction over his role in the Watergate scandal.
So how does political history change if Bill Clinton's presidency comes to an earlier end?
Let's start with the 2000 election. Al Gore is now the president, looking for a full four-year term. The job promotion and airplane upgrade just may be enough for an extra 538 votes in Florida and victory in the Electoral College.
Or maybe Gore doesn't prevail. Only in the case of Harry Truman has the nation voted to extend two-or-more terms of Democratic rule – a lesson Hillary Clinton learned the hard way in 2016.
Speaking of whom . . .
If Bill Clinton resigns in disgrace, it's now an act of political courage (ok, chutzpah) for his spouse to seek the open Senate seat in New York in 2000. Perhaps Mrs. Clinton runs for the Senate at a later date – albeit, in a different state (one such target: an open seat in Illinois, in 2004, where the primary competition would include a charismatic state senator).
Or maybe Mrs. Clinton sets her eyes on the presidency . . . of a prestigious university. Taking us back to New York, Lee Bolinger became Columbia University's president in 2002.
(One immediate improvement, by the way: the nation is spared the current spectacle of Lanny Davis, formerly Bill Clinton's special counsel during his impeachment proceeding but now representing Michael Cohen (here's Mr. Davis panhandling for money and walking back some of his client's wilder allegations)).
In this scenario, there is no Hillary presidential run in 2008. But is there a Barack Obama victory? "Hope" works terrifically when there's an unpopular war and a tanking economy. It doesn't work so well if the man in the White House is fellow Democrat and lame-duck Al Gore.
This takes us to the next domino: without eight years of Obama global liberalism and political-correctness, is there a populist/nationalist backlash in the form of one Donald J. Trump?
So perhaps Trump should be pleased that Bill Clinton didn't take the high road twenty years ago this month and resign from office. Without the same historical arc, Trump might not be president today.
And without the Faustian bargain struck by Democrats 20 years ago, Trump could be in trouble with GOP lawmakers should impeachment become a reality.
Not knowing what other directions the Mueller investigation will take, or if the New York State attorney general's office or Manhattan's district attorney might take action, let's posit that a Democratic-controlled House pursues at least one article of impeachment based upon alleged Trump violations of campaign finance laws in paying off mistresses while simultaneously seeking the presidency (here are arguments claiming Trump did or did not break the law).
And how would Republicans lawmakers respond?
Probably the same as Democrats did back in the days of the Clinton impeachment: rationalizing that it's not the first time a politician lied about or covered up an extramarital offense; jaywalking is not a hanging offense.
In fact, replace the party identifiers and a GOP figure likely would say something similar to what one Democratic senator had to say in explaining his vote to clear the president:
"Sadly, in this case, Republicans in the House of Representatives, in their partisan vendetta against the President, have wielded the impeachment power in precisely the way the framers rejected recklessly and without regard for the Constitution or the will of the American people . . ."
"Our Republican friends have desperately been trying to produce a two-thirds majority to remove the President from office. But their efforts have succeeded only in turning a serious constitutional process into a partisan process that demeaned both the House and the Senate and became a painful ordeal for the entire country . . ."
That moral and legal arbiter? The late Edward Kennedy.
No one can say for certain how President Trump's legal problems will play out. Or, if impeachment does proceed, that it runs the same course as Clinton's.
But this much is evident: it'd be easier to remove this president, if one of his predecessors had set a more honorable precedent.
Bill Whalen is a research fellow at the Hoover Institution, where he studies and writes on current events and political trends. In citing Whalen as one of its "top-ten" political reporters, The 1992 Media Guide said of his work: "The New York Times could trade six of its political writers for Whalen and still get a bargain." During those years, Whalen also appeared frequently on C-SPAN, National Public Radio, and CNBC.