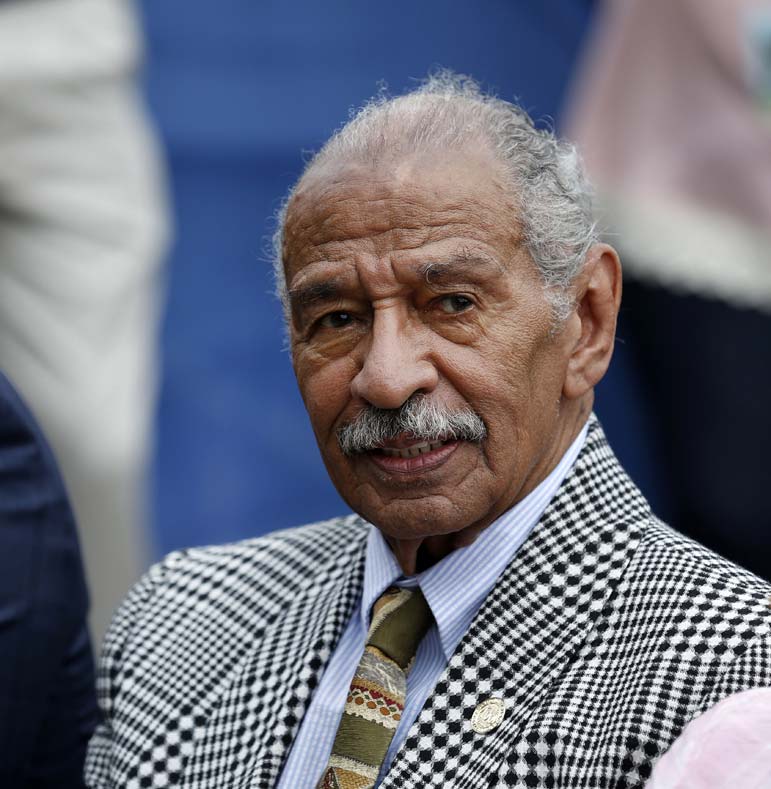 DETROIT -- Sabrina Jackson spent her Sunday night at a nightclub packed with fellow black Detroiters who want to send Brenda Jones to Congress. For 12 years, she had watched Jones "do amazing things on the city council" as Detroit emerged from bankruptcy and began reversing decades of decline.

But she still missed former Rep. John Conyers Jr. She hadn't gotten over the way the #MeToo movement brought him down.

"It was a tragedy that he was railroaded out of there," said Jackson, 52. "I am, personally, a sexual abuse survivor. I've written a book about it. I've been on TV about it. Knowing what I know, I didn't agree with what happened."

The downfall of Conyers, an icon of black politics who resigned last year under a flurry of accusations that he had mistreated and made advances toward female aides, was seen in Washington as a sad end for a politician who had stayed long past his prime.

In Detroit, it's seen as something else --- yet another insult to a city that is used to them.

Conyers was the longest-serving member of Congress, and the longest-serving African-American member. He co-founded the Congressional Black Caucus and was one of 20 names on Richard Nixon's first "enemies list." He was the only member of Congress endorsed by Martin Luther King Jr. --- and the only one to give a job to Rosa Parks.

The candidates vying to replace Conyers share his left-wing politics and remain frustrated that a legendary figure was forced to leave office last December without a full investigation of what he'd done. The race to succeed him has pivoted mostly around how closely the candidates would hew to Conyers's legislative desires.
The candidates and voters also wonder why the seat has remained open, and will until the winner of Tuesday's Democratic primary wins a special election in November. No Republican has filed to run for the seat; whoever Democrats nominate probably will take office during the lame-duck session at year's end.

The long delay has made Democrats furious at Republican Gov. Rick Snyder, whom they accuse of disenfranchising the state's largest city.

An Arizona Republican, Rep. Trent Franks, had resigned the same week as Conyers; the election to replace him was held April 24, and his successor has been voting in Congress.

A federal court lawsuit to push the election to an earlier date was tossed when a judge turned aside claims that Snyder's decision to delay the election to coincide with the regularly scheduled primary was racially based. (Snyder said the timing was meant to save money.) Some compare the treatment of Michigan's largest city to the neglect by state officials of the contaminated water supply in the majority-black city of Flint.

"I suspect that's part of the governor's continued marginalization of the poor and communities of color in Michigan," Greg Mathis, a retired judge and the host of TV's "Judge Mathis," said at the Jones event. "He made a bad call with Flint, and he made a bad call here."

The result of the long vacancy has been one of the country's most competitive primaries for one of its poorest and most Democratic-leaning seats. One candidate has the Conyers family name; one is the son of Coleman Young, Detroit's first black mayor. Both are young and could conceivably represent the city for generations, just as the elder Conyers did.

But both, local Democrats say, are underdogs in a race where most party leaders have swung behind Jones, and most national money has gone to former state legislator Rashida Tlaib.

In a poll released this week, both were tied with Bill Wild, mayor of suburban Westland.

The election is not the handoff that Conyers, who was first elected in 1964, seemed to prefer. He announced his resignation with a call to a radio show whose hosts asked why other members of Congress were not being subjected to the same rough treatment. Conyers focused on the future, endorsing his son, John Conyers III, who was just 27 and had never run for office.

"This, too, shall pass," the elder Conyers said. "My legacy will continue through my children."

Voters, even as they bemoaned Conyers' resignation, had other ideas. JCIII, as he's known, had no political experience and a slapdash campaign operation. He failed to make the ballot and circulated petitions to run as an independent, but has otherwise vanished from the conversation.

The Conyers brand has moved on to a grandnephew, Ian Conyers, a state senator and former congressional aide who will turn 30 this fall. Green and white signs emblazoned with his name have sprung up on lawns next to similar blue and white signs left over from the elder Conyers' campaigns.

In an interview before he attended a church service near his home, Ian Conyers said that he would continue his uncle's legacy in Congress, bill by bill, from the Medicare for All bill that is co-sponsored by most Democrats to the slavery reparations bill that isn't.

"I don't think anyone is racing to throw stones at his legacy," said Conyers. "The work that's been done must continue."

Coleman Young II, 35, who has spent 11 years in the legislature, has also pledged to pick up Conyers' legislation. Last weekend, as he greeted voters at an art fair in the Highland Park neighborhood where the elder Conyers was born, Young said he would pair that with the record he built in Lansing.

"I am humbled and honored to carry on the legacy that my father left behind," Young said. "But there will never be another John Conyers. The man is a civil rights icon. The reason why I, as an African-American man, never have to see a 'Whites Only' water fountain, never have to walk in the back of a restaurant, is because of John Conyers. It's just unfortunate what happened."

Other candidates, however, are pledging to continue Conyers' work while representing change. Jones, the city council president, has been endorsed by Detroit Mayor Mike Duggan, by many of the city's labor unions, and by black leaders who have known her much longer than they've known the young Conyers.

"The 13th Congressional District is the most challenged -- should I say, the poorest -- in the state of Michigan," Jones, 59, said in an interview at her campaign office. "I have the experience, from the different boards I've been sitting on, that has allowed me to get more information and meet more people from these municipalities."
Westland Mayor Wild, who is white, is also running largely on his experience. Although Detroit has not sent a white man to Congress since John F. Kennedy was in the White House, it has twice elected Duggan, who is white. In 2017, Duggan won a second term in a landslide over Coleman Young II.

In an interview at a distillery in the Detroit neighborhood of Corktown, Wild said that Conyers had "chosen retirement so he could walk out with his head held high," but that he was in the best position to enter Congress and start bringing resources home. He cited Tlaib, the former state legislator, as the sort of candidate who couldn't.

"It's going to take more than name recognition," Wild said. "People are looking at things like skill set, achievement, ability. Everywhere we go, we hear that Rashida is raising an incredible amount of money from out of state -- pro-Palestinian groups and others who have a historical interest in this race."

Tlaib, whose potential to become the first female Muslim in Congress has attracted national attention, scoffed at the criticism. She has made enemies, she said, because in the legislature she voted against business development that relied on taxpayers priming the pump for private businesses.

"We're not approaching poverty the same way. We're not approaching the issue of immigration the same way," she said. "People say I'm combative, but what I appreciated about Congressman Conyers was that he would do things like that. He was listed as a plaintiff on a number of lawsuits around economic justice issues."

That was the legacy that Conyers was leaving in Detroit, she said. Asked about the scandals that brought him down, Tlaib said that she would have preferred to see an investigation that vetted the claims and let accusers speak. Instead, she saw a liberal legend leave too soon, and Detroit and Dearborn and Westland iced out of Congress for nearly a year.

"I was disappointed," she said. "I was devastated."