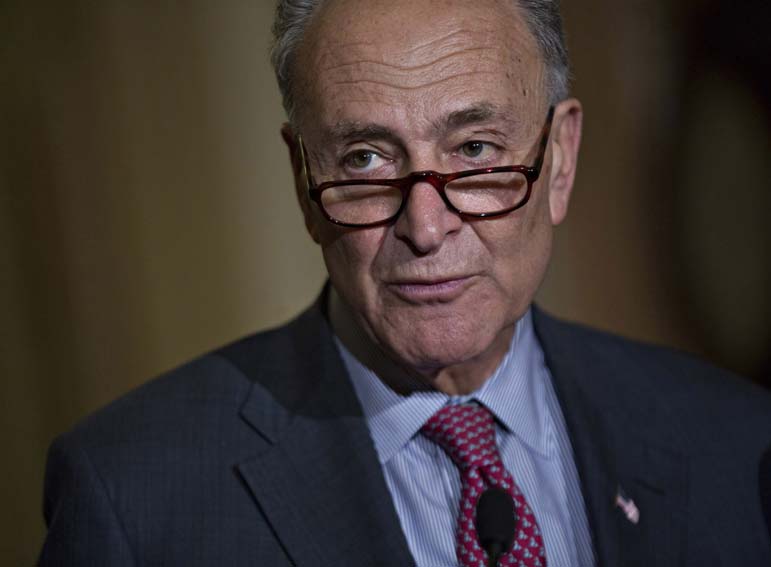 WASHINGTON - Republicans say two states that President Donald Trump won in landslides are heading in opposite directions in the battle for the Senate majority, as they expressed increasing confidence about capturing North Dakota but diminishing hopes about West Virginia.

With fewer than 100 days to the midterm elections, top Republicans have concluded that North Dakota represents their best chance to flip a seat from blue to red, with Rep. Kevin Cramer, R, looking to unseat first-term Democratic Sen. Heidi Heitkamp. A win in North Dakota would be a major step toward the GOP majority protecting its slim advantage in the Senate.

At the same time, Republicans have grown more pessimistic about West Virginia, where Democratic Sen. Joe Manchin, a former governor, is trying to fend off state Attorney General Patrick Morrisey.

Officials in both parties, though, say the seats are still up for grabs and cautioned that much can change between now and Election Day. The top Senate Democratic super PAC, Senate Majority PAC, said this week that it is spending $17 million to reserve airtime for August television commercials in six states, including those two.

No other states where Democratic senators are running for reelection went more heavily for Trump in 2016 than North Dakota and West Virginia. Trump won the former by 36 percentage points over Hillary Clinton and prevailed in the latter by 43.

But conversations with lawmakers and strategists trying to keep the Senate under Republican control underscored a shift in the political landscape for Trump's party. Strategists attribute the development heavily to the ability of the Republican challengers.

"I think that's probably one of the top pickup opportunities for us," said Senate Majority Whip John Cornyn, R-Texas, speaking of North Dakota. "Most things I've seen, people list that as the number one."
At the same time, Cornyn called Manchin a "formidable politician." On camera Tuesday, the Republican senator even congratulated Manchin for breaking ranks with Democratic leaders and meeting with Supreme Court nominee Brett Kavanaugh.

"He's a nice guy. Everybody likes Joe. Problem is he votes wrong 95 percent of the time," Cornyn added.

One top Republican strategist in close contact with Senate Republican leaders offered a more dramatic view. The strategist was willing to bet their mortgage on victory in North Dakota, but in West Virginia, the strategist said, Manchin has "done quite a bit to solidify himself" against a GOP challenger who "still hasn't found his voice."

The strategist spoke on the condition of anonymity to be candid.

Republicans hold a narrow 51-49 advantage in the Senate, making every competitive race potentially decisive in the fight for control of the chamber. The GOP is defending far fewer seats than Democrats, who are trying to fortify 10 states Trump won where Democrats are facing reelection.

North Dakota has long been a top priority for both parties. Several GOP strategists said they have reviewed recent private polling showing Cramer leading Heitkamp. Public polling has been sparse and has shown a tight race.

Trump campaigned for Cramer in June, following a period of tense relations between the congressman and the White House. GOP strategists believe this allowed the party to frame the contest as a national one and remind voters of their party allegiances.

But Heitkamp has defied the odds before, narrowly winning an open race in 2012 that many Republicans had counted on winning. She emphasized that history in a brief conversation on Wednesday.

"The significance of actually getting things done for the state and being able to have a record is pretty important in North Dakota," said Heitkamp. "And we've got a record that I think cannot be matched by the congressman."

But Cramer has been in Congress for as long as Heitkamp has, effectively holding a statewide office, since North Dakota has only one House representative. He has aligned himself closely with Trump, while Heitkamp has sided with the president on some issues and broken with him on others, most notably the tax law and trade.

"He's a conservative. He's a good candidate," Sen. John Hoeven, R-N.D., said of Cramer.

The powerful network backed by conservative industrialist Charles Koch and like-minded donors announced Monday that it had no plans to back Cramer. The announcement marked the network's latest show of hostility toward Trump and his allies. Trump personally recruited Cramer to run, and Cramer has strongly backed the president's policies.

Republican leaders have been less effusive about Morrisey. The most recent public polling has shown Manchin leading the Republican, who emerged from a bruising primary in May.

Morrisey's past lobbying ties to the pharmaceutical industry and his run for Congress in New Jersey in 2000 have given Democrats fodder to portray him as out of touch with West Virginia.

"I know my state," said Manchin. "I'm born and raised there."

Some Democrats privately acknowledged that North Dakota and West Virginia have been trending in different directions. But they said they believe West Virginia has moved further in their favor than North Dakota has faded from their grasp.

Nathan Gonzales, a nonpartisan political analyst for Inside Elections, moved both races out of the "toss-up" category last month. North Dakota headed to "Tilts Republican." West Virginia went to "Tilts Democratic."

Beyond North Dakota, Republicans are most hopeful about flipping Indiana, where Democrats are trying to protect Sen. Joe Donnelly from Republican businessman Mike Braun, and Missouri, where GOP leaders recruited state Attorney General Josh Hawley to try to unseat Sen. Claire McCaskill, D.

They are also hopeful about Florida. There, Sen. Bill Nelson, D, is in a tough race against Gov. Rick Scott, R.

But Democrats have their own chances to make gains. In Nevada, Sen. Dean Heller, R, faces an uphill climb against Democratic Rep. Jacky Rosen, who received an endorsement from former president Barack Obama on Wednesday. In Arizona, a strong early showing by Rep. Kyrsten Sinema, D, has given her party a chance to pick up the seat Sen. Jeff Flake, R, is vacating.

In Tennessee, which holds its primary today, Republican Sen. Bob Corker's retirement has led to a competitive open race.