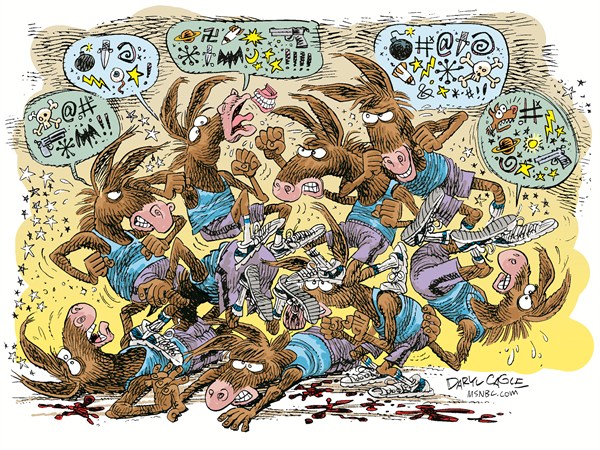 New York Gov. Andrew Cuomo surprised his Democratic primary challenger, Cynthia Nixon, by aggressively attacking her from start to finish during their debate on Wednesday night at Hofstra University.
In addition to a massive fundraising advantage, the most recent public poll - from Siena College - put Cuomo ahead by 35 points.
An internal poll conducted for Rep. Joe Crowley, D-N.Y., also showed him leading his primary challenger by 35 points three weeks ahead of the federal primaries in June. But Alexandria Ocasio-Cortez, who had Nixon's endorsement, toppled the longtime boss of the Queens machine by 15 points.
Party leaders got another taste of the anti-establishment zeitgeist in Florida on Tuesday, where Tallahassee mayor Andrew Gillum won the Democratic primary for governor after trailing in every public poll. The front-runner he defeated, Gwen Graham, is the child of a former governor. Just like Cuomo.
Against this backdrop, the Democratic establishment from coast to coast - which the 60-year-old Cuomo personifies as much as Crowley or Graham - is running scared. Party pooh-bahs are pumped to ride the wave of progressive energy to power in November, but they're also anxious about where it leads. Many of the savviest strategists in Democratic politics privately worry that they're still in the opening phases of the liberal equivalent of the tea party movement, which destabilized the GOP in 2010 and laid the groundwork for President Donald Trump's takeover.
So it should surprise no one that the governor of America's fourth-most-populous state is leaving nothing to chance as his Sept. 13 primary approaches. That's why he came out swinging against Nixon, a democratic socialist who is best known for her role as Miranda on "Sex and the City." The hour-long debate in Hempstead aired on New York CBS affiliates.
Cuomo has already migrated leftward on issues such as marijuana, paid family leave and the minimum wage. He didn't position himself last night as a pragmatist - he referred to ICE agents as "thugs" at one point - so much as he sought to portray Nixon as an extremist with pie-in-the-sky ideas that would jack up people's taxes and cause "mayhem."
Cuomo said Nixon's support for public employees having the right to go on strike might mean police officers off the street, trash uncollected and trains stranded in stations. "If you allow the public-sector unions to strike, teachers could go on strike," he warned. "There would be no school! Children wouldn't be educated! It would clearly be mayhem!"
Cuomo argued that Nixon's proposal for universal health care would double the tax burden for New Yorkers and divert money from other popular programs. The idea "reminds me of the story of the doctor who says, 'If you survive the operation, you're going to have a long, healthy life,' " Cuomo said. "Nobody has done it successfully." Nixon responded with a passionate case that health care is a human right and said New York could be a model that others follow.
During a dispute about whether the state or the city is to blame for problems on the Big Apple's subway system, Cuomo lost his cool. "Can you stop interrupting?" he said. "Can you stop lying?" Nixon replied. "Yeah," the governor countered, "as soon as you do."
Alluding to her career as an actress, Cuomo said Nixon "lives in a world of fiction."
"I live in the world of fact," he continued. "The job of governor . . . is not about advocacy. This is a real job."
"Experience doesn't mean that much if you're not actually good at governing," Nixon replied.
He accused her of not understanding how the legislative process worked and repeatedly noted that Republicans run the state Senate, which limits how much he can accomplish. She blamed him for the GOP being in control. "To change the campaign finance laws, you need something called the New York state legislature," he said at one point, condescendingly. "You can't just snap your fingers!"
To be sure, that's tame compared with the 1966 California governor's race. Facing a challenge from an actor named Ronald Reagan, Democratic Gov. Pat Brown - whose son Jerry now holds the same office - pointed out that John Wilkes Booth, who killed Abraham Lincoln, was also an actor.
Reagan, who spent most of his life as a Democrat, didn't run for office until he turned 55. Nixon, a first-time candidate, is 52.
Reagan's early opponents in both the Republican establishment and the Democratic Party never took him sufficiently seriously because of his background before he got into politics. They dismissed him as a B-lister, mocked him for transitioning from film into the less-esteemed world of television and told countless jokes about his role as an ape's sidekick in the campy movie "Bedtime for Bonzo." Reagan got the last laugh.
The fact that Cuomo agreed to debate at all reflects his recognition of potential danger. Four years ago, seeking reelection to a second term, he refused to debate primary challenger Zephyr Teachout and ignored most of her attacks. The law professor garnered a surprisingly strong 35 percent against him. She's now running in the primary for New York attorney general against Cuomo's preferred candidate, Letitia James.
Trying to neutralize another potent line of attack against him, Cuomo went further than ever last night in ruling out a presidential bid in 2020. "The only caveat is if God strikes me dead," he said. "Otherwise I will serve four years as governor of New York."
Some of Cuomo's hits were so over-the-top that the audience almost reflexively laughed at him, such as when the governor accused Nixon of exerting undue influence as a donor when she called the mayor's office to ask that helicopters not fly over Shakespeare performances in Central Park because they drown out the actors.
Cuomo also repeatedly attacked her for forming a limited liability corporation to collect income, a standard practice in the entertainment industry, which he said is at odds with her socialist ethos. "You are a corporation," said Cuomo. "I am a person," said Nixon. "And you're a corporation," said Cuomo. "Working men and women don't have corporations."
Nixon announced she would forgo a salary if elected. "We already have a corrupt corporate Republican in Washington," she said. "We don't need a corrupt corporate Democrat in Albany."
Cuomo is an heir to a political dynasty, something that continues to be out of vogue two years after Jeb Bush and then Hillary Clinton went down to Trump. His late father, Mario, served three terms as governor and might have become president if he hadn't gotten cold feet in 1992. As a consolation, Bill Clinton made the younger Cuomo his housing secretary. Andrew Cuomo even married into the Kennedy dynasty. (They later divorced.)
Neither candidate came off particularly well in last night's mud fest, which might have been Cuomo's strategy going in. They both appeared unaccustomed to being forcefully and directly challenged. For instance, the moderator noted that Nixon's campaign recently held a contest in which the winner got a free bong. He asked her what kind of message that sends to parents trying to keep their kids off drugs. She did not directly answer. "Marijuana has been legal for white people for a long time," Nixon said. "It's time to make it legal for everyone else."
Cuomo volunteered that he smoked marijuana in college, and he said he's given "advice and guidance" so his own children make "responsible choices."
"I think legalizing marijuana . . . makes sense," said Cuomo. "I disagree with my opponent that the revenue should go to reparations!"