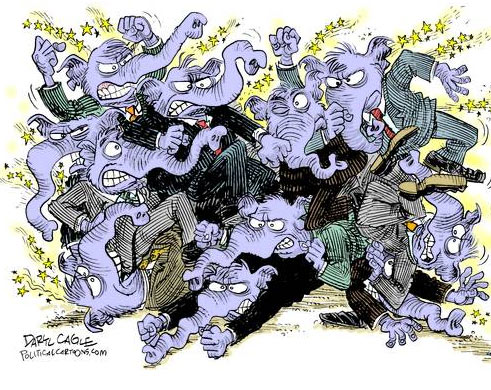 President Trump's endorsement of Sen. Luther Strange, R-Ala., was supposed to settle things.
An anti-establishment president would repair his frayed relations with Republican leaders by backing their favored candidate in Alabama's special election for a U.S. Senate seat. A crowded primary race in the heart of Trump country would then be all but decided.
It settled nothing.
On the eve of first round of voting, Trump is clashing with Senate Majority Leader Mitch McConnell, R-Ky., over the stalled GOP agenda and Strange, despite the Trump bump, is unlikely to win the seat outright on Aug. 15.
A bruising one-month runoff campaign looms for the top two finishers and Trump's die-hard supporters in the state are divided.
For Republicans, the Alabama contest, is a snapshot of the party's churning base at this moment in the Trump presidency. In a deep red state, the dominant squabbles are not over ideological purity - that GOP test of old - but over loyalty to Trump and over who has the most visceral connection with his core voters.
The white nationalist-sparked violence in Charlottesville has hovered over the final sprint and Republican candidates have issued statements of condemnation. But like Trump, some of them did not mention white nationalism or white supremacy by name.
"I was hoping for a quiet, lazy summer in our very humid state. That's not to be the case this year," Terry Lathan, the chair of the Alabama GOP, said in an interview.
Strange's Republican challengers include former state Supreme Court justice Roy Moore, who has a passionate following among religious voters, and Rep. Mo Brooks, a prominent conservative in the U.S. House. Christian Coalition leader Randy Brinson and state Sen. Trip Pittman have also drawn support.
State law would require a primary runoff election on Sept. 26 unless a candidate wins 50 percent of the vote on Tuesday. The final round of voting is scheduled for Dec. 12, when the Republican nominee will face the Democratic nominee.
Strange, Moore, and Brooks are widely seen as the leading GOP candidates. Moore has jumped ahead latest polls with about 30 percent support, with Strange close behind and Brooks just behind him.
But surveys of the nine-person Republican field have been scattered and the Alabama Secretary of State is projecting low turnout of 20 to 25 percent of voters, making the race difficult to predict.
The competitive atmosphere has led Brooks in recent days to seek out supporters of lesser known rivals with the aim of eclipsing Strange or Moore to make the runoff. The House Freedom Caucus member pitched Pittman voters on Friday in the state senator's district, urging Republicans there to come together to stop Strange.
"There's no way to know how this goes," Brooks said in a weekend phone interview. "You can toss all the polls out since no pollster knows how to predict who shows up in an election that's unlike anything we've ever seen in Alabama."
Moore - a controversial figure who was twice removed from the state Supreme Court but has a well of support for his fights against same-sex marriage to publicly display the Ten Commandments - expressed confidence that Trump's endorsement "hasn't done much to change the race."
Moore's belief is that being firmly against McConnell and the political class is as good as being backed by Trump, at least in Alabama.
"McConnell is part of the group in Washington, Republican or Democrat, that doesn't want to see change," Moore said in an interview. "They want to keep their job, income, and their privileges."
The seat was held for two decades by Attorney General Jeff Sessions, who for years was a firebrand on Capitol Hill and by early 2016 an influential Trump confidant. While that bond with Trump has since unraveled, Sessions has remained popular in Alabama following his departure from the Senate in February to join the cabinet.
Strange - a towering 6-foot-9 former state attorney general - was appointed to the seat that month by then Alabama Gov. Robert Bentley (R). Bentley later resigned in April amid a sprawling ethics and sex scandal that ended with him pleading guilty to two misdemeanor charges related to covering up his alleged affair with his former top aide.
Strange's ascension amid Bentley's tumbling fall has been a burden for him in the summer scrum and a critic of Strange has filed an ethics complaint about his campaign finances during the transition to the Senate. Strange has denied any wrongdoing. Strange's years as a corporate lobbyist in Washington, where he built ties to party leaders, have been another issue raised by his opponents.
Meanwhile, McConnell's support for Strange has been a mixed blessing, prompting Strange's adversaries to tag him as a totem of the GOP establishment but putting millions of dollars behind his candidacy. The Senate Leadership Fund, a McConnell-allied super PAC, has already spent about $4 million to boost him.
The Democratic primary race features Doug Jones, a former federal prosecutor, environmental leader Michael Hansen, and Robert Kennedy Jr., a Navy veteran and business executive who is not related to the Massachusetts political dynasty.
Until last week, Republicans had been immersed in a bitterly fought but relatively sleepy referendum on Strange, with the incumbent - who is nicknamed "Big Luther" - arguing that he was a dogged critic of President Obama's policies while state attorney general and a reliable vote for Trump's priorities. His opponents accused him of being a polished and well-connected "swamp critter" who was more aligned with McConnell than with Trump, who won 62 percent of the vote in Alabama last year.
Then Trump tweeted.
"Senator Luther Strange has done a great job representing the people of the Great State of Alabama," Trump wrote on Aug. 8. "He has my complete and total endorsement!"
The endorsement stunned Republicans in Alabama and Washington, who for months had watched Trump seemingly ignore the race as White House officials shrugged off pleas for support from several candidates.
Trump's gesture of solidarity was quickly overshadowed by his escalating conflict with McConnell, who curtly told a Rotary Club gathering last Monday that the president had "excessive expectations" for the Republican-controlled Congress.
Any warm feelings about Trump's unexpected embrace of one of McConnell's prized picks disappeared.
Trump repeatedly fired back at McConnell in a series of sharp tweets and remarks to reporters while in Bedminster, N.J., last week, underscoring the flaring tensions within the Republican Party as Trump nears the seventh-month mark of his presidency.
Still, Strange has worked to use the endorsement to his advantage and make sure voters know he is the Trump-blessed contender in a field of candidates who echo the president.
"We've developed a good personal and working relationship," Strange said in an interview last week. "He called me on Tuesday and just said that he liked what I was doing and wanted to help."
Strange described the call as welcome and surprising.
"I said, 'I'd be honored to have your support and I'll leave that up to you,'" Strange recalled. "He said, 'Why don't I do a tweet? We'll start with that.' I said, 'That's fantastic. Thank you very much.'"
Brooks and Moore, who campaigned Sunday at several churches, have not faded as Strange has touted Trump's endorsement. They claim that they have been able to capitalize on the turn by attracting attention from activists and conservative voices who admire Trump but believe he was misled by GOP leaders.
"Our social media is clearly above the rest," Moore said.
Those claims have been bolstered by the response of some high-profile Trump supporters in the conservative media such as commentator Ann Coulter and syndicated talk-radio host Laura Ingraham, who have reiterated their support for Brooks. Moore has rolled out endorsements from reality TV star Phil Robertson and actor Chuck Norris.
"It has certainly gotten a little louder on all sides since the endorsement," Lathan, the state GOP chair, said. "There are people who support his endorsement of Senator Strange and people who are confused by it."
"Every conservative should be very unhappy," Brooks said, calling the endorsement "baffling and illogical" and grousing that "the swamp has taken over the White House."

Longtime Trump associate Roger Stone, a Brinson supporter, said he was "confounded by the decision" and wondered if Trump had "been tricked into it."
Stone speculated that Trump had "partial information" and "probably thought the race was between Strange and Brooks," who was critical of Trump during the 2016 presidential primary race but has since become a supporter.
Stone cast Brinson as the "real Trump supporter here," citing endorsements from a number of pro-Trump grass roots groups.
That designation is coveted - and hard to determine.
Strange can fairly say he's Trump's favorite; his opponents can fairly say he's also McConnell's favorite. Trump and McConnell are on the same page in the Alabama race, but they're not getting along.
Strange chuckled when asked by The Post if the lines were blurred for Republican voters.
"In any political contest, your opponents want to blur the lines, that's part of the process, I guess," Strange said.
But Strange said it's "silly" for anyone to call him a "pawn of the establishment" since he only met McConnell "three or four months ago, whatever that was" and supports Trump without reservation.
"The way I see it," he added, "this is pretty clearly about who's in the best position to support the president and his agenda."
In Alabama, every Republican running in Tuesday's race is saying, "That's me."
Comment by clicking here.