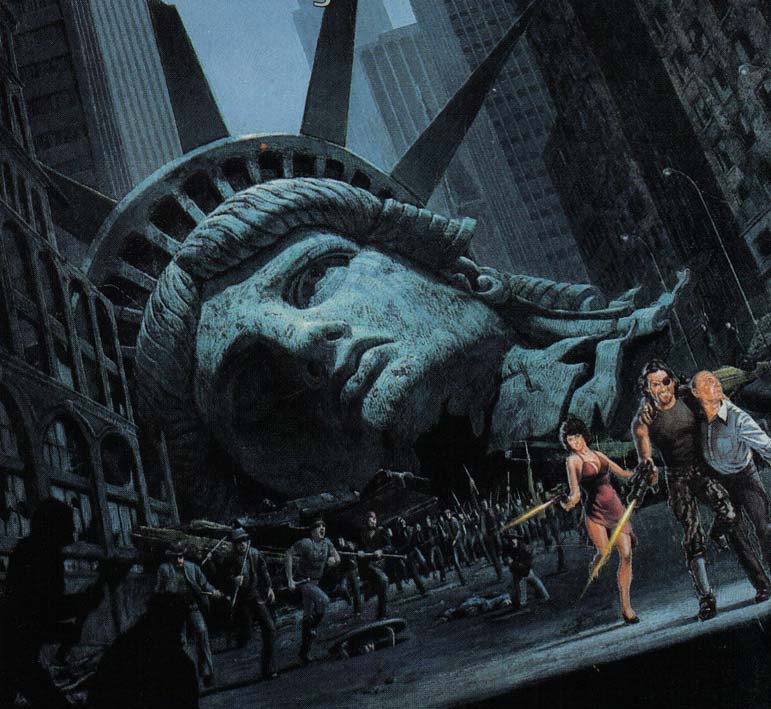 Full disclosure: I am a New York City conservative born and raised in Spanish Harlem but I'd also lived on the Upper West Side, Upper East Side and a few other neighborhoods before moving to Staten Island, the sane borough.
So whenever I read the snide comments from Red Staters on the poor governing by Bill DeBlasio that say, "We deserve what we vote for,"it rankles but I can't disagree.
In fact I blame my fellow conservatives for allowing the left to rule and destroy the greatest city in the country. Yes, that may be a tad hyperbolic but I grew up in an era when New York City was a great place to be poor thanks to the beneficence of the one-percenters that the left now despises.
It wasn't the federal government that allowed me to enjoy so many of the cultural gifts the city had to offer or the healthcare provided by the NYC clinics for free.
I may have lived in a slum but the great museums were free thanks to the Astors, Vanderbilts, Rockefellers and other wealthy patrons and their noblesse oblige.
The music festivals in Central Park were a delight sponsored by Schaeffer co. and my hometown truly was Fun City.
That all changed when the left took over with their Marxist spin on politics and knew that offering handouts to those in my economic situation would guarantee them eternal political clout.
Let's face it --- offering anyone free food, low rent, grants for utilities, free healthcare, college, why look for a job? Why get married to your baby mama and stay around to raise your kids? Half of NYC is on government handouts and the taxpayers with solid family values and a work ethic are getting the heck out of town.
Fortunately I was reared in a home that rejected bribery and eschewed government handouts in favor of independence and faith.
I also had the benefit of attending 12 years in parochial school where nuns ruled --- not Marxist academics.
After that it was Hunter College where I gleaned where higher public education was heading but my mother's stroke ended up propelling me to the working world and I was spared any indoctrination by these elitist professors.
According to Tuesday's New York Post, even though Mayor DeBlasio's poll numbers have dropped, his re elections odds are solid. This is absolutely insane but proof that New York Conservatives are just plain uninvolved in any campaign to save this city.
President Trump has called DeBlasio the worst mayor this city has had. I'm not sure of that because I'm not that well-informed on the Tammany Hall era but he is certainly on the same level as the previous poor administrator, David Dinkins.
Under Dinkins, we had a surge of anti-Semitic pogroms in Crown Heights where rioters yelled,"Kill the Jews."
Fortunately, the city made a huge comeback with Republican Rudy Giuliani's administration and New York City became one of the safest large cities in the country.
Mayor DeBlasio has whittled away at his quality-of- life law enforcement programs by now allowing public urination and other previous offenses to be reduced to meaningless incidents.
The squeegee wipers are back, the homeless and illegal immigrants are attacking innocent citizens; subway crime is at an all time high and our Marxist Mayor trots off to Germany to join anti-US protesters the day after an NYPD cop is assassinated sitting in her patrol car. When a reporter confronted him about news that the homeless were cleared off the subway for a photo op with the mayor, he had the audacity to say, "Read my lips. I don't care."
One Queens' woman, Vicki Paladino, hit the YouTube viral airwaves when she confronted the Mayor who was on a visit to announce funding to fix sidewalks uprooted by trees.
"I want to know why you let your police officers down and our country down by going to Germany and protesting against our country,"she said. "I don't care about the trees. We'll work it out. Find $18 million to put in your cops'pockets. And pay your police officers."
Mayor DeBlasio, who changed his name from Warren Wilhelm Jr., is not well liked by the NYPD and when he returned from Germany to attend the funeral of the slain officer, Miosotis Familia, mother of three, the cops turned their backs on him. His trip to Germany was more important than attending a swearing in ceremony of new NYPD cops.
Not only does DeBlasio not care about the cops, he doesn't really care about the city going to the toilet.
He keeps making announcements that crime is down but that's a huge lie. It's very easy to fudge crime statistics but we know that allowing NYC to be a sanctuary city has deadly consequences.
George Neumayr recently wrote a column in American Spectator entitled, The Rotting Big Apple and described what is really happening here: "a woman returning from church in Queens was sexually assaulted by five thugs. She tried to stop them by crying out falsely that she was "HIV positive,"but that didn't work.
The thugs, you see, had evidently gone through one of the city's "safe sex"programs. Consequently, they restricted their assaulting to oral sex while one of the thugs darted off for "protection"from a corner store. The horrifying episode captured the hideousness of life amidst the ruins of a culture that prizes condoms over cops, a culture for which its greatest boast is that even its rapists practice "safe sex."
He also noted: "The word on the street is that no matter how badly he governs he is assured re-election, owing to all the unions and minority organizations in his pocket combined with the absence of any well-organized and well-financed opposition.
At the same time, he is widely, even feverishly, detested. Police officers regard him as the most dangerous jackass to run city hall.
There is a worthy candidate running against DeBlasio and if she does not have the name recognition, it's time conservatives put an end to that situation because the mainstream media is making sure she is unheard.
Nicole Malliotakis is a Republican Staten Island Assemblywoman with a fine record. She is underfunded but so was Donald Trump in 2016. I am not wealthy at all but I send what I can to her campaign and if real New Yorkers would stay and fight for the city and if the President would campaign for her, miracles can happen.
I urge all the diehard New Yorkers who are tired of the corruption that is eating away at the Big Apple and who want sense and responsibility to return, check out her stand on the issues and send a few dollars to her campaign (https://nicolemalliotakis.com)
Let's also not forget that the current City Council that honored a terrorist allowing him to march in the Puerto Rican Day parade needs to go as well. Let's make this November as memorable as last years.
Make New York Great Again.