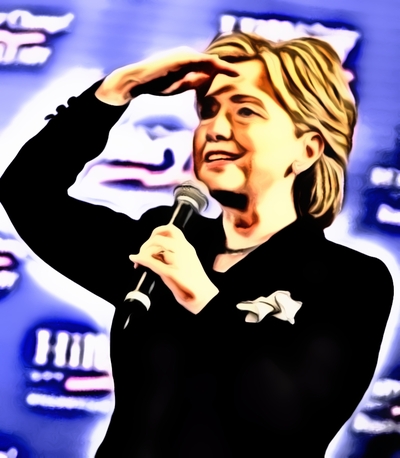 Various sources report that Hillary Clinton is having trouble locating a Donald Trump substitute to stand in for him as she preps for their first debate. I can only imagine.
-
Hillary Clinton stands at the ready in front of a big stack of angry newsprint a child's crude papier-mache of Jabba the Hutt one of those giant plastic chairs shaped like a hand an empty Segway gone rogue Tim Kaine in an ill-fitting suit.
Hillary: Whenever you're ready, Tim.
Tim Kaine hesitates.
Tim: I'm just - I - I don't want to say mean things to you, Hillary.
Hillary: I know that you won't mean them, Tim.
Tim: I know that. Of course. In theory, I totally know that, but I worry that in the heat of the moment I might become carried away and say something hurtful that you would remember.
Hillary emits a low, hollow chuckle.
Hillary: Don't worry, Tim. If I remembered when people said mean things about me, I would never speak to the media again.
Tim: You haven't held a press conference in almost 300 days.
Hillary: I know, but I could. At any point. Go on. Be Trump.
Tim: I don't want to fight you, Hills. There must be someone better suited to this.
Hillary: You did that impression of him at the convention. It seemed to go over well. Just do more of that.
Tim: (long pause) Believe me. (snaps out of it) No, I can't. This is taking me to a head-space where I don't want to be.
Hillary: Tim, just go for it.
Tim: (draws himself up) Some people say (long pause) that you are not a beautiful woman, inside and out, who is going to take this country to a better place than it's ever been, with a steady hand and a clear head and just, ughhhh, Tim Kaine believes in you so much, he does, but, uh, some people, some people are not Tim Kaine. (beat) Uh, believe me.
Hillary: Tim, is that even an insult?
Tim: That's his style, Hillary. He insinuates that other people are saying mean things. He doesn't say it directly. (clears throat) Uh. They say, they say that you are not a cherished friend.
Hillary: Tim.
Tim: I CAN'T, HILLS. I JUST CAN'T. (tears form in his eyes) This world is an ugly enough place without us stooping to his level and tearing ourselves apart from within.
Hillary: Tim-
Tim: If there was one lesson I took away from "Captain America: The Winter Soldier"-
Hillary: Tim, this is practice. I need to practice.
Tim: No, Hillary. That would be letting him win. You are - you are a wonderful person and I just - I believe in you so much. (very intensely) I hope you know that.
Hillary: (pushes button on desk) Can someone send Bill in here, please?
Bill Clinton walks in.
Hillary: Bill, Tim's not doing a good job of attacking me.
Bill: Attacking you? Who's attacking you? LET ME AT 'EM!
Tim Kaine produces a tray of cookies.
Tim: I just felt so bad after our misunderstanding earlier that I had to make something for you, and I thought, say it with snickerdoodles.
Hillary: I understand what you are all trying to do, but this actually isn't helping.
Bill: No one comes at Hillary on my watch without fisticuffs!
Hillary turns to her aide, Huma Abedin.
Hillary: Huma, do we have anyone else?
Huma: We found a 4-year-old who was irritable because he had not had his nap yet, but he is napping now.
Hillary: Could we wake him up?
Huma: I also have this list of 347 likely Trump insults that a computer generated, which I can have the computer read to you and we can come up with 347 canned responses.
Hillary: This sounds more like my kind of plan.
Huma turns the computer on.
Computer: YOU ARE UGLY AND DUMB, LIKE A CLOWN, BUT NOT THE KIND OF CLOWN THAT MAKES YOU LAUGH, THE KIND OF CLOWN WHO HAS AN FX SERIES, AND NOBODY LAUGHS BUT I GUESS IT IS ZACH GALIFIANAKIS'S PASSION PROJECT OR SOMETHING.
Hillary: Who wrote this program?
Computer: YOUR BODY IS DECAYING WITH THE RAVAGES OF TIME.
Hillary: Well-
Computer: THE CLINTON FOUNDATION IS PROBLEMATIC.
(Bill punches the computer so that it breaks.)
Bill: (shaking with rage) You take that back! You take that back!
Hillary: Bill-
Tim: (sobbing into his sheet of cookies) It isn't worth it! It isn't worth it! Can't we all just get along? Look at us! We're becoming just like them.

Previously:

• 08/15/16 Hillary Clinton's late-night panic
• 08/01/16 What Hillary really meant to say on her historic night
• 07/18/16 Pokemon Go, an honest review
• 06/27/16 Keep calm and --- what the heck just happened?
• 06/09/16 Hillary Clinton's victory speech, translated
• 06/01/16 Why isn't Hillary fun and trustworthy?
• 05/22/16 Games people rig, by Bernie Sanders
• 05/16/16: What really happened at the Trump-Ryan meeting
• 03/28/16: I, Cthulhu, endorse Donald Trump
• 03/21/16: Yes, I love puns. Stop saying it's a disease
• 03/14/16: Donald Trump's Gettysburg Infomercial
• 03/11/16: The Miami debate was Hillary's personal nightmare
• 03/03/16: Chris Christie's wordless screaming
• 02/29/16: But seriously, how do we turn this Donald Trump thing off?
• 02/19/16: Donald Trump for pope
• 02/15/16: What really happens at a Dem debate
• 02/01/16: Barbie is past saving
• 01/25/16: For the love of all that is holy, save small talk
• 01/20/16: Sean Penn meets the Almighty
• 01/05/16: 'Said' is not dead. Save boring words!
Comment by clicking here.