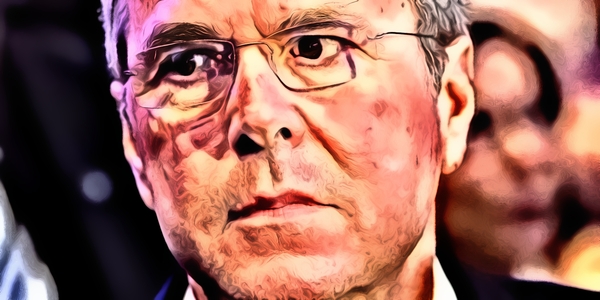 Three events that transpired last week speak to the challenges facing former Florida Gov. Jeb Bush in securing the Republican presidential nomination.
Event One: a Friday speech delivered by Bush in Columbus, Ohio, before a crowd of conservative activists attending the Americans for Prosperity's Defending the American Dream Summit.
Over the course of his remarks, Bush ripped into the federal budget process, various D.C.-related scandals, and dismissed Washington as "sheerly incompetent." Moreover, he called for lobbying restrictions and term limits for all elected officials (terms limits likewise on the radar screens of Ben Carson and Scott Walker).
The significance? As a candidate on a trendy Paleo diet and wagering on sometimes-mushy crossover appeal, it's not often that Bush serves up conservative red meat in such non-conservative portions.
Event Two: the day before his Ohio visit, while stumping in Keene, New Hampshire, Bush got testy with a reporter over his use of the term "anchor babies" — the suggestion being that the words, when used to described illegal immigrants who purposely have children on American soil so as to ensure U.S. citizenship for their children, aren't politically correct.
"Do you have a better term? You give me a better term and I'll use it," Bush sniped.
The significance: is this a sign that Jeb Bush is capable overcoming a "wimp factor" similar to the early doubt that surrounded the elder George Bush's run back in 1987?
About George H.W. Bush and "the wimp factor" of nearly three decades past: it was a Newsweek cover story that asked if the then-vice president — living in the shadow of Ronald Reagan and just not the same political powerhouse — was, in effect, "tough" enough to seize his party's nomination (you might recall Newsweek resurrecting the term while discussing Mitt Romney's fortunes in 2012).
On paper, the suggestion that the elder Bush lacked guts — this was a man who flew in combat before he was old enough to vote — was laughable. Yet the narrative dogged him in 1987, thanks in part to the candidate's DNA. As a biographer would later explain: "One thing that made George Bush a less appealing candidate was that he refused to show his emotions. That's not what a man did — a man of his generation and of his upbringing. And so the public saw a slightly awkward man who didn't seem quite ready to share his true self with them. When you got to know him, the human side, the emotional side was there. It came out."
How'd the elder Bush overcome the perception problem? Two convenient foils helped: biased media in the form of Dan Rather; and a milquetoast opponent in the form of Michael Dukakis (tanks for the memories).
As for son Jeb, the "wimp factor" likewise centers around the question of "nice guy, but where's the passion?" But with one big difference between 2016 and 1988. It's not the media doing the bullying this time around, but instead a fellow Republican candidate by the name of Donald Trump.
Which takes us to the third event of last week: Bush calling out Trump as wrong on immigration and a Democrat-in-disguise.
The significance: to this point in the election, Bush for the most part has served as a Trump pin cushion, absorbing jabs that he's weak on policy and part of a circus sideshow. And he denied a report that he'd referred to Trump as a "buffoon" and a "clown."
But maybe that's starting to change…
With the GOP field set to gather in a little over three weeks for the second candidates' debates, let's see if Bush (a) continues to talk tough about Trump and (b) once in his company, goes after the frontrunner in front of a nationwide viewing audience — both to dispel the notion that Bush lacks an edge and to help feed the narrative that it's really a two-man race between Jeb and The Donald.
And if that doesn't work out? There's still plenty of time for another sit-down with Dan Rather.
Previously:
• 08/18/15: The Five Candidates Best Suited To Reorient The GOP
• 08/06/15: Biden and scared GOPers
• 08/04/15: What 2012's First Big GOP Debate Tells Us About Thursday's Showdown
• 07/29/15: Hillary's Very Brady Problem
• 07/15/15: Bracketing The GOP'S Sweet Sixteen
• 07/10/15: Hillary And The Media: No Mutual Admiration, But Mutually Beneficial?
• 07/08/15: The Sixties . . . In 2016?
• 07/03/15: Four 4th Observations
• 07/02/15: Should Jeb Play A Trump Card?
• 07/01/15: Christie Almighty?
• 06/15/15: Did Hillary Flunk A History Lesson?
• 06/11/15: Thursday Candidates Quiz
• 06/10/15: First Best Second Choice
• 06/08/15: Game of Inches
• 06/03/15: The Power Of Narrative Politics
• 06/01/15: Sorting The Republicans' 2016 Kingdom
• 05/28/15: To Command Without Having Served
• 05/21/15: 2016: Do Looks Matter?
• 05/15/15: John Bolton's Swan Song
Comment by clicking here.
Bill Whalen is a research fellow at the Hoover Institution, where he studies and writes on current events and political trends. In citing Whalen as one of its "top-ten" political reporters, The 1992 Media Guide said of his work: "The New York Times could trade six of its political writers for Whalen and still get a bargain." During those years, Whalen also appeared frequently on C-SPAN, National Public Radio, and CNBC.
Reprinted from Forbes.com