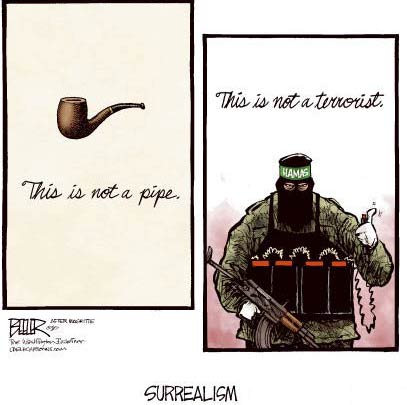 It isn't hard to understand the truth about Israel and Hamas.
Four-year-old Daniel Tragerman was murdered on Friday afternoon in his home in Kibbutz Nahal Oz by Hamas terrorists.
They shot him with a mortar launched from a school in Gaza's Zeitoun neighborhood. At the time of the launch, the school was filled with civilians who had fled to the school for shelter.
They fled to the school for shelter because they were forced to vacate their homes.
They were forced to vacate their homes because Hamas terrorists were launching mortars and rockets at Israeli civilian sites, like Daniel Tragerman's home, from their apartment buildings.
The moral and ideological divide between Israel and Hamas is so self-evident that the only way to ignore it is by embracing and cultivating ignorance.
This week Richard Behar published an in-depth investigative report in Forbes documenting how the US media is doing just that. As Behar demonstrated, the media is collaborating with Hamas in its war against Israel.
Behar cited example after example of how the US media, led by The New York Times have systematically ignored, obfuscated and downplayed Hamas's war crimes while swallowing whole its bogus statistics and accusations against Israel.
The greatest threat to faux reporters like the New York Times Israel bureau chief Jodi Rudoren and her colleagues are people who refuse to accept their distortions and insist that the truth be told.
The most dangerous of the truth tellers are the non- Jews who stand up for Israel.