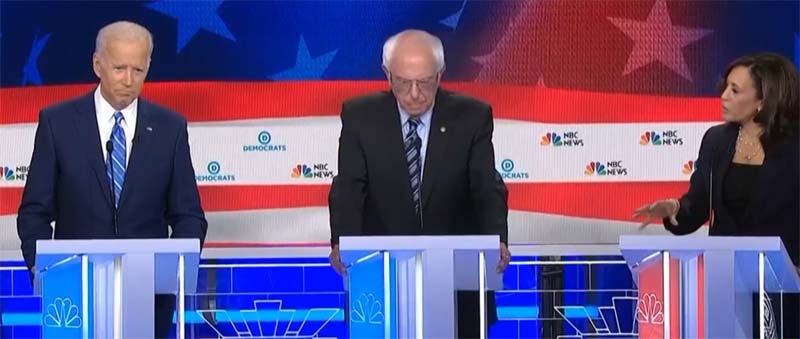 It's tempting to look at the line-ups for the upcoming
two nights of Democratic presidential debates
and ask (in addition to what else is airing on the nights of July 30 and 31): is the fix in?
I pose the question because this an arrangement that has to please the Democratic National Committee – plus most any Democrat who chooses to soberly focus on the task of collecting 270 electoral votes.
On the first night: two die-hard socialist/progressives (Vermont Sen. Bernie Sanders and Massachusetts Sen. Elizabeth Warren) accompanied by eight other Democratic hopefuls most of whom are simply dying for attention (Montana Sen. Steve Bullock, South Bend Mayor Pete Buttigieg, former Maryland Rep. John Delaney, former Colorado Gov. John Hickenlooper, Minnesota Sen. Amy Klobuchar, former Texas Rep. Beto O'Rourke, Ohio Rep. Tim Ryan and author Marianne Williamson).
And on the second night: Colorado Sen. Bennet, former Vice President Joe Biden, New Jersey Sen. Cory Booker, former HUD Secretary Julian Castro, New York City Mayor Bill de Blasio, Hawaii Rep. Tulsi Gabbard, New York Sen. Kirsten Gillibrand, California Sen. Kamala Harris, Washington Gov. Jay Inslee and investor/Area 51 aficionado Andrew Yang.
I'll give you four reasons why there's something fishy about this.
First, not unlike a boxing promotion, the second night's debate conveniently sets the stage for a second encounter featuring Biden and Harris. That's a gift for both candidates as: (a) Biden gets to demonstrate that he still has his wits about him after last month's shaky first-debate performance; or (b) Harris maybe gets another boost if she again succeeds in taking a chunk out of Biden's hide.
It makes for a good pre-debate narrative and it should attract eyeballs. Moreover, if the Democrats' goal in 2020 is to reconstruct the Obama coalitions from 2008 and 2012, then why not put Obama's sidekick and a California senator who mirrors the Obama narrative of race and ascendancy front and center, on the same small screen?
The second conspiracy point: if you think Biden and Harris are more electable than Sanders and Warren (which I do), then these debates will succeed in keeping the latter two away from the former two. That's happened twice now to Warren; I wouldn't blame her for being upset with the process.
Point three: if you think that Biden is destined to be the nominee (which I'm not so sure of), then it's not too early to be thinking of suitable running mates. Booker, Castro and Harris would seem logical choices. They get to share the stage with Biden. For Booker and Castro, a strong debate performance maybe gives each some needed momentum.
Point four: if Biden and Harris are the closest this field gets to "adult swim", then these line-ups succeed in keeping two of the bigger goofs from crashing the party (that would be the self-pitying O'Rourke and "Secretary of Crystals" Williamson).
There's a fifth item worth mentioning – and it's not so much a conspiracy as it is a complaint: what was CNN thinking when it chose to turn what should be a serious process (deciding who debates whom in the race to the leader of the Free World) into a made-for-tv spectacle that reeked of game-show and sports infotainment?
For years, I've railed about our presidential primary process and have suggested that the two parties agree to a lottery (randomly assigning the order of small, medium and large states, rather than giving Iowa and New Hampshire their outsized importance).
But a lottery for choosing debates doesn't work for one simple reason: Patrick Ewing.
In 1985, Ewing was the first pick in that year's NBA Draft. The New York Knicks made the choice, with the Indiana Pacers going second, thanks to luck of the draw – the NBA commissioner pulling a card with the Knicks' logo on it from the bottom of a drum.
In the three decades since, conspiracists haven't given up on the idea that a fix was in – i.e., the league wanted Ewing playing for a glamorous franchise in the Big Apple and not in smaller media market like Indianapolis so therefore the outcome of the draft had to be pre-ordained.
Where the Ewing conspiracy goes all fake moon landing/grassy knoll: wild notions that the league pre-arranged the selection so as to make it easy for the commissioner to know which card had the Knicks' logo (among the allegations: the card had a bent corner, making it easy for the commissioner to grope around for it; the card was secretly kept in a freezer so that the commissioner could recognize it by touch).
I'm not accusing CNN of taking part in a scam. But there's a case to be made for journalistic malpractice because, thanks to the randomness of the draw, the public once again is denied the debate it deserves.
And what would that debate be?
Simple: let's be adults about this and recognize that the field of 20 hopefuls has five principals: Biden, Harris, Warren, Sanders and Buttigieg. They're the top tier of candidates, per the Real Clear Politics Average. Put all five of them on the same stage, on the same night.
As for the other five candidates to fill out the session, there are one of two ways to play it: choose the next five with the best combination of poll numbers and individual donors, or again revert to the RCP Average.
If we did the latter, the rest of that second-night debate would be: O'Rourke, Booker, Yang, Gabbard and Klobuchar (the other Democratic hopefuls average less than 1%).
Is it fair to divide the Democratic debates into two nights of have's and have-not's?
In a word: yes.
John Delaney announced his candidacy in July 2017 (that's not a typo). Most of the field formed between January and April of this year (here's an announcement timeline). At some point, the Democratic National Committee and the media should reward candidates for progress and extend tough love to the others whose campaigns aren't gaining traction.
How to do that? Maybe they can hold a lottery to see which candidate gets the bad news first.
Sign up for the daily JWR update. It's free. Just click here.