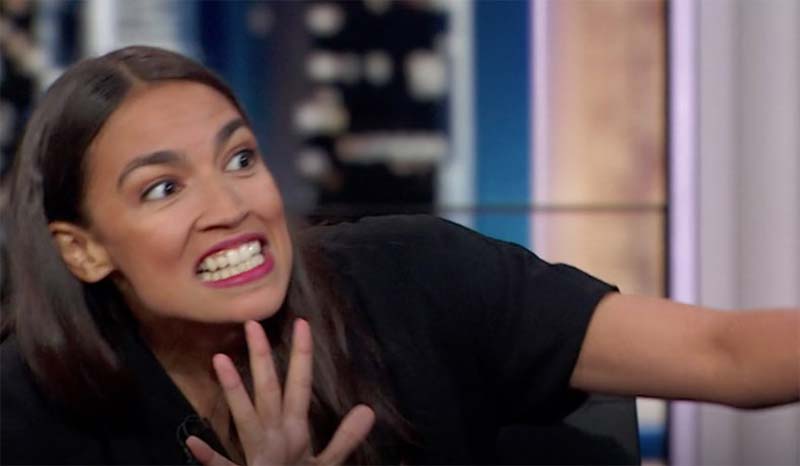 Political forecasting should go on hiatus — at least, as long as Donald Trump is on the ballot. With this candidate, so many calculations — turnout, what voters tell pollsters versus how they actually vote — don't make for sound predictions.
Still, let's gaze into the crystal ball for clues to this question: would you choose Trump, Senate Majority Leader Mitch McConnell, House Speaker Nancy Pelosi or first-term Rep. Alexandria Ocasio-Cortez as the Washington figure soonest to leave their current job?
It's a trickier question than it might seem.
Trump could be out of the White House by midday, January 20, 2021, should next year's election not go his way (or sooner, if you think there's any chance that the man could be impeached).
We know Trump's fighting a headwind of presidential history. Of the four other incumbents who lost the popular vote but won the national election, only one (George W. Bush) managed to win a second term.
And there's the nagging matter of popularity.
The bad news: This month's Washington Post-ABC poll showed a presidential disapproval rating of 53%. The good news for Trump: his approval rating has jumped five points since April. Even better news: the Post poll suggests his job approval may be at 50% or higher in enough states to ensure at least 270 electoral votes.
And from those who put their money where their mouths are: bookies are predicting a Trump-Biden race next fall, with the incumbent currently the favorite.
That takes us to McConnell who, like Trump, will face an electorate a year from now back home in Kentucky.
The Senate Majority Leader was first elected to the Senate in 1984. His sixth re-election campaign got a boost last week from, of all people, his Democratic challenger. Amy McGrath, a former Marine pilot whom her party believes is well designed to bomb and strafe McConnell into political oblivion, flip-flopped on the Kavanaugh nomination (she now says she'd have been a no vote), then told an interviewer that she's running against McConnell because the GOP Leader's obstructed the Trump agenda.
Huh?
If his challenger continues to run on such pretzel logic, then McConnell seems likely to have a Senate job through 2026.
Does this suggest that Pelosi, then, is the best bet for that first Washington exit?
Forget about her constituents kicking her to the curb. Pelosi, who's held her California congressional seat since winning a special election back in 1987, represents the seventh-most Democratic nationally.
It's a larger set of voters — the ones in the House swing districts who flipped the chamber in 2018 — who'll determine Pelosi's future.
Let's suppose the House goes Republican next year. It won't come easy, as Democrats would have to lose a net of 20 seats (Republicans gained only 16 and 12 seats, respectively, in the two elections in which Richard Nixon and Ronald Reagan each carried 49 states).
As a Minority Leader (yet again), maybe Pelosi makes it her mission to win back the House one last time in 2022 — and takes herself out of the running for Speaker (she'd be 82 at the time) and perhaps even announcing her retirement. Then again, some expected Pelosi to take this Shermanesque approach in 2018.  
What else could drive Pelosi out of Washington?
Call it #squadgoals. As in: the trouble-making "Squad" of Ocasio-Cortez and her fellow Democratic Reps. Ilhan Omar, Ayanna Pressley and Rashida Tlaib. 
I'm not going to suggest that these four freshmen members could agitate Pelosi to the point where she'd leave office. Rather, I'm suggesting the opposite: Ocasio-Cortez might tire of bickering with Pelosi to the point where she'd leave the House, not the Speaker.
It's not an unrealistic scenario given that Ocasio-Cortez may have little to show in the way of legislative accomplishments as long as she: (a) champions far-left policy extremes that could wreck the U.S. economy (not to mention threaten Pelosi's majority status); and (b) goes to extremes in antagonizing the Democratic leadership. In order to again real clout with her caucus, Ocasio-Cortez will have to find a way to at least quintuple her Squad to a minimum of 20 members so as prevent the Democratic majority from reaching 218 votes without her buy-in.
Pelosi will do her best to prevent that from happening.
But there's one thing consideration that might convince AOC to bid adieu to the House: financial greed.
For all the lip service given to class inequality and the need for wealth redistribution, a devout socialist like Bernie Sanders has managed to rake in seven figures from book royalties while also owning a couple of homes in Vermont — all the while doing little of note in Congress, other than seeking the presidency.
Ocasio-Cortez reportedly retained a Los Angeles talent agency and explored a book deal earlier this year. She could stay in Congress and, like Sanders, preach socialism while cashing in on the written word.
Or the more telegenic AOC could do one thing the hard-on-the-ears Sanders likely can't: transition from Congress to a friendly cable outlet — and be the star of a show where Nancy Pelosi isn't the executive producer or in charge of content. Keep in mind: Rachel Maddow's $7 million salary is roughly 40 times Ocasio-Cortez's current House pay.
The beauty of an Ocasio-Cortez cable career: it doesn't matter who's in the White House and which party controls Congress. Neither party seems to meet with her approval. The tedious behavior and made-for-Twitter victimization (one scribe sees her as the Taylor Swift of the Democratic Party) means Alexandria Ocasio-Cortez and her diva act won't be missed in the halls of Congress.
Let's give AOC a cable show — and see if she's as good at that medium as she is social media.