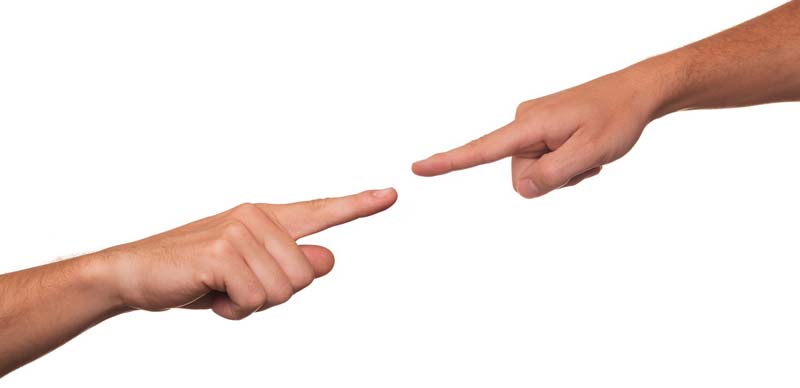 Until their split last year, Mark Halperin and John Heilemann were the golden boys of American political journalism. Their collaboration led to a best-selling book about the 2008 presidential campaign, "Game Change," which became an Emmy-winning HBO movie, which led to lucrative reporting and TV deals for Halperin and Heilemann at Bloomberg News, Showtime and NBC News.

But ever since Halperin's career imploded amid sexual harassment allegations last fall, the two men have gone from partners to adversaries.

For months, Heileman, 52, and Halperin, 53, have engaged in negotiations over material that was to be part of a follow-up "Game Change" book and TV miniseries about the 2016 presidential campaign. Halperin appears to hold the key to the project: Notes and transcripts of interviews with Donald Trump and his campaign advisers and staff.

Heilemann is seeking Halperin's work for future projects, including another "Game Change" book, which also could form the basis of another TV adaptation. But Heilemann has made clear that his collaboration with Halperin is over and that Halperin won't share in any advances or royalties from anything Heilemann produces, according to people familiar with their negotiations.

The question is, what's Halperin's reporting worth?
The two men have been unable to agree on a price for Halperin's material, which has made it impossible for any project based on it to go forward.

Both HBO and Penguin Press/Random House canceled plans for "Game Change" projects in October after nine colleagues accused Halperin of harassing them while he was political director at ABC News from 1997 through 2007. The women said he touched them inappropriately or pressured them for sex. One woman said he physically assaulted her outside a restaurant after a lunch meeting.

Halperin apologized for "outrageous conduct" and causing others "pain" but has never admitted any specific instance of misconduct.

The allegations led Halperin's employers to drop their association with him. He lost his role as a regular contributor on MSNBC's "Morning Joe," and he was booted as co-host with Heilemann of a Showtime series called "The Circus" (Heilemann has continued to appear on the show and on MSNBC). A Halperin-Heilemann hosted political talk show titled "With All Due Respect," carried on Bloomberg TV and MSNBC, was dropped earlier in the year before the allegations against Halperin surfaced.

Since then, Halperin has explored ways to regain his stature as a political commentator, all to no avail. Although he was earning a reported $1 million a year while he and Heilemann worked at Bloomberg TV, Halperin hasn't appeared on TV or worked in journalism since October.

Halperin did not return multiple requests for comment. A representative for Heilemann declined to comment.

According to people close to both men - who requested anonymity because they were not authorized to speak for them - a successful revival of the "Game Change" franchise could help Halperin with a comeback. But Halperin's return seems likely to be complicated by the harassment allegations, which came amid a wave of accusations against well-known men in the media, entertainment, sports and government.

As the negotiations drag on, Halperin and Heilemann may be facing some time pressure. Even if their negotiations were completed today, it would take several months to write and publish a book, at which point interest in the 2016 campaign may have faded, said an editor of a publishing firm. The editor asked not to be identified because he and his company don't want to be associated with Halperin.

Halperin and Heilemann's most successful work - official title: "Game Change: Obama and the Clintons, McCain and Palin, and the Race of a Lifetime" - was published in January 2010, less than a year after Barack Obama was inaugurated.

The HBO movie version of the book, which starred Julianne Moore as Sarah Palin and Ed Harris as Sen. John McCain, premiered in March 2012, nearly four years after the 2008 election and in the middle of a new presidential campaign.

The authors subsequently wrote a book about the 2012 election titled "Double Down: Game Change 2012," which was less commercially successful than the original. It was published in November 2013, about 10 months after Obama's second inauguration.

HBO acquired the rights to the proposed third book in the series early last year and planned to make a miniseries out of it with the same team that produced the Emmy-winning TV movie, including executive producers Tom Hanks and Gary Goetzman, director Jay Roach and writer Danny Strong. But HBO dropped the project after the news about Halperin broke.

A friend of Halperin's said the timing of a new book isn't as important as the quality of it. "The question is, do they have anything new?" said the friend. "Is there anything useful to say at this point?"
Previously:
• 06/01/18: MSNBC host Joy Reid faces new questions about her old blog
• 05/01/18: Cut the comedy? The White House Correspondents' Association is considering it
• 04/30/18: Prez's absence at White House correspondents' dinner turns it from schmooze-fest to snooze-fest
• 03/07/18: A chatty former Trump aide with a wild but wavering story raised some questions about live interviews
• 02/16/18: Reporting on tragedy: To explain or exploit?
• 01/04/18: The provocative, plugged-in author of new Trump book has previously been accused of playing fast and loose with facts
• 12/05/17: Blunderer Brian (Ross') staggering screw-ups
• 11/27/17: New news? Not on 'Morning Joe.' Hosts pass off a taped show as the live version
• 01/06/17: Why losing Megyn Kelly probably won't even dent Fox News' armor
• 05/09/16: Obama official 'fesses up: 'Narrative' created by administration sold Iran nuclear deal to clueless press
• 03/16/16: Despite the beatdown, reporters love the Trump beat
• 03/10/16: What really gets under Trump's skin?
• 03/04/16: Megyn Kelly leaves Trump sputtering to defend himself at debate
• 02/29/16: Think Trump's wrong? Fact checkers can tell you how often (hint: a lot)
Comment by clicking here.