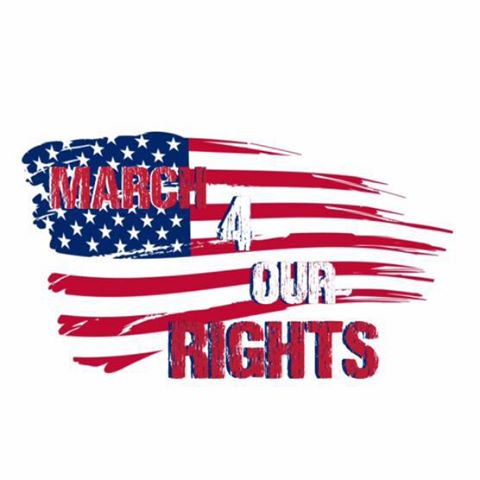 As a pro-gun, conservative student, Anthony Bartosiewicz believes his opinion has been drowned out. The 16-year-old from Wheaton, Illinois, said classmates who learn that he is a staunch supporter of the Second Amendment have called him a "school shooter" or have pushed him into arguments about guns.

The highly publicized wave of student-led gun-control activism after the mass shooting at a Parkland, Florida, high school in February has left some conservative students feeling as though their views are not being taken into consideration in the debate about how to stop school shootings. As the March for Our Lives movement has been trying to push gun-control legislation across the country, a group of students who want to protect Second Amendment rights sponsored rallies nationwide on Saturday.

"The problem that I saw was I didn't necessarily have a voice," Bartosiewicz said. "It's gotten to the point where another reason that I feel like we've been drowned out of the conversation is because people who are pro-gun aren't confident enough to speak their mind." Organizers say they feel as though their right to bear arms is in danger and that the wave of gun-control activism could lead to certain types of guns being banned. The students are calling for the safe, responsible use of guns. They would like to see increased security in schools, including armed guards. Some would like teachers to be armed.
The group spearheading the rallies - March for Our Rights - held marches in Chicago, Los Angeles and Washington on Saturday, with sister events in seven other cities. The rallies were modest, but organizers hope to lay a foundation for growth in coming years. Speakers included conservative radio host and former Republican Congressman Joe Walsh at the Chicago rally and NRATV host Cam Edwards at the Washington march.

Planning started in April, shortly after well-funded gun-control rallies emerged in Washington and other cities. A group of conservative students found one another on Instagram and Facebook and decided they should speak out against what they saw as an attack on gun ownership. Bartosiewicz said the rally has been featured on PragerU, which creates right-wing videos targeted at millennials and various conservative social media accounts. Organizers have been interviewed on NRATV; a spokeswoman for the National Rifle Association said the group is not sponsoring the events.

Morgan Sachs, executive director of March for Our Rights DC, said she heard from high school students who "felt they were being silenced" during the gun debate that followed February's mass shooting at Marjory Stoneman Douglas High School.

Sachs, who graduated from Florida Atlantic University in Boca Raton, about 10 miles from Parkland, said not everyone from the town is in favor of gun control.

"When students from that high school took control of the gun-control narrative, it was shocking to me," she said. "I knew students there did not entirely agree with it. Students at my school totally disagreed."

Sachs hopes Saturday's rallies will give Second Amendment supporters a "chance to feel comfortable."

For Kenya Rodriguez, expressing her deeply held belief in conservatism and the Second Amendment has been anything but comfortable. Rodriguez, who is black and Hispanic, said people have called her racial slurs for her views. She said she has very few supporters at her Phoenix high school.

"I've had everybody turn against me," she said. "I have no close friends, no supporters . . . it has created a big divide."

Rodriguez, a 17-year-old rising senior, said she wants to join the Army after graduation and believes that some want to take away the right to bear arms. She wants to form a pro-gun student group at her high school and hopes that more like-minded students will become vocal after the march.
Xena Amirani, a 19-year-old sophomore at the University of Southern California and chairwoman of March for Our Rights, said the marches are running on shoestring funding, mostly from small, individual donations. In an interview, Amirani said she is a libertarian and started writing for a USC magazine from a conservative perspective. She wrote about guns despite having only shot a firearm once, with her uncle. The child of Iranian immigrants, Amirani said she started doing research on guns and gun rights, then began going to shooting ranges. She quickly found a cause she believes in.

"What we're doing is completely authentic, so hopefully the message will get across despite the lack of funds," she said on NRATV this week.

Amirani said she is in favor of increased school security, but not necessarily arming teachers; she believes each school should have at least one armed guard. She also believes in shoring up the nation's mental-health system - she said many high schools and colleges do not offer enough mental-health services.

She said she has lost friends as a result of her position on guns. After posting a photo of herself at a shooting range on Instagram, people made "bad terrorist jokes" knowing that Amirani's family is Muslim. The backlash, she said, has galvanized her to fight even harder for gun rights.

Bartosiewicz said he believes there should be more school security, including armed guards and campus police officers. He supports the idea of arming teachers, but only if they are "100 percent qualified and have gone through an extreme vetting process," including mental-health checks. He said guns should be kept in a safe protected by a fingerprint lock.

He wants people on both sides of the issue to talk about guns at the rallies, but only if the debate remains civil. Bartosiewicz said teenagers, no matter their stance on guns, all want school shootings to stop.

"We both have the same end goal in mind," he said. "We just have different solutions."