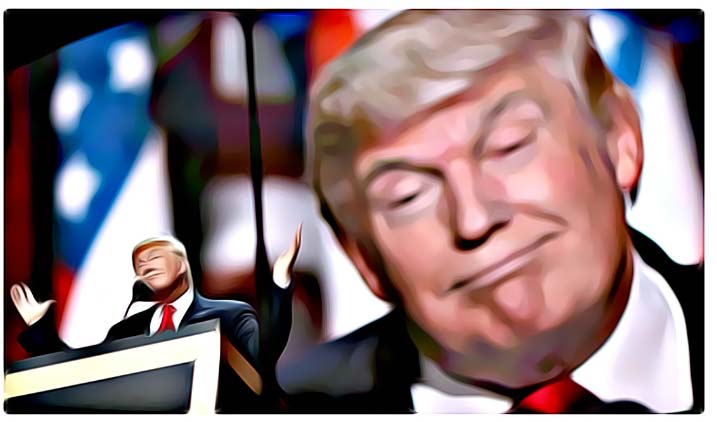 Just seven weeks ago, in Saudi Arabia, President Donald Trump assiduously avoided using the term "radical Islamic terrorism." Not long ago, he vociferously attacked Barack Obama for not uttering those very words. But pragmatists in the administration, such as National Security Adviser H.R. McMaster, warned the commander-in-chief that this rhetoric is counterproductive.
The term made a comeback in Poland on Thursday. "We are fighting hard against radical Islamic terrorism, and we will prevail," Trump said in Warsaw.
Comparing the president's two major foreign policy speeches reveals the extent to which the Trump Doctrine is forever in flux and offers a window into the internal maneuvering to define it.
"This is not a battle between different faiths, different sects, or different civilizations," Trump told Arab leaders in Riyadh. "This is a battle between barbaric criminals who seek to obliterate human life and decent people."
In Warsaw, though, Trump referred 10 separate times to a clash of civilizations. "The fundamental question of our time is whether the West has the will to survive," he told a crowd that included people who had been bused in by the ruling party to cheer for him. "Do we have the confidence in our values to defend them at any cost? Do we have enough respect for our citizens to protect our borders? Do we have the desire and the courage to preserve our civilization in the face of those who would subvert and destroy it?" The president concluded by confidently declaring that "the West will never, ever be broken": "Our values will prevail, our people will thrive and our civilization will triumph."
Compare that to his message in Riyadh: "America will not seek to impose our way of life on others, but to outstretch our hands in the spirit of cooperation and trust. . . . We are not here to lecture. We are not here to tell other people how to live, what to do, who to be, or how to worship."
Trump has also changed his tune on NATO since the last trip. In May, he caught McMaster and Defense Secretary Jim Mattis off guard by nixing language from a carefully prepared speech that reaffirmed the United States commitment to mutual defense obligations under Article 5 of the NATO charter. Ahead of the speech at the alliance's headquarters in Brussels, senior administration officials told reporters that Trump would deliver the lines. His decision to cut them was seen as a win for White House Chief Strategist Stephen Bannon and senior adviser Stephen Miller.
Thursday, the president delivered the line that these aides had wanted him to say in May: "The United States has demonstrated not merely with words but with its actions that we stand firmly behind Article 5."
Boiling it down, McMaster got what he wanted from Trump on NATO this time but not on "radical Islamic terrorism." And vice versa for Bannon and Miller.
This reflects the messiness of the ongoing war for the soul of Trumpism that rages on inside the administration, pitting the nationalists against the globalists. Neither faction is likely to ever decisively win out over the other. Trump, who puts a premium on keeping his options open, seems determined to never let himself get defined as one or the other for very long. Just as we saw throughout his campaign, he enjoys not just being unpredictable and improvisational but having competing power centers underneath him. Because he lacks many core convictions, he's ideologically flexible.
That means that proximity to power matters far more in this White House than normal ones. Fairly or not, Trump has earned a reputation for doing whatever the last person he talks with suggests when trying to make up his mind. That makes facetime especially valuable.
Trump's top aides are divided on a host of big questions, including whether to consider scaling back sanctions on Russia. Mattis and McMaster have hawkish views while Secretary of State Rex Tillerson has seemed more open to it. Two fresh news stories reflect other battle lines:
• The military's ability to determine troop levels in Afghanistan has secretly been curtailed. The Wall Street Journal's Dion Nissenbaum reports: "A few days after (Trump) gave his Pentagon chief the unilateral authority last month to send thousands of American troops to Afghanistan at his own discretion, the White House sent classified guidance that effectively limits the number of forces. The memo, sent by (McMaster) to a small group of administration officials, said that the president would let (Mattis) send no more than 3,900 troops to Afghanistan without coming back to confer with the White House. . . . The conflicting messages reflect divisions that have surfaced in the Trump administration as it tries to develop a comprehensive new strategy for Afghanistan."
• Tera Dahl, deputy chief of staff at the National Security Council and a former columnist for Breitbart, is leaving the White House. BuzzFeed's John Hudson reports: "Dahl entered the White House with strong ties to members of the nationalist wing . . . including Bannon, whose website she wrote for, and NSC aide Sebastian Gorka, whose wife worked with Dahl at the Council on Global Security, a now-defunct counterterrorism think tank that warned about the dangers of Islam. During her time at the White House, Dahl became a key ally of Keith Kellogg, the NSC's chief of staff who maintains a strong personal relationship with the president. White House aides said tensions between Kellogg and McMaster have created an uncomfortable working environment at the NSC . . . One source said (Dahl) is likely to be nominated to a position at the US Agency for International Development."
All of this contributes to the mixed messages that Trump sometimes sends. Consider his posture on Russia.
In his scripted speech, which went through the traditional vetting process of the national security apparatus, Trump was firm: "We urge Russia to cease its destabilizing activities in the Ukraine and elsewhere and its support for hostile regimes, including Syria and Iran, and instead join the community of responsible nations in our fight against common enemies and defense of civilization itself."
In his unscripted press conference, however, Trump refused to endorse the assessment of the U.S. intelligence community that Russia interfered in last year's election. "Nobody really knows for sure," he insisted, noting that the same agencies also thought Iraq had weapons of mass destruction. "They were wrong and it led to a mess," he said.
When presidential pronouncements appear to be all over the place, they pack less of a punch. That's why everyone pays so much attention to Trump's Twitter feed. It is the clearest window into what he truly thinks.