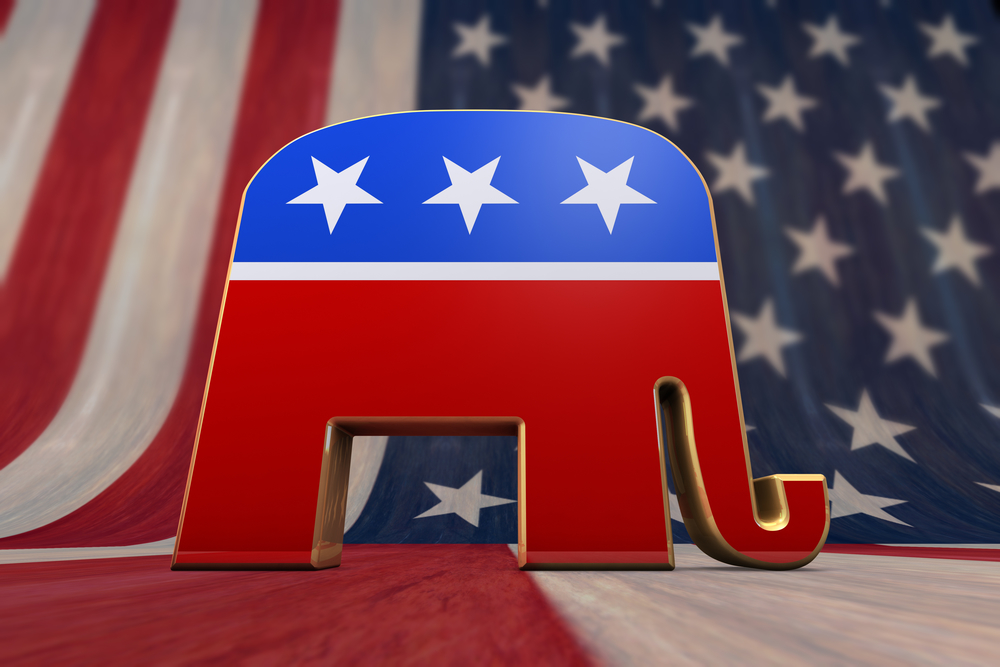 The 10th Amendment is like the budget deficit. You only learn which Republicans genuinely care about it when their own party controls the federal government.
When Barack Obama was in charge, it was easy for GOP officials of all stripes to talk up states' rights and decry out-of-control spending. Less than six months into President Donald Trump's tenure, much of that concern has fallen by the wayside. Each day brings fresh examples of rank hypocrisy.
But there are also principled conservative politicians who are proving that they follow the same moral compass whether Republicans are in power or in the wilderness.
The past week has brought a career-defining litmus test for secretaries of state in capitals across the country. By refusing to participate in the fishing expedition of a panel that was created by Trump to bolster his absurd claim that he "won the popular vote if you deduct the millions of people who voted illegally," several Republicans in ruby-red states are demonstrating a politically courageous commitment to federalism.
Pushback from the right, more than any other factor, has now imperiled the nascent work of the "Presidential Advisory Commission on Election Integrity."
"I denied the Obama Justice Department's request, and I'm denying President Trump's Commission's request because they are both politically motivated," Louisiana Secretary of State Tom Schedler, R, said in a statement. "The release of private information creates a tremendous breach of trust with voters who work hard to protect themselves against identity fraud. . . . This Commission needs to understand clearly (that) disclosure of such sensitive information is more likely to diminish voter participation rather than foster it. I have been fighting this kind of federal intrusion and overreach, and will continue to fight like hell for the people who trust me with the integrity of our election process."
"It's not sitting well with me,"said Wyoming Secretary of State Ed Murray, R. He told the Casper Star-Tribune that he will not turn over any voter data: "Elections are the responsibility of states under the Constitution. I'm wondering if this request could lead to some federal overreach. . . . I have not experienced any secretary of state who has expressed any concerns or worry about fraud or some type of nefarious activity occurring that jeopardizes their respective election process."
Arizona Secretary of State Michele Reagan, R, called the commission a "hastily organized experiment." "I share the concerns of many Arizonans that the Commission's request could implicate serious privacy concerns," she wrote in an open letter. "Centralizing sensitive voter registration information from every U.S. state is a potential target for nefarious actors who may be intent on further undermining our electoral process. . . . Without any explanation for how Arizona's voter information would be safeguarded or what security protocols the Commission has put in place, I cannot in good conscience release Arizonans' sensitive voter data for this hastily organized experiment."
The bluntest statement of all came from Mississippi Secretary of State Delbert Hosemann, R. Setting the tone for his counterparts, he announced before the commission's letter even arrived at his office that he wouldn't comply. "They can go jump in the Gulf of Mexico," he said of Trump's panel. "Mississippi residents should celebrate Independence Day and our State's right to protect the privacy of our citizens by conducting our own electoral processes."
Other Republicans have also declined to share information but without such rhetorical flourishes, from Tennessee to South Dakota and Arkansas.
"The states that won't provide all of their voter data grew to a group of at least 44 by Wednesday, including some, such as California and Virginia, that said they would provide nothing to the commission," The Post's Mark Berman and John Wagner tabulate. "Others said they are hindered by state laws governing what voter information can be made public but will provide what they can. . . . More than two dozen states said they will provide some of the requested information, according to interviews, public statements and media accounts. Others have not announced decisions or elaborated on what they plan to provide. . . . Partial responses from the states could lead to further problems, experts say, because the commission could ultimately assemble disparate - and incomplete - information in an effort to draw a national picture. The partial data could make it all largely worthless or misleading."
Vice President Mike Pence is the chair of the panel and Kansas Secretary of State Kris Kobach, R, a former state GOP chairman who has long insisted without proof that there is widespread voter fraud, is the vice chair. Just last month, a federal judge fined Kobach $1,000 for making "patently misleading representations" to the court about documents relevant to an ongoing voting rights case.
The White House blasted out a statement this week attacking stories about states refusing to hand over data to the panel as "more fake news." Responding to whip counts being kept by media outlets like CNN, the Associated Press and The Post, Kobach said: "At present, only 14 states and the District of Columbia have refused the Commission's request for publicly available voter information." That's some lawyerly parsing if you read closely. "Despite media distortions and obstruction by a handful of state politicians," Kobach added, "this bipartisan commission on election integrity will continue its work to gather the facts through public records requests to ensure the integrity of each American's vote because the public has a right to know."
Southern states, of course, have historically had more antagonistic relationships with the central government. This dates to before the Civil War, but the Clarion-Ledger of Jackson explains the more recent context of the "go jump in the Gulf of Mexico" statement from Mississippi's chief election officer: "In 2014, the Texas-based organization True the Vote and some Mississippi residents sued the state, Hosemann and the state Republican Party seeking birth dates of Mississippi voters after Chris McDaniel's primary loss to incumbent U.S. Sen. Thad Cochran. The state claimed voter's birth dates were private. The lawsuit claimed they fall under federal voting laws on disclosure. A specially appointed federal judge sided with the state and Hosemann."
Likewise, Schedler fought a lawsuit by the Obama Justice Department that Louisiana was not aggressively enough trying to register voters who receive public benefits. "The President's Commission has quickly politicized its work by asking states for an incredible amount of voter data that I have, time and time again, refused to release," Schedler explained in his statement. "My response to the Commission is, you're not going to play politics with Louisiana's voter data, and if you are, then you can purchase the limited public information available by law, to any candidate running for office. That's it."
He's defended himself in a round of local interviews. "Tom Schedler's being consistent in saying if it's not good enough for Obama, it's not good enough for Trump," Schedler said during an appearance on a New Orleans talk radio station. "It's a state's rights issue . . ."
Whether you substantively agree with these guys is beside the point: They are demonstrating ideological consistency in an era of rampant tribalism, when many Republican politicians keep their fingers in the wind and contort their positions like pretzels to match whatever Sean Hannity is saying on Fox News.
It takes pluck, especially because the president - who remains overwhelmingly popular with the Republican base - has been lashing out at them on Twitter:
Numerous states are refusing to give information to the very distinguished VOTER FRAUD PANEL. What are they trying to hide?

Trump carried Louisiana by 20 points, Mississippi by 18 points, Wyoming by 46 points and Arizona by four points. Nevertheless, these Republican secretaries of state have persisted.
It's not without risk. Chief election officers rarely get much national attention - unless they're Katherine Harris - but ambitious politicians often seek this statewide office as a steppingstone to something bigger. Kobach, for example, is running for governor of Kansas next year to succeed Sam Brownback. On the other side of the debate over states' rights, Murray is weighing whether to run for governor of Wyoming in 2018. South Dakota Secretary of State Shantel Krebs, R, who says she "will not share voter information with the commission," is running for the state's lone U.S. House seat. (The president got 62 percent of the vote there.) All surely understand that resisting the Trump panel opens them up to possible attacks in GOP primaries.
• Democrats appear largely unified in opposition to the requests. "This entire commission is based on the specious and false notion that there was widespread voter fraud last November," said Gov. Terry McAuliffe, D-Va. "At best this commission was set up as a pretext to validate Donald Trump's alternative election facts, and at worst it is a tool to commit large-scale voter suppression."
From Maryland's Democratic attorney general:
Brian Frosh tweeted: I find this request repugnant; appears designed only 2 intimidate voters and 2 indulge the President's fantasy that he won the popular vote.
• Under mounting scrutiny, even some members of Trump's own 15-member panel are now balking:
Maine Secretary of State Matthew Dunlap, D, for example, has changed course and decided against releasing information.
Maryland's deputy secretary of state resigned from the panel on Monday. The appointment of Luis E. Borunda, a former Baltimore County school board member, had prompted some head scratching. "Unlike in many other states, the Secretary of State's office in Maryland has no role in voter registration or the administration of elections," the Baltimore Sun noted.
Indiana Secretary of State Connie Lawson, R, from Pence's home state, announced that she will withhold most of the information requested by the commission (which she sits on), including Social Security numbers, birth dates, political affiliation and voting history. Lawson told the Indianapolis Star that state law only allows her to share voter names, congressional districts and addresses.
Even Kobach himself, pressed by the Kansas City Star, said he won't turn over Social Security information to his own commission.