Jewish World Review July 21, 2004 / 3 Menachem-Av, 5764

Jack Kelly
Both the CIA and American journalism have serious problems
http://www.NewsAndOpinion.com | Joseph C. Wilson IV's shattered credibility illustrates much of what is wrong with the CIA, and with "mainstream" journalism.

Wilson's 15 minutes of fame began July 6, 2003, when he accused President of Bush of twisting the truth when he said in his state of the union address that January: "the British government has learned that Saddam recently sought significant quantities of uranium in Africa."

Wilson, a former ambassador to Gabon, said he knew this wasn't true because in February, 2002, the CIA had sent him to Niger to determine whether that African country had sold "yellowcake" (lightly enriched uranium ore) to Iraq. After spending eight days "drinking sweet mint tea and talking with dozens of people," he concluded that Niger had not.

Wilson's fame soared when columnist Robert Novak disclosed that a Bush administration official told him that Wilson had been selected for the Niger mission at the recommendation of his wife, CIA officer Valerie Plame. He was a frequent guest on television news shows; the subject of a fawning profile in Vanity Fair magazine; awarded a lucrative book deal, and made an (unpaid) foreign policy adviser to Sen. John Kerry.

On July 9th, the Senate Select Committee on Intelligence issued its report on the CIA's prewar intelligence on Iraq. The SSCI concluded that:
Wilson lied when he denied his wife had gotten him the Niger assignment. "Interviews and documents provided to the Committee indicate that his wife... suggested his name for the trip."




Wilson lied when he said his report "debunked" Bush's charge that Saddam Hussein was seeking uranium from Africa. "For most analysts, the information in (Wilson's) report lent more credibility to the original CIA reports on the uranium deal."




Wilson lied when he told the Washington Post he knew the Niger intelligence had been based on documents that had been forged. The CIA didn't obtain the document alleged to be a forgery until eight months after Wilson had returned from Niger. "Committee staff asked how the former ambassador could have come to the conclusion that 'the dates were wrong and the names were wrong' when he had never seen the CIA reports and had no knowledge of what names and dates were in the reports."

On July 14, the Butler Commission issued its report on Britain's prewar intelligence. It concluded there was ample evidence that Saddam tried to buy uranium from Niger and other African countries, and that Bush's statement to that effect in his state of the union address was "well founded."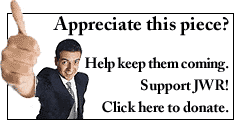 Wilson's charges against President Bush last year were big news. But the fact that government investigations in two countries have concluded that it was Wilson who was lying apparently isn't news at all.

NBC had Wilson on its Meet the Press and Today programs half a dozen times when he was accusing President Bush of lying, but as of this writing, no stories at all since the Senate Intelligence Committee and the Blair Commission have issued their reports. Same for ABC and CBS, according to the Media Research Center.

Wilson graced the cover of Time magazine's Oct. 13, 2003, issue, but Time managed to write a story on the Senate Intelligence Committee report without ever mentioning how it had savaged Wilson's credibility.

The Senate Intelligence Committee criticized the CIA's sloppy work in investigating the Saddam/Africa/uranium connection. All of its information came from foreign intelligence services. Aside from Wilson's tea-drinking expedition, the CIA itself made little effort to gather information on this potentially critical topic. When the Navy received a report from an African businessman that uranium from Niger was being stored in a warehouse in Cotineau, Benin, the CIA didn't bother to check it out.

Some in the CIA may have been more interested in dismissing reports of an Iraq/Niger connection than in finding out if they were true. Valerie Plame told Senate investigators she told her husband "there's this crazy report" on a purported deal for Niger to sell uranium to Iraq.

If we're to win the war on terror, we need a CIA that is more interested in finding out what is going on than in reinforcing the prejudices of some analysts, and a news media that is more interested in finding the facts than in shilling for the Democratic Party.
Every weekday JewishWorldReview.com publishes what many in Washington and in the media consider "must reading." Sign up for the daily JWR update. It's free. Just click here.


JWR contributor Jack Kelly, a former Marine and Green Beret, was a deputy assistant secretary of the Air Force in the Reagan administration. Comment by clicking here.
© 2004, Jack Kelly