Jewish World Review July 10, 2003 / 10 Tamuz, 5763

Jack Kelly
Weighing risks and rewards in Liberia
http://www.NewsAndOpinion.com | Former Vermont Gov. Howard Dean, a vociferous opponent of war with Iraq, has called for sending U.S. troops to Liberia.
There is no inconsistency between supporting military action in Africa while opposing it in Iraq, Mr. Dean insisted. President Bush has not proved that Saddam Hussein presented a threat, while the situation in Liberia clearly does, he said.
Things in Liberia are very bad for Liberians. But to argue that chaos in Liberia presents a greater threat to the world generally and to us in particular than did Iraq is to reveal a serious detachment from reality.
Liberia is a West African country about the size of Tennessee with a population of 3.3 million. More than 20 years of civil strife began in 1980, when the democratically elected president was overthrown by Sgt. Samuel Doe.
Civil war began in earnest when Sgt. Charles Taylor, the current president, launched a coup against Doe in 1989.
Mr. Taylor, who has been indicted for war crimes for meddling in the even more vicious civil war in neighboring Sierra Leone, is despised by most in Liberia. The rebels are just about as bad.
"Calling the situation in modern Liberia a civil war is giving it too much status," said the Web site DangerFinder. "The reality is villagers slaughtered by tribal-based militias that mark, like dogs [urinating] on a tree, their territory with the skulls of their victims."
U.N. Secretary General Kofi Annan and Mr. Bush have demanded Mr. Taylor leave the country.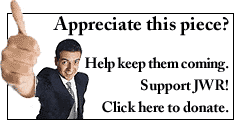 Mr. Annan wants Mr. Bush to send up to 2,000 U.S. troops to head an international peacekeeping force. Mr. Bush is considering the request.
Mr. Dean might not be so enthusiastic about sending troops to Liberia if he had read Ryan Lissa's article in the July 2000 issue of the New Republic, which documents Mr. Taylor's connections to al Qaeda. Liberals tend to support U.S. military action only when it is detached from U.S. security interests.
Liberals (by and large) supported military interventions in Haiti, Bosnia, Kosovo and Iraq when Bill Clinton was president, but changed their minds about Iraq when Mr. Bush became president.
Much of this is mere partisanship. But many liberals really think that if U.S. soldiers risk their lives in conflicts in which U.S. security is at stake, the military intervention is for that reason illegitimate.
Many Americans, most of them conservatives, oppose putting U.S. troops in harm's way unless a vital national security interest is threatened. That's a sound principle. But, as Emerson said: "A foolish consistency is the hobgoblin of small minds."
I opposed intervention in Haiti (where we replaced a corrupt, incompetent, pro-American dictator with a corrupt, incompetent, anti-American dictator), supported it in Bosnia, opposed Kosovo (though that has worked out better than I thought it would), and regret that we did not intervene in Rwanda.
In 100 days in Rwanda in 1994, Hutu militiamen hacked to death some 800,000 Tutsis. The Canadian general who commanded the U.N. "peacekeeping" force there said a few thousand Western troops could have prevented the massacre. That President Clinton chose not to help is a bloodstain on American honor.
Mr. Clinton may have been spooked by the failure of the humanitarian mission in Somalia the year before. But that mission failed chiefly because his defense secretary would not provide our troops with the fire support they had requested, a mistake Donald Rumsfeld is unlikely to make.
Liberians are much more favorably disposed toward Americans than Somalis were. And though brutal killers, the militiamen are rotten soldiers. In Sierra Leone, a few hundred Western-trained mercenaries defeated them with ease.
It seems to me that a fairly modest U.S. military intervention could do much good at little risk. And though it will distress Howard Dean to hear it, a peaceful, democratic, pro-American Liberia is in our national interest.
But Mr. Bush is wise to weigh carefully the costs and benefits. It's easier to get in than it is to get out.
Every weekday JewishWorldReview.com publishes what many in Washington and in the media consider "must reading." Sign up for the daily JWR update. It's free. Just click here.


JWR contributor Jack Kelly, a former Marine and Green Beret, was a deputy assistant secretary of the Air Force in the Reagan administration. Comment by clicking here.
© 2003, Jack Kelly