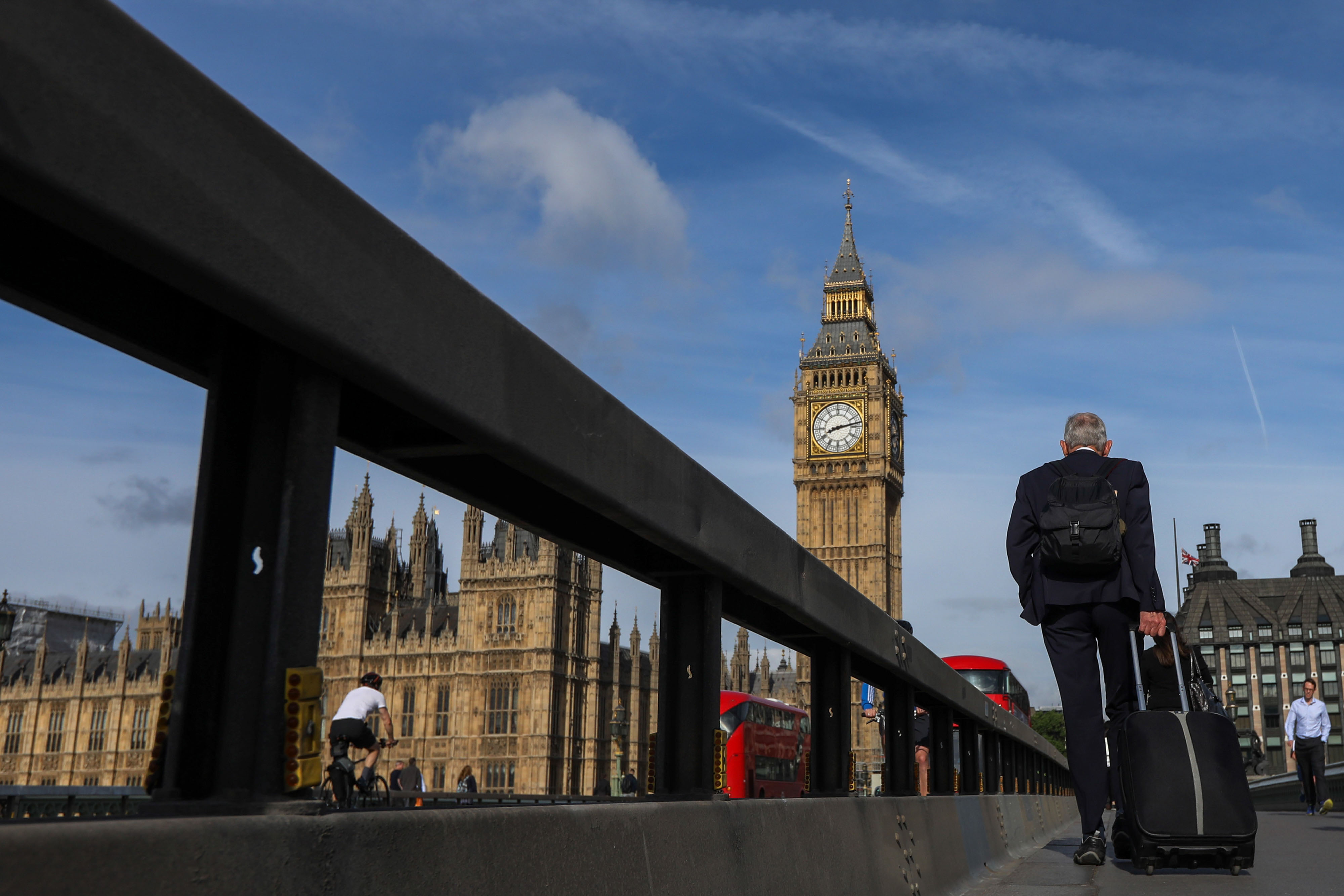 I've landed in London where there are no elevators, only lifts, and where the signs say "Offices To Let," which at first looked like "Office Toilet" to me, and where you see "Look Left" or "Look Right" painted on the pavement at every pedestrian crossing --- and I wonder, How many of my countrymen looked the wrong way and were crushed by a lorry before the Brits painted the warnings?

Nebraska wheat farmers, New York stockbrokers, confident successful men who brushed off their wives' warning to look both ways. "I know how to cross a street, dang it," they said and stepped in front of a double-decker bus and were erased from the face of the earth and their dust flown home for the memorial service.
They spoke of the kindly delight
In family, how he fought the good fight,
And nobody said
As they spoke of the dead,
"Why didn't he look to the right?"
This is one peril and another is the English language. You sit down in the Middle Eastern cafe and order the lamb kebab and the waiter asks you a question in what sounds like English and you say, "Yes, thank you" and he brings a stew that turns out to be red-hot lava. The lamb died in a volcanic eruption. You gulp a glass of water, which spreads the toxins to your lower tract and now there is steam coming out of your shorts.
Other Americans are fascinated by the Royal Horseguards and the figures waving from the balcony, but I grew up in love with Stan Laurel and Flanders and Swann singing "Have Some Madeira, M'Dear," and the funny way Peter Sellers said the name "Balham," the music hall strut called the Lambeth Walk, and the young lady in the London revue who played a tune on the pennywhistle and then, blushing, put another pennywhistle up her skirt and played a duet. Pure silliness that we colonists seem incapable of.
On Sunday our cousin Lulu rode up on her bicycle from Notting Hill, a Swede from Stockholm, who's become a TV producer here and who speaks English with a lovely accent, part high tea, part fried herring.

I test her English. She doesn't know "perfidy" or "preposterous" and has only a faint idea of "propensity." No problem.

If the Brits go through with Brexit, she can get dual citizenship and stay if she wishes, but she's 29 and a year from now she could be in Sweden or Los Angeles or New York. At the moment, she's excited about an August trip to Texas. She'll go to Austin, go line dancing, see a rodeo, ride through the Hill Country on horseback. After that, she hopes to lose her job so as to be free again.
To sit in Hyde Park with a Swedish millennial who's looking forward to the next thing is a perfect Sunday afternoon. I went to church, confessed the sins of my narrow old age and then I got to listen to her, laughing, poking at a salad, the other hand swooping around. The world belongs to her generation, mine is off the hook.
What's wrong with Brexit is that it's out to put back the old barriers and frustrate the young and ambitious and humorous, trying to put the future back in the box, but the young shall prevail by virtue of outliving the old buggers. And beyond that, millennials have a sense of comedy, of the odd bounce that turns out beautifully. The one sitting across from me certainly does. She's dating a French man but doesn't like being told what to do. She will retrain him or find a better model. Or maybe move to L.A. She dances in her seat as she talks. She has fewer regrets than the average cabbage.
The true source of happiness is something hopeful whirring around in the future. It's almost all you need sometimes and Lulu has a whole lifetime almost.

Monty Python could make a whole sketch of this.
Every weekday JewishWorldReview.com publishes what many in the media and Washington consider "must-reading". Sign up for the daily JWR update. It's free. Just click here.
(COMMENT, BELOW)
Garrison Keillor is an author and radio personality.