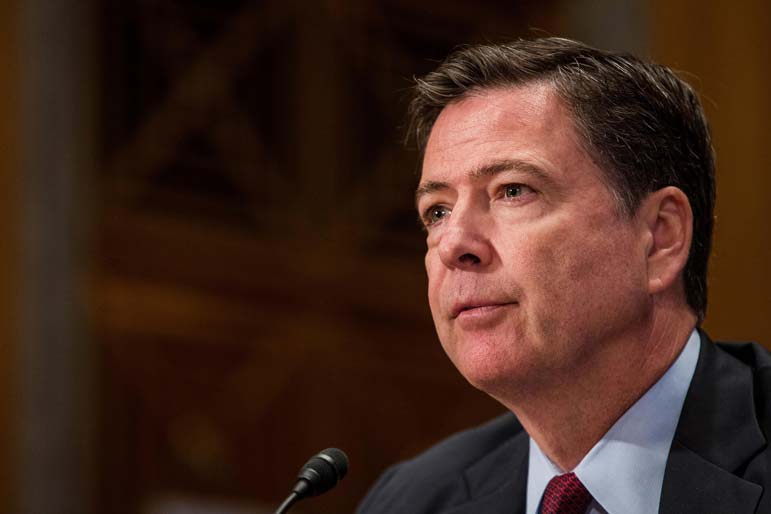 WASHINGTON - James Comey just can't seem to stop haunting President Donald Trump. Trump fired Comey as FBI director a few weeks ago, drawing criticism from Democrats and Republicans since the FBI is in the middle of an investigation into Russia meddling in the U.S. election and whether Trump's campaign helped.
Then we learned Comey took "detailed" notes that outline potentially legally murky questions the president asked him. And now, Comey is expected to testify to the Senate - as early as next week - about much of this.
Comey is known as a drama-adverse guy, and this is as dramatic as it gets. So what's in it for him?
We tried our best to get inside Comey's head and run down the pros and cons of sharing what he knows with Congress in a way that could set Comey up for a major showdown with the president.

Pro: His reputation is at stake
Trump fired Comey for doing a bad job, then called him a "nut job" to the Russians.
That is presumably not how Comey wanted to go out.
Comey spent more than a decade in high-profile public service jobs cultivating a reputation as a competent, aggressively nonpartisan public servant. Two different presidents of two different parties appointed him to top law enforcement jobs.
The Washiungton Post's Aaron Blake reports Comey's reputation in law enforcement was as a guy who genuinely tried to do the right thing but occasionally made mistakes.
Then came the FBI's investigation into Hillary Clinton's emails, and Comey's handling of it peeved Democrats. Trump's decision to fire Comey was controversial, but some Republicans in Congress thought it was deserved. "Given the recent controversies surrounding the director," said Sen. Lindsey O. Graham, R-S.C., "I believe a fresh start will serve the FBI and the nation well."
Now, Comey has a chance to tell his side of his story - and try to clear his name.
Con: It could turn into a Comey vs. the president war of words
If we know one thing about how Trump reacts to controversy, it's that when he's poked by a stick, he swings back with the forest.
And Comey could soon be the biggest confrontation to the president's reputation yet. According to "highly detailed" notes Comey made of his conversations with Trump, Trump asked him to lay off the FBI probe of Trump's former national security adviser, Michael Flynn.
The New York Times reported Trump sought a loyalty pledge from Comey. The Washington Post reported Trump also asked other top intelligence officials to counter Comey's congressional testimony that there is no evidence of Trump campaign collusion with Russia. (They refused.)
In short, many of the existential threats to Trump's presidency can be traced back to Comey.
And Trump doesn't play nice with people he perceives as his enemies.
Pro: There are a lot of questions he can help clear up
Since we learned of Comey's memos of at least one conversation with Trump, there are way more questions than answers. Such as:
• Did the president try to interfere in an independent investigation into his campaign aides?
• If so, did the president knowingly obstruct justice?
• And what did the president's top advisers (like Vice President Mike Pence) know?
• What did Comey learn about the extent of any Trump connections to Russia meddling in the election when he was heading the FBI investigation?
If, as Comey has testified to Congress when he was FBI director, the truth matters more than any one person's political fortunes, then sharing what he knows with Congress could have upsides for Comey.
He's no longer leading an ultrasensitive investigation, so he can talk about what he knows and clear up any narratives out there he thinks are false. (The Post's Devlin Barrett reports Comey isn't expected to shed any new light on the ongoing FBI investigation but rather focus on his conversations with the president.)

Con: Comey better have his facts straight, or else
For one, the Trump administration is excellent at picking out a factual mistake and trying to discredit everything else that person - or the group that person belongs to - says or does.
And the last time Comey testified to Congress, he got at least one fact wrong. As part of his justification for resurfacing the FBI's Clinton email investigation 11 days before the election, Comey said investigators found "hundreds and thousands" of Clinton emails on disgraced congressman Anthony Weiner's computer. (Weiner is the ex-husband of top Clinton aide Huma Abedin.)
The FBI had to amend the record of Comey's testimony the next day to say the number of Clinton emails on Weiner's computer were much smaller, and it wasn't a "regular practice" as Comey testified.

Con: Comey is good at congressional testimony
Before the 2016 campaign, Comey's most famous moment came in the hot seat in Congress.
It was 2007. A Democratic Congress was investigating the Bush Justice Department. They called in Comey, who had recently finished a job as the No. 2 official in Bush's Justice Department, for what they thought would be a routine testimony.
But Comey had a story up his sleeve from 2004.
Attorney General John Ashcroft was sick in the hospital. Comey, then Ashcroft's deputy, got a call that Bush officials were on their way to the hospital to convince Ashcroft to sign on the dotted line and reauthorize Bush's controversial domestic surveillance program, which the Justice Department had just said was illegal.
Sirens blaring, Comey said he raced to Ashcroft's hospital room, arriving minutes before Bush's White House officials did. Ashcroft didn't authorize the program.
The Post's Paul Kane said this is perhaps the most-riveting 20 minutes of congressional testimony ever.
And it was completely unexpected.
This time, we are fully expecting bombshells from Comey. If he wants to deliver them, well, he knows how. And he's clearly decided it's to his benefit to do so.