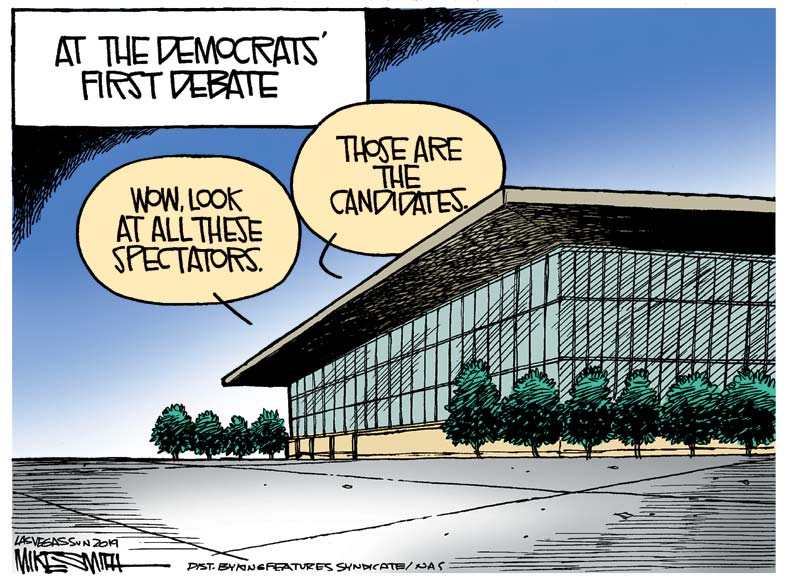 I won't take up much of this space talking about New York City Mayor Bill de Blasio's presidential prospects, now that he's formally joined
the crowded Democratic field
.
But I will pass along two sets of numbers from a Quinnipiac University Poll released last month.
First, consider de Blasio's popularity with the people who know him best.
Long before climate change reaches Manhattan, the mayor's already underwater (42% job approval; 44% disapproval) with New York City voters.
Second, consider what New Yorkers think about their mayor spending time in Iowa and New Hampshire — as opposed to staying home and working on his punctuality.
Three-fourths of New York City voters (76%-18%) said de Blasio shouldn't run for president — a sentiment shared by every listed party, gender, racial, borough and age group in the survey.
One straw the 6'-5" de Blasio can grasp: the concept that politics favors the taller man. You can ask Bill Bradley, the former New Jersey senator and New York Knicks forward, how well that worked in the 2000 Democratic primaries.
It's the other Democrat who announced this week — Montana Gov. Steve Bullock — who's worth a closer look both for what he adds to the field (now 24 Democrats) and why his party isn't uniformly pleased with this decision.
On the one hand, Bullock offers more of the same — one of 13 white males who think they can unseat President Trump; one of five 2020 candidates whose last name begins with the second letter in the alphabet.
And he joins a long list of Democrats who plan to party this summer like it's 1975 — ala Jimmy Carter, working the backgrounds of Iowa and quietly sandbagging the bigger names in the field (the candidate who's cornered the market on this approach: former Maryland Rep. John Delaney, who's opened eight Iowa field offices, run tv ads across the state and has visited the Hawkeye State over 100 times).
But here's where Bullock breaks with the field. He's the second incumbent governor (Washington's Jay Inslee being the other), as opposed to six incumbent senators. However, Bullock's the only 2020 candidate who's won a statewide race in a state that Trump carried in 2016.
It's a far more impressive claim than, say, Massachusetts Sen. Elizabeth Warren's boast that she's the only 2020 Democrat to have defeated a GOP incumbent (it happened in a state where Democrats outnumber Republicans by a 3-1 margin — and it was Teddy Kennedy's old seat, for crying' out loud).
As far as unseating Trump is concerned, the red-state credential makes all the sense in the world. Democrats won't win back the White House unless they manage to flip at least three of the 30 states Trump claimed in 2016 (I'm not considering an unlikely scenario where Trump loses Florida and Texas).
Only, that's not the warm reception Bullock's received — at least, not from party insiders who want the complete run of the federal government.
Their concerns:
First, there's the question of whether Bullock's in the presidential race to win the nomination or boost his shot as a cabinet post (for a Montanan, Interior would be the natural landing spot — as it might also be for another underdog, Colorado Sen. Michael Bennet).
Other long-shot, incumbent Democratic presidential hopefuls who could be accused of this: Massachusetts Rep. Seth Moulton (a decorated Iraq vet would seems a fit for the Pentagon) and California Rep. Eric Swalwell (maybe Justice, given his fascination with the Mueller investigation).
But the larger, realpolitik problem that Bullock's run presents to Democrats: whether a better use of his time would be a Senate run in 2020.
About the 2020 Senate landscape: Democrats need a net gain of only three seats, should they also win the presidency (a Democratic vice president being the tie-breaking vote). Otherwise, they need a net gain of four seats to get to a working 51-49 majority. As Republicans have to defend 22 seats to only 12 for Democrats, a pickup of three or seats is not unrealistic.
However, the map of the 34 Senate races in 2020 is deceiving.
According to the Cook Political Report, which handicaps congressional contests, only three GOP seats are either "lean Republican" or "toss-up" (Alabama, Colorado and Maine).
Another seven GOP-held Senate seats are "likely Republican" (Georgia, Iowa, Kansas, Kentucky, Mississippi, North Carolina, Tennessee). And they all went for Trump in 2016.
Add recent presidential-year history — Democrats netted two Senate seats in 2016 and 2012; in only two of the last five elections has either party gained more than three seats — and returning to the majority in the Senate starts to sound like a tall order for the party of out power.
How to improve those odds? Obviously, by recruiting strong candidates where an upset could occur. That's why some Democrats would rather see a Bullock Senate run in Montana (a January poll gave the governor a 60% approval rating — two points better than Sen. Steve Danes, with a 72% thumb-up from Montana independents).
This also applies to at least three other Democrats either running for president or flirting with the idea of doing so: former Texas Rep. Beto O'Rourke (he's said no to another Senate run in Texas) and Stacey Abrams (she passed on doing the same in Georgia) and former Colorado Gov. John Hickenlooper (stuck in the back of the presidential pack, he'd be a formidable candidate in that high-stakes Senate race).
Democrats' disdain for Trump is long and well-documented. It's one reason why so many candidates are in this race. They don't respect Trump as a political force.
But their disinterest in working for Chuck Schumer?
That's a new twist in an already warped political system.