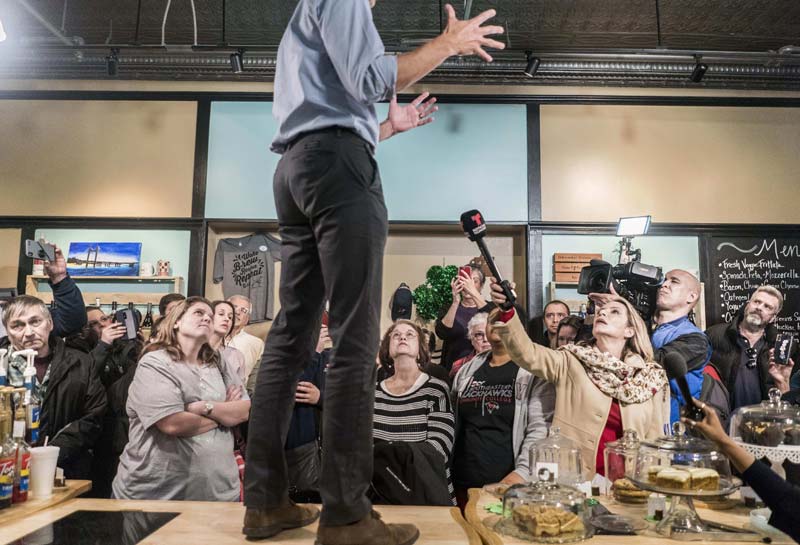 Three months ago, if you'd have asked me to gin up a presidential ticket that made progressive hearts go pit-a-pat, I'd have suggested a two-person luge of former Texas Rep. Beto O'Rourke and California Sen. Kamala Harris.
Why these two, out of nearly two dozen Democrats currently seeking their party's nomination?
Because, in the case of O'Rourke, the parking-lot skateboarding hipster who nearly did in Ted Cruz in last year's Senate race, Democrats had the coolest Texas offering this side of Austin's East Sixth Street bar scene.
You want to turn Texas blue courtesy of a chill RFK vibe? Bet on Beto.
As for Harris, she embodied the notion of a second Obama ascendancy — biracial/post-racial charm, coupled with coastal-California progressive arrogance (there's not a problem government can't solve).
You want to turn out those black voters who turned their backs on Hillary Clinton? Harris may be the fairest of them all.
But that was then, this is now. Both candidacies can be summed up in a single word: not flowering, but floundering.
We know this because the two campaigns last week spread the word that they're soon to introduce a better version of their former selves. For Harris, it's a "reset" — and a new emphasis on President Trump's failings.
Meanwhile, O'Rourke plans a "reintroduction" soon before the 2020 Democrats gather for their first debate in Miami in late June.
So what went wrong with these two promising candidates?
For Harris, it could be bad timing. She's aspires to be the nation's first black female president (the senator is half-Jamaican, half Asian-Indian). Yet, in the last three presidential cycles, her party has chosen a nominee who qualified along those racial or gender lines.
And she's struggled along the campaign trail.
Soon after formally entering the race, Harris committed a major gaffe when she showed little concern over doing away with private health insurance. At other times, she's struggled to answer what should be, for an aspiring national leader, relatively simple questions (for example: unrest in Venezuela, Jussie Smollett's antics in Chicago— and even her favorite music).
As for O'Rourke, it's more a case of self-inflicted wounds.
First, rather than build upon the momentum generated by his closely-watched run against Cruz, O'Rourke instead dragged out the inevitable. The El Paso resident drove around the American Southwest like a modern-day Beatnik, supposedly looking for clues as to whether to run.
When he did enter the race in March (Harris kicked off her campaign in late January), O'Rourke insisted on doing things "Texas-style." That included his insistence on driving himself between events ("I just can't sit and ride," he told reporters. "I've got to be doing something.")
What O'Rourke failed to understand: for a presidential candidate there are better "somethings" to be doing between events — i.e., brushing up on policy, working the phones for money, groveling for endorsements. The list doesn't include steering a Dodge Grand Caravan and keeping an eye out for speed traps.
June is a month of promises and new beginnings — weddings and graduations. Perhaps that's why Harris and O'Rourke should be hopeful.
But the reality is the Democratic landscape has changed since each entered the race. Getting their party's nomination is a steeper climb.
Let's begin with Harris.
The initial strategy for California's junior senator was to win the South Carolina, with its sizable black vote, and then take her home state on Super Tuesday.
Joe Biden's presence in the field — a recent poll gave Barack Obama's vice president 46% support in the Palmetto State, to only 10% for Harris — complicates that. Another poll show Harris lagging among the youngest black voters.  
Thus her switch from trying to corner the market on the Democratic black vote to ramping up the Trump-trashing is driven as much by necessity as it is choice.
O'Rourke also finds himself dwarfed by Biden and Vermont Sen. Bernie Sanders. But he has an additional problem: there's a younger and arguably more woke candidate in the field in the form of South Bend Mayor Pete Buttigieg (he's gay, Harvard-educated and owns rescue dogs).  
How can O'Rourke win in Iowa or New Hampshire when he seemingly already has lost the Vanity Fair primary to "Mayor Pete?"
Much can change, within the Democratic field, once debate season begins. Frontrunners can stumble. Dormant candidacies can reawaken.
But for Beto O'Rourke and Kamala Harris, is it possible to go from flounder to catch of the day?
Stay tuned.