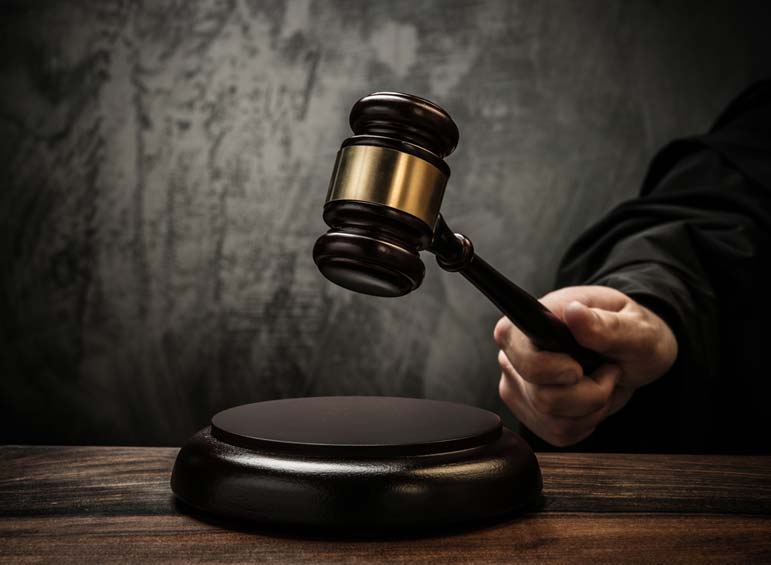 Miracle of miracles, the United States Senate earlier this month did something that sounds out of place in this era of fractious politics. Quietly, with little fuss or fanfare, it confirmed two federal judicial nominations by unanimous vote.

The significance?

It doesn't portend for a new era of bipartisan cooperation within the great(ly) deliberative body. In order to move one step closer to becoming the first woman to run the Central Intelligence Agency, Gina Haspel had to grovel before the top Democrat on the Senate Intelligence Committee, issuing a letter repudiating torture.

And there's still the fate of President Trump's two nominees for the Federal Reserve. They'll probably get their slots, but not until the end of the year, earliest – and after they've been suitably roughed up.

What the aforementioned judicial votes suggest is that Senate Republicans have their priorities straight in 2018. Stocking the federal bench at the district and appellate levels is an oft-times unsung and underrated aspect of president legacies. Yet Trump has set an ambitious pace. And with an election approaching, the clock is ticking.

Since the new administration took office 16 months ago, the U.S. Senate has confirmed 21 judges to the circuit courts. And Senate Republicans are in a rush to get more through the congressional spanking machine.
Already, the GOP has shelved the Senate tradition of "blue slips" – pieces of paper signaling a senator's approval or disapproval of a nominee. In the case of Ryan Bounds, a conservative 9th Circuit nominee, the nomination continues despite the objections of Oregon's two Democrats senators (btw, Bounds' sister serves as chief of staff to Oregon' lone Republican congressman).

Second, Senate Majority Leader Mitch McConnell wants to speed up the review process for nominations.

Last week, the Senate Committee on Rules and Administration approved a resolution reducing the time reserved for holding a final vote on federal district court nominees. Instead of the traditional 30 hours of post-cloture debate, two hours could be the new norm. It won't end the partisan and ideological strife, but it will give obstructionist Democrats one less tool by which the gum up the works.

And it's quite the pipeline that Trump requires. Since January, the White House has forwarded about four dozen names to the Senate, with 80-plus nominations now pending. Things might get more hectic: at present, there are nearly 150 current vacancies across the federal courts, with another 30 upcoming vacancies already announced.

So how could Senate Republicans manage to mess up what seems like a smart strategy for stocking the federal bench?

Simple: it's the Republicans' recent history of snatching defeat from the jaws of victory – i.e., underperforming in Senate cycles.

Take the 2010 election, for example. Senate Republicans enjoyed a net gain of six seats, their best haul since the 1994 landslide and the first time since that rout that Senate Republicans successfully defended all of their seats.

However, at the same time, the GOP managed to lose three very winnable races in Colorado, Delaware and Nevada.

The trend continued in 2012. Republicans once again lost three winnable races in Indiana, Missouri and North Dakota.

The trend didn't carry over to 2014 (Republicans gained 9 seats that would have been 10 had the party better financed Ed Gillespie in Virginia), or in 2016 (Republican Senate candidates didn't lose in states that Trump won). But there is last December's debacle in Alabama).

It's tempting to say that Republicans could have up to eight more seats at present if it had played its cards better. A razor-thin 51-49 advantage instead would be 59-41 – the same edge enjoyed by Senate Democrats going into the first Obama midterm.

But let's be realistic. The three 2010 misfires were in states that went blue in two subsequent presidential elections. Democrats might very well have reclaimed all three seats in 2016.

Let's also set aside Gillespie and his surprisingly close loss in Virginia (a difference of 18,000 votes in a 2.1 million-vote contest). Changing that outcome entails 20-20 hindsight.

That leaves us with the three 2012 slip-ups – all in red states that Trump carried in 2016 with 57% or more of the vote. Add a better candidate in Alabama and the GOP would have a 55-member caucus.

Could Republicans lose such a majority in 2018? Doubtful.

This year's batch of Senate races – the chamber's so-called "Class I" – features 26 seats held by senators who side with the minority versus just nine held by Republicans. It's not a pleasant map for the party out of power. Just one of those nine GOP incumbents – Nevada's Dean Heller – is in a state that preferred Hillary Clinton to Trump (she won it by 3%, or 27,000 votes).
The Republican formula for snatching defeat from the jaws of victory yet again and losing control of the chamber? Fail to make inroads in the 10 red states where Democrats are on defense. Then, give away GOP-held seats in some combination of Arizona, Mississippi, Tennessee and the aforementioned Nevada.

But that's complicated by one other wrinkle in this election: judicial nominations as a potent issue against Democrats in Trump states.

In West Virginia (Trump a winner by 42 points), state Attorney General Patrick Morrissey has wasted no time going after Democratic Sen. Joe Manchin following the former's win in the state GOP primary.

Morrissey's opening salvo includes . . . judges ("Whether we're talking judicial picks, whether we're talking Trump tax cuts, whether we're talking unwillingness to change the failed Obamacare . . . Joe Manchin has not stood with President Trump," he told an interviewer).

Order in the courts? That's another topic for another time.

But talking courts might be the Senate GOP's best argument for padding the minimal cushion it presently enjoys.
Comment by clicking here.
Bill Whalen is a research fellow at the Hoover Institution, where he studies and writes on current events and political trends. In citing Whalen as one of its "top-ten" political reporters, The 1992 Media Guide said of his work: "The New York Times could trade six of its political writers for Whalen and still get a bargain." During those years, Whalen also appeared frequently on C-SPAN, National Public Radio, and CNBC.