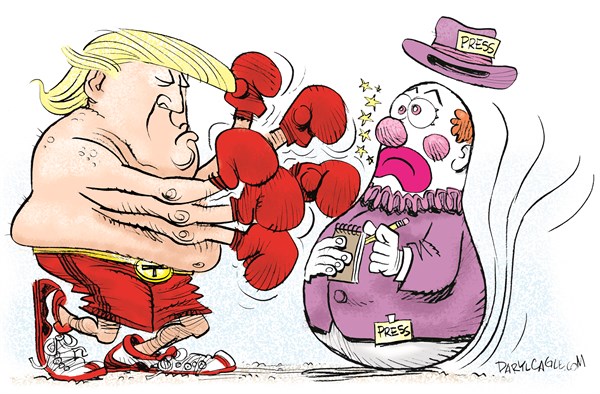 On the same day as the Running of the Roses, why not a look at the horse race that is the Trump presidency?

Depending on how you'd like to wager, Trump (pretty much the longest of longshots when he first sought the office) is destined to finish in the winner's circle come 2020, place second behind a swifter steed, or show in third place if there's a significant third-party challenge.

Or, Trump could end up as a scratch (impeachment, indictment, or some other form of disqualification).

One thing we can say about this President: as much as he seemingly feeds off the daily chaos, it's getting in the way of what otherwise would be good news for him.

What chaos? In the past week alone, that would be the porn star and her attorney who's taken up residence at CNN, the White House aides and counsels starting their own dumpster fires, plus the President's own vacillations.

All serve as distractions from far more positive developments for this White House. As such, that could weaken the GOP's chances at holding on to control of Congress this fall and complicate Trump's reelection strategy two years from now.
Here are three developments that went under-reported in Washington this past week, thanks to scandal and scattered messaging.

Unemployment. Incumbents touting a strong economy invariably turn to one of two measuring sticks – the stock market, or the nation's unemployment rate.

Trump's rarely missed an opportunity to tweet or talk about the Dow (the index is up 20% since he took office). He could be getting more mileage out of unemployment at its lowest in 17 years (black and Hispanic unemployment hit record lows in April) and the current recovery currently tied for the second-longest economic expansion in American history (presently at 106 months, it'll have to last until July 2019 to surpass the go-go days of the 1990's).

By 2020, will Americans think they're better off than they were four years ago? It'll be an easier argument for Trump to make if he can expand the narrative beyond one woman's financial gains.

Hillary. Continuing the Derby theme: will the Democrats trot out a thoroughbred in 2020, or will it be a nag (make that: a nagging liberal too left for America's heartland)?

Then there's the Democrats' stalking horse, Hillary Clinton.

This past week, the 2016 runner-up added a new alibi – economic philosophy – to her long list of excuses for losing. "It's hard to know," Mrs. Clinton observed at the Shared Values Leadership Summit, "but if you're in the Iowa caucuses and 41% of Democrats are socialists, or self-described socialists, and I'm asked, 'Are you a capitalist?' And I say, 'Yes, but with appropriate regulation and appropriate accountability,' you know, that probably gets lost in the 'Oh my gosh, she's a capitalist.'"

The Democrats don't lack for new faces lining up for a shot at Trump. But making that pivot requires getting the Clintons out of the way. Which makes any week that Hillary Clinton is back in the good week for Trump's fortunes.

Yankees. I have a theory that baseball is comfort food for America. It's generational, easy on the eyes and ears, slow-moving, and provides a sense of familiarity. Baseball's even more familiar with the New York Yankees ascendant, which could be the case for the next several years.
Amidst his scandalous worst, Bill Clinton welcomed championship Yankees squads to the White House (this happened in 1999 and 2000, but not in 1996 – opinions differently as to why the oversight occurred). And, yes, it was at the 1999 ceremony that Hillary infamously donned a Yankees cap. Similarly, the Yankees won three titles during FDR's rocky second term (the court packing fiasco and a midterm smackdown). Bottom line: the Yankees win; presidents survive despite their self-destructive tendencies.

This idea of the Yankees as a presidential security blanket is hardly fool-proof. The Bronx Bombers won the World Series in each year of Harry Truman's one full term (1949-1952); Truman left office with an approval rating slightly north of 30%, his image not be rehabilitated until the 1970's.

Maybe the Democrats should embrace the Yankees. Remember 1932? Yankees beat the Cubs in the World Series; a Republican incumbent loses the presidential election.

Should history threaten to repeat, how to keep Hillary away from Yankee Stadium?
Comment by clicking here.
Bill Whalen is a research fellow at the Hoover Institution, where he studies and writes on current events and political trends. In citing Whalen as one of its "top-ten" political reporters, The 1992 Media Guide said of his work: "The New York Times could trade six of its political writers for Whalen and still get a bargain." During those years, Whalen also appeared frequently on C-SPAN, National Public Radio, and CNBC.