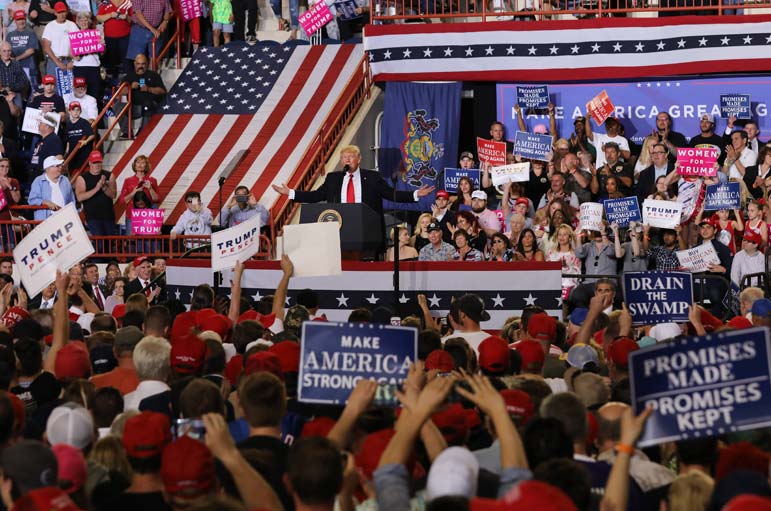 And so the 100th day of the Trump presidency ended little different from most days on the 2016 campaign trail: the man whom few at first took seriously when he waded into presidential politics, making promises he may never keep in front of an adoring audience gobbling it up, all the while giving cable news the eye candy it can't resist.
"Is there any place like a Trump rally?" the nation's 45th President asked a Harrisburg audience shortly before he read a poem as he often did on the stump last year.
There isn't.
Nor has there been a first 100 days quite like this one in terms of its daily intensity, tightrope walking and drama fatigue.
The good news: it the opening act of the Trump presidency had you exhausted, there are only 12-plus more sets of such 100 days until we get to Election Day 2020.
Rather than dwelling on what worked and what didn't in Trump's first installment, here are four suggestions for where he should go in his second hundred days in office.
Go West. Two Mondays from now marks the 476th anniversary of Hernando de Soto and his troops reaching Mississippi River (historians disagree as to the exact crossing point). That's further west than Trump has traveled in his first 100 days as the America president.

Let's see if Trump expands the map over the next three months and crosses the body of water.
It's sound politics - last November, Trump carried 18 of the 24 entirely or partially west of the Mississippi River.
And it's good form for a Republican president. The last two GOP presidents to earn a second term had a decidedly western flavor to their style - Ronald Reagan cleared brush on his beloved Rancho del Cielo ("We relax at the Ranch," Reagan once remarked, "which if not for Heaven itself, probably has the same ZIP code"); George W. Bush charged his batteries in open land about thirty minutes west of Waco, Texas.
Donald Trump's a product of the east (raised in New York, vacations in Florida), but that doesn't mean his policies can't take on a western aspect. His executive order directing a review of national monument/land-taking policy is a good start. My Hoover Institution college Terry Anderson (he's a Montanan) has suggested the administration look at oil-rich Indian reservations (here's a Hoover "Area 45" podcast where Terry talks about this and other federal land issues.
Don't look for a Stetson-wearing Trump to show up on 2020 campaign posters. But that shouldn't stop him from engaging with a vast, red-painted swath of the nation that's looking for a different approach from the government in Washington.
Go International. Add to the presidential to-do list: begin international travel.
It'd help if the administration picked up the pace on ambassadorial appointments. Perhaps not coincidentally, the Trump Administration has made its picks for the Vatican and Israel; Rome and Israel reportedly are on the short list for Trump's first overseas trip.
The questions for the next 100 days: when does Trump go to Europe, the current war zone for Trump-style populism? Does he personally engage in, say the French election knowing that the media will interpret Marine Le Pen's success or failure as une repetition of what was able to pull off here in the U.S.?

Go To School. Economics drove Trump's improbable win (we'll get to that last). So too did portions of the electorate dismayed by the nation's cultural drift.
I'm writing this 40 miles south/southwest from an example of what ails America: a public university (UC-Berkeley) with both a long tradition of free speech and a despotic attitude toward allowing conservatives get a word in edgewise.
Trump could go to a college campus in the next three months (here's a question: did any universities, not including the service academies, request his presence at a commencement address) and the ugliness would be off the charts.
Still, there's no stopping the President from engaging in the culture of America's colleges without stepping foot on a single campus.
Another of my Hoover colleagues, Peter Berkowitz (he's the 2017 Bradley Prize recipient), has written extensively on the harmful aspects of Title IX. Working with his Attorney General and Education Secretary, Trump could thread the needle on Title IX by reforming the system so that women remain protected but law enforcement steps in for campus administrations in pursuing sexual assaults.
Go For Broke. Not "broke" so much as "limping" - an economy that grew at a 0.7% rate in the first quarter of 2017 (as opposed to 2.1% GDP growth in 2016's final quarter).
Trump has set a goal of 4% annual economic growth. But if he doesn't get there? Barack showed it's possible to earn another four years despite wimpy growth (see this chart). George W. Bush's single best year of GDP performance was 3.8%, barely one-half that of Ronald Reagan's high water mark of 7.3% (Bill Clinton peaked at 4.7%).
Understanding that the economy may be the key to a reelection success or failure, getting the engine humming becomes an all-hands drill. Which means looking for colleagues in unusual places.

One such place to start searching: Silicon Valley.
Last week, two tech power players traveled to Washington. John Doerr, a preeminent venture capitalist, is a Democrat. Cisco chairman John Chambers is a Republican. Together, they traveled east to the nation's capital looking for ways to jumpstart the startup economy.
The tech agenda: repatriating tax dollars, infrastructure investment, skilled immigrant workers (yes, all the very familiar ideas in Northern California). And some areas that Trump could easily take up: a greater focus on technology education; modernizing government (speaking of which, where is this administration's version of Reagan's cost-controlling Grace Commission?).
If Trump's going to see dramatic job growth, technology has to be involved. Chambers told D.C. reporters that creating 25-30 million jobs over the next decade will require 300-500 IPOs on NASDAQ alone.
Trump going to Silicon Valley? Why not? It's south of San Francisco - and it might help get him finish north of his economic goals.
Comment by clicking here.
Bill Whalen is a research fellow at the Hoover Institution, where he studies and writes on current events and political trends. In citing Whalen as one of its "top-ten" political reporters, The 1992 Media Guide said of his work: "The New York Times could trade six of its political writers for Whalen and still get a bargain." During those years, Whalen also appeared frequently on C-SPAN, National Public Radio, and CNBC.