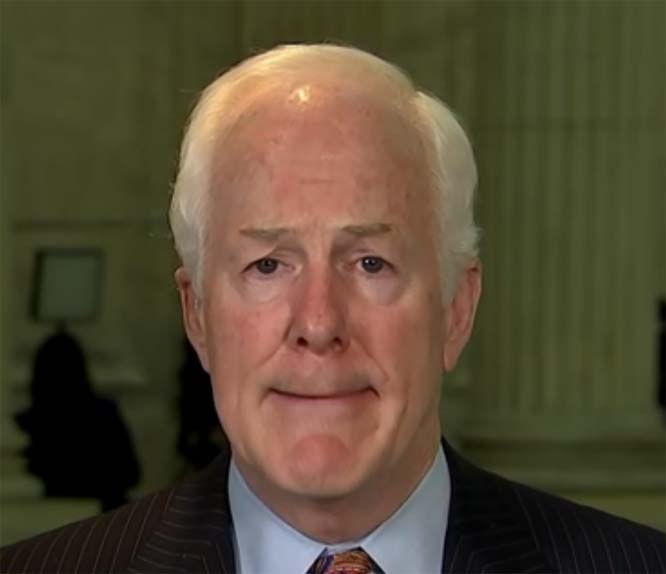 There is a growing obstacle standing in the way of Sen. John Cornyn, R-Texas, becoming the next director of the FBI - his own Republican colleagues.
Led by Majority Leader Mitch McConnell, R-Ky., a chorus of GOP senators has signaled that they would prefer President Trump to nominate somebody other than the second-ranking Republican senator, despite his status as a well-liked and influential figure on Capitol Hill.
Their message: It's nothing personal. But if Trump were to nominate Cornyn, who has shown interest in the job, it would trigger a raft of consequences that could be detrimental to McConnell and the broader GOP agenda.
Sen. Thom Tillis, R-N.C., offered a response that was common among Republican senators Monday, praising Cornyn's qualifications before adding: "I'd hate to lose him."
"My own selfish thing would be to say, 'Oh, he's a terrible person - don't do it,' " Tillis quipped.
Senate Republicans are hoping Trump takes their concerns under consideration as he zeros in on his choice. The president said Monday that his search was "moving rapidly." McConnell predicted that Trump would make an appointment "in a week or so."
One possible candidate removed himself from consideration: Rep. Trey Gowdy, R-S.C. "Our country and the women and men of the FBI deserve a Director with not only impeccable credentials but also one who can unite the country as we strive for justice and truth," Gowdy said in a statement.
That same sentiment has led many Republicans to urge against Cornyn, despite their high opinion of him. Among other concerns, some fear that nominating a top political leader would roil a confirmation process in which Democrats are already emboldened to cry foul in the wake of James Comey's abrupt firing. Since Trump's inauguration, Cornyn has been a loyal defender of the president - including on the Senate Judiciary and Intelligence committees, which have been looking at the Trump campaign's ties to Russia.
"I told him I thought he'd be a good FBI director under normal circumstances," said Sen. Lindsey Graham, R-S.C., in an interview. "But I think the politics of this is just - he gets it. He'd be an outstanding FBI director. But I just, quite frankly, think that last week made it tough."
Sen. Tim Scott, R-S.C., said there is a need now for "someone who can lead us in the direction we need to go, and that doesn't eliminate partisan folks but there's no question that the country seems to be - to find more confidence and credibility in someone who's probably not involved in partisan politics."
Cornyn was one of at least eight candidates who have spoked with top Justice Department officials about the job. Cornyn is close with Attorney General Jeff Sessions from their days serving together in the Senate.
On Monday, Cornyn offered no clues about the process.
"I'm not really talking about that today," he said when asked whether he wanted the job. He wouldn't opine on his chance of getting it, either.
McConnell, meanwhile, has sent what some senior Republican strategists saw as an unmistakable signal that he does not want Cornyn to be nominated. His close confidant and former chief of staff, Josh Holmes, said on "Fox News Sunday" that McConnell thinks it would be a "fantastic idea" if Trump nominated Merrick Garland, as Sen. Mike Lee, R-Utah, first suggested last week. Garland won Democratic praise as Barack Obama's stalled nominee for the Supreme Court.
Asked about Cornyn on Monday, McConnell instead made his prediction about the one-week timeline for the president to make the nomination.
For McConnell, there are several reasons losing his top deputy would be a blow. The biggest is the messy political firestorm that would likely ensue over his nomination.
But he would also have to worry about keeping Cornyn's seat in Republican hands in a special election. While Texas is a solidly Republican state, Trump's unpopularity could be a drag there, potentially forcing Republicans to spend millions playing defense.
For Cornyn, however, the FBI director's job would provide a move to a prestigious post at a time when his future in the Senate GOP hierarchy is unclear. He is term-limited as majority whip, and McConnell has shown no signs he is ready to step aside any time soon. Chasing behind Cornyn is an ambitious crop of Republicans looking to move up the leadership ladder.
Cornyn arrived on the Senate floor for an unrelated vote Monday afternoon and received warm greetings from senators on both sides of the aisle.
"The new FBI director," Sen. John Hoeven, R-N.D., shouted, slapping Cornyn on the back in jocular fashion. Several members of the Democratic caucus, including Sens. Martin Heinrich, D-N.M., and Angus King, I-Maine, had good-natured talks with him. His home-state GOP colleague, Sen. Ted Cruz, who has at times clashed with his senior senator, had a long conversation in the Senate well with Cornyn.
Cruz said Cornyn would be a "terrific choice" as FBI director.
Garland, who has not interviewed for the job, is not the only alternate name that has been floated by Republicans.
"I think that Cornyn would be great, but I also think it might be nice to have Fran Townsend, the first woman in history to be the director of the Federal Bureau of Investigation," said Sen. John McCain, R-Ariz., speaking of the former Homeland Security secretary under George W. Bush. McCain added: "She's never been political."
Sen. Susan Collins, R-Maine, said her choice would be former congressman and ex-FBI agent Mike Rogers.
Sen. Richard Blumenthal, D-Conn., reiterated a view held by many Democrats: That no matter who Trump nominates, they shouldn't be confirmed until the Justice Department appoints a special prosecutor to look into Russian meddling in the 2016 election and potential ties between Trump associates and Russia. Comey had been leading the FBI's investigation into those matters..
"Whoever is nominated to be FBI director should have no political background, should have, obviously, expertise and experience in criminal justice, preferably as a prosecutor. And should certainly take no loyalty oath to the president," said Blumenthal, a former state attorney general.
If Cornyn were confirmed and stepped down from the Senate, Texas Gov. Greg Abbott would appoint an interim senator and schedule a special election, likely later this year. Texas political observers said that Cornyn's departure would create a wide-open contest, likely featuring many Republicans a handful of Democrats.

Among Republicans, much of the early focus would be on Lt. Gov. Dan Patrick, a tea party-backed, ardent conservative who remains one of the most outspoken and popular GOP figures in the state. Independently elected from Abbott, the Texas lieutenant governor is a uniquely powerful figure who holds sway over the legislative agenda. But with Texas's biennial legislative session wrapping up this month, Patrick would be free to consider running for higher office.
Current and former federal law enforcement officials expressed surprise at the public and hurried nature of the candidate search, since historically the quest for an FBI director is kept closely under wraps by the White House.
Kathryn Ruemmler, a former White House counsel during the Obama administration who led the search process that resulted in Comey's nomination, said there are stark differences in how the Trump administration is handling the hunt for his replacement.
"The very big difference is it was a highly confidential process, it was a rigorous process, and everyone on both the long list of candidates and what became the shortlist was subject to extensive vetting, and there were multiple layers of vetting,'' she said, a process that took months. "It's just not possible to subject candidates to that kind of rigor in this type of compressed time frame.''
Typically, the interview process is a closely guarded secret, taking place not at the Justice Department but at the White House. Some of the officials said they could see a justification for shifting that screening process more openly toward the Justice Department, given the circumstances of Comey's firing. By having Sessions and Rosenstein more directly guiding the candidate screening, they said, the Trump administration may be trying to insulate themselves from accusations that the president is trying to politicize the FBI.
The intensity of the political debate over Comey's ouster already threatens to end one long-held tradition - near unanimous support for confirming FBI director picks. Comey was confirmed by the Senate 93-1. His predecessors, Robert Mueller and Louis Freeh, were both confirmed on unanimous voice votes.