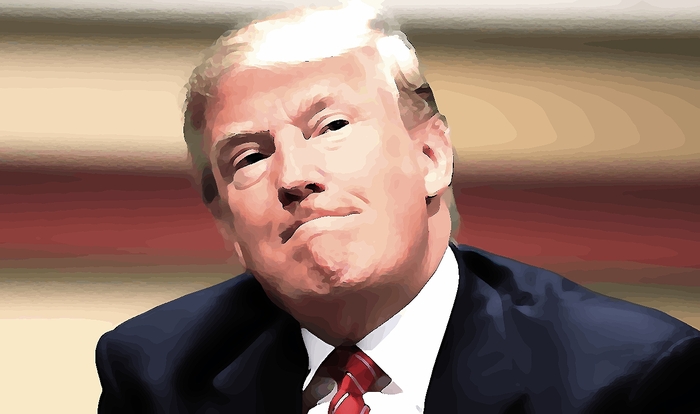 WASHINGTON - The travel bans. Taking 18 days to fire his national security adviser after the White House was warned Russia had leverage over Michael Flynn. The FBI announcing it is investigating President Donald Trump's campaign associates' ties to Russia. Suddenly firing FBI Director James Comey.
Throughout it all, a sizable amount of Republicans in Congress have stood by their president, for both political and policy reasons. A majority of House Republicans (and five Senate Republicans) supported his first travel ban, and much more supported the principle behind it.
At least 11 Senate Republicans support Trump's sudden firing of Comey, even after he said it was because of "this Russian thing."
Trump is also Republicans' first hope in eight years of signing health care and tax legislation, so he gets some leeway for saying and doing things other presidents would not.
But for the first time in Trump's roiling, controversial presidency, most of his defenders on Capitol Hill just can't defend him. There's no way they can justify or excuse the president divulging information that's so secret, many of our U.S. allies don't know it, The Post's Greg Miller and Greg Jaffe reported.
"I think we could do with a little less drama from the White House on a lot of things so that we can focus on our agenda," was all that Senate Majority Leader Mitch McConnell, R-Ky., would say when asked on Bloomberg TV on Tuesday morning.
Hours earlier, Trump just took away Republicans' last plausible line of defense: Maybe he didn't do it.
In a pair of tweets, Trump seemed to admit he did share key information about the Islamic State with top Russian officials:
As President I wanted to share with Russia (at an openly scheduled W.H. meeting) which I have the absolute right to do, facts pertaining....
...to terrorism and airline flight safety. Humanitarian reasons, plus I want Russia to greatly step up their fight against ISIS & terrorism.
Just 12 hours earlier, the White House was trying to deny what the president just suggested happened. But it didn't seem to make much of a difference on Capitol Hill among Senate Republicans. Pressed to react about what Trump just did on Monday night, Republicans used the same adjectives as Democrats - "troubling" and "disturbing."
Sen. Bob Corker, R-Tenn., the chairman of the Senate Foreign Relations Committee and one of Trump's advisers during the campaign, completely gave up trying to spin for the president: "Obviously, they are in a downward spiral right now and have got to figure out a way to come to grips with all that's happening," he told reporters Monday. "The chaos that is being created by the lack of discipline is creating an environment that I think makes - it creates a worrisome environment."
"You wouldn't approve of a government official sharing secrets with the Russians, right?" a reporter asked an exasperated Sen John McCain, R-Ariz. "No, I would always approve of such a thing," McCain replied sarcastically as he boarded an elevator.
"I would be concerned anytime we're discussing sensitive subjects with the Russians," Sen. John Thune, R-S.D., the Senate's No. 3, said.
"If it's accurate, it'd be troubling," Sen. Lindsey O. Graham, R-S.C., told reporters.
"We have no way to know what was said, but protecting our nation's secrets is paramount," House Speaker Paul D. Ryan, R-Wis., said in a statement.
Except now, Republicans can't rely on that "if true." The president just basically told his colleagues in Congress: Hey, don't give me the benefit of the
doubt here. I did exactly what you had hoped I hadn't. I told the Russians secret information. It's difficult to see how Republicans try to stand by their president on this. Unlike the travel ban, which was reasonably popular when Trump introduced it, or firing Comey - who was reasonably unpopular in Congress - sharing classified information with an adversarial nation is tough to parse along partisan lines.
In fact, you could argue it's Republicans who have staked out a zero-tolerance position on that. Trump, Ryan and nearly every single Republican serving in Congress blasted Hillary Clinton for putting classified information in danger by using a private email server to conduct official secretary of state business.
Of course, as president, Trump has the authority to declassify government secrets, while anyone else in government (like secretaries of state) does not.
And presidential power is at the heart of Trump's many controversies and Republicans' calculations to give him leeway. He has spent the first few months of his presidency exercising his power on all levels: His power to ban international travelers with the stroke of a pen, his power to fire FBI directors because of "this Russia thing" and his power to share what he wants with whom he wants when he wants.
A sizable number of Republicans have been willing to give the president the benefit of the doubt that he was exercising his power more or less correctly. Until now.
It's too soon to say if Trump's relationship with Hill Republicans is irrevocably damaged by this latest controversy. But it's clear that what Trump did with the Russians is unacceptable to almost everyone else in his party, and for the first time in his short presidency, almost no one in his party is coming to his defense.