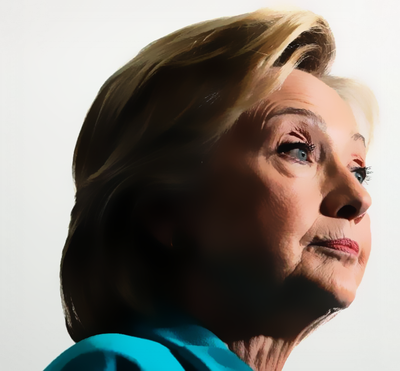 Hillary Clinton claims to be under a media-imposed gag order not to discuss interference in democratic elections. In reality, the press is eager to hear what she has to say; Clinton is the one holding back - partly to build interest in a book, due out in the fall.
This is what the 2016 Democratic presidential nominee tweeted Sunday, after Emmanuel Macron was elected president of France.
"Victory for Macron, for France, the EU, & the world.
"Defeat to those interfering w/democracy. (But the media says I can't talk about that)."
To fully understand Clinton's parenthetical, we need a little background.
First: Clinton appears to feel a kinship with Macron, who overcame the release Friday night of thousands of hacked campaign documents. The cyberattack aroused suspicions of Russian meddling and recalled similar attacks on Clinton's campaign and the Democratic National Committee.
Second: Clinton's complaint about the media is clearly a response to critical coverage she received last week, after an appearance at the Women for Women International Luncheon in New York.
"I was on the way to winning until a combination of [FBI Director] Jim Comey's letter on Oct. 28 and Russian WikiLeaks raised doubts in the minds of people who were inclined to vote for me but got scared off," Clinton said at that event.
To many journalists, her remarks sounded like blame shifting - evidence that she actually does not, as she claimed, "take absolute personal responsibility" for her defeat. Clinton translated the criticism as "the media says I can't talk about" interference.
That's how we got to Sunday's tweet.
I propose a different translation: The media says Clinton should talk about interference in fuller context.
The real trouble with what Clinton said last week is the many things she omitted. As The Washington Post's Philip Rucker noted in his coverage of Clinton's remarks, she "declined to fault her strategy or message, nor did she acknowledge her own weaknesses as a campaigner or the struggles by her and her advisers to at first comprehend and then respond to the angry mood of broad swaths of the electorate."
In casting blame on Comey, Clinton left out the part where her own decision to use a private email server as secretary of state triggered the FBI's investigation in the first place.
And in her tweet, Clinton seemed not to recognize that Macron's victory could be viewed as weakening the thesis that Russian hacking cost her the White House. If Macron could win, despite being hacked, then perhaps Clinton's inability to do the same suggests she had other problems.
Were Clinton willing to discuss her belief that outside interference played some role in her loss, while also reflecting in detail on her own team's shortcomings, the tenor of media coverage likely would be different. But she isn't telling the whole story; at one point at the luncheon in New York, she even claimed falsely that debate moderators had failed to ask a key question that was, in fact, the very first line of inquiry at the very first debate.
The kicker is that Clinton is not resisting a full autopsy simply because it is painful - and it surely is, as anyone can understand. She is resisting because she is saving material for her book. When she said last week that she takes "absolute personal responsibility," she added this: "I was the candidate. I was the person who was on the ballot. I am very aware of, you know, the challenges, the problems, the shortfalls that we had. Again, I will write all this out for you."
Clinton will tell you, down to the exact date, when she believes meddling turned the election against her. "As Nate Silver, who doesn't work for me - he's an independent analyst but one considered to be very reliable - has concluded, if the election had been on October 27, I'd be your president," she said in New York.
If you want to know about "the challenges, the problems, the shortfalls," however, you'll have to buy the book.
As a marketing strategy, this is a smart play. If Clinton were to give away everything now, she might devalue her book.
But let's be clear: Clinton is the one placing limits on her discussion of election interference, not the media.