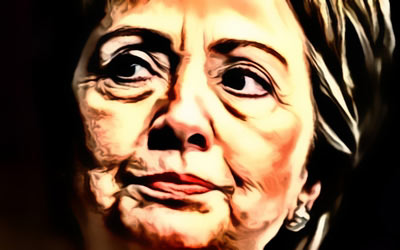 Last week, Hillary poked her head above the parapet that she's been hiding behind to tweet a benign message:
"Congress should move ahead now with the USA Freedom Act -- a good step forward in ongoing efforts to protect our security & civil liberties."
Her very belated tweet -- after years of silence -- followed a landmark ruling by a federal appeals court holding that metadata collection by the NSA was illegal. Hillary saw the ruling, knew what was coming, and suddenly jumped on the bandwagon.
But don't be fooled by her. As Secretary of State, she frequently approved cloak and dagger operations and strategically used data from NSA interceptions of our allies.
One of the most blatant instances was her use of NSA intercepted conversations and emails between countries participating in the Copenhagen Climate Summit in 2009. Clinton and Obama wanted advance information about which countries would be opposing them and what their strategy would be. Documents leaked by Edward Snowden revealed the NSA monitoring:
"Leaders and negotiating teams from around the world will undoubtedly be engaging in intense last-minute policy formulating; at the same time, they will be holding sidebar discussions with their counterparts, details of which are of great interest to our policymakers ... Signals intelligence will undoubtedly play a significant role in keeping our negotiators as well informed as possible throughout the negotiations."
By the way, "Signals Intelligence", referred to as SIGINT, is clandestine intelligence gathering. That's what Hillary loves.
In her book, "Hard Choices," she claimed that she and Obama "learned" that there was a secret meeting with the Chinese and Indian diplomats. Once they "found out" about it, they "crashed" the meeting.
They "found out" about it because of the NSA spying. That's how they "learned." And our allies were not too happy about it.
Later, Hillary attacked Snowden and claimed his leaks helped terrorists. What really upset her was that she was caught and embarrassed when world leaders learned what she was up to.
Incredibly, nobody has asked her about it. No news story has connected the dots linking her to the meta-data overreach.
As president, Hillary would compound scandals like the NSA snooping affair, driven by her own penchant for secrecy, spying, concealment, and paranoia. Her support of the NSA reform legislation is a particularly hypocritical piece of campaign posturing.
But snooping is not just a government issue for Hillary. She believes in private snooping, too.
Remember her record: