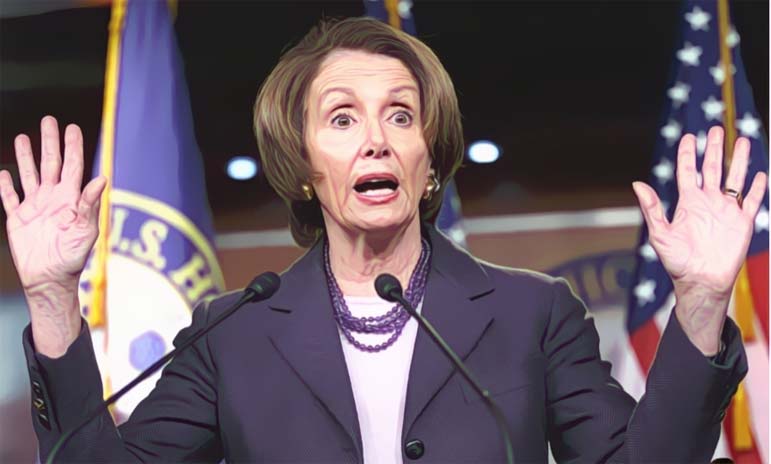 If you happen to live in a congressional swing district — one where a Republican incumbent is on the hot griddle — and don't like the mien of Nancy Pelosi, then I have some bad news: you could be seeing a lot more of her the closer we get to Election Day.
I'm suggesting this based on what's occurred so far in 2018: Pelosi, the former House Speaker who aims to return to her former post should House Democrats regain majority control of the chamber, already has appeared in more than one-third of House Republican commercials.
And it might increase during the seven months remaining until the November vote.
According to Kantar Media's Campaign Media Analysis Group, Pelosi appeared in 58% of the GOP ads in this year's congressional special election in Pennsylvania (Democrats winning, Republicans losing).
In 2017, Pelosi showed up in 55% of the Republican spots in the congressional special election in Georgia (Republicans winning, Democrats losing).
But there's another practical reason for putting Pelosi front and center: she's arguably the most needle-moving of what one might call "direct-mail Democrats".
Think of it this way: you're writing a direct-mail piece, asking for a campaign donation, and you have to pick someone from the other party who makes your base's hair stand on end in but a few written words.
A generation ago, that might have been Jesse Helms for Democratic purposes or Teddy Kennedy for Republicans. At present, Democrats have President Trump. Republicans had Hillary Clinton (though the more she complains about how fate's treated her, the more relevant she is). GOP activists could evoke Elizabeth Warren or Bernie Sanders, but the most effective figure is Pelosi. That's based on what's she said in the past that still resonates with the right (her 2010 Obamacare line: "we have to pass the bill so that you can find out what's in it . . .") and her hints at a 2019 House Democratic agenda — i.e., the "Repeal the Trump Tax" tour.
Knowing that she's a target, Pelosi could do her party a favor and voluntarily step aside — announce she won't be part of the House leadership in 2019, even retire from Congress. Indeed, the suggestion was floated in this article last month. And it came up in this column by the venerable Walter Shapiro.
But you'll notice it's unnamed Republican operatives doing the talking, not the Democratic faithful.
Besides, if Pelosi were to make a dramatic announcement, she might have done it a few days ago when he celebrated her 78th birthday.
Though I live just down the road from Pelosi (well, 30 miles away from her San Francisco district), I've never met her. But here are two guesses as to why stepping aside is a non-starter for this particular member of Congress.
First, Nancy Pelosi may be the type who simply can't let go.
She's not the only California Democrat to fit this pattern. Pelosi's San Francisco neighbour, Sen. Dianne Feinstein, turns 85 in June yet is running for another six-year hitch in Washington. The Senate, it would seem, is at the core of Fenstein's existence.
Not too far from Congress, there's another example of a powerful figure who refuses to budge. Justice Ruther Bader Ginsburg, who turned 85 just 11 days before Pelosi's birthday, shows no signs of wanting to leave the U.S. Supreme Court.
In recent years, Ginsburg has told reporters that she looks to her former colleague, John Paul Stevens, as a model for Court longevity. He stepped down as a court justice in 2010, at age 90.
If we applied the Stevens standard to Ginsburg, that takes us to the year 2023 and the possibility of a Democratic president having replaced Trump. As with any Washington story, power is at the heart of this scenario — far better for a liberal justice to allow a Democratic president to do the choosing. That's also true of Feinstein. It's easier for her to seek reelection with her followers knowing a Democratic governor likely will be the one naming a successor were she unable to finish her next term that expires in 2024.
Indeed, power has everything to do with Pelosi not giving a hint of wanting to pass the flame.
Well, that and a good working knowledge of political history.
Twelve years ago, with Congress on the verge of upheaval, David Brady, a Hoover Institution senior fellow, a renowned political scientist, and a watcher of elections, co-authored an analysis on political polarization. In it, he looked at three previous tumultuous times in the history of the republic — the America Civil War (slavery, secession, civil rights), the industrial transformation at the turn of the 20th Century (a debate over government fostering urban-based growth vs. protecting the more traditional agricultural economy), and the New Deal era of the 1930s (again, a question of government's role in the economy).
Maybe Pelosi understands that she's part and parcel of what could be seen as a fourth great upheaval — as with previous American political storms, questions of governmental intentions, economic favouritism, and parties trying to claim the moral high ground.
But maybe she's also noticed that the pendulum might swinging her way -- historically, inevitably.
Figure it thus: back in the 2006, when my colleague was writing about polarization, the federal government was controlled by Republicans. George W. Bush was in the middle of his second term (and suffering amidst sagging approval ratings); Congress was in its 12th year of GOP management.
That fall, Democrats took back both chambers of Congress. And two years after that: the presidency. It then took but two years for voters to start reversing course, beginning with returning the House to the GOP. And, two years after that, the Senate. Trump's 2016 victory was not only a bolt out of the blue, it brought Washington full-circle to the same power structure that existed before Pelosi earned the Speaker's gavel.
If you believe that the nation hasn't sorted out its differences — and voters are still in the business of punishing the political system, be it by electing a non-conformist like Trump or shifting control of Congress — then the House would seem ripe for a takeover.
Which could mean seeing a lot of more of Nancy Pelosi once the election -- and the Republican attack ads -- have run their course.
Comment by clicking here.
Bill Whalen is a research fellow at the Hoover Institution, where he studies and writes on current events and political trends. In citing Whalen as one of its "top-ten" political reporters, The 1992 Media Guide said of his work: "The New York Times could trade six of its political writers for Whalen and still get a bargain." During those years, Whalen also appeared frequently on C-SPAN, National Public Radio, and CNBC.