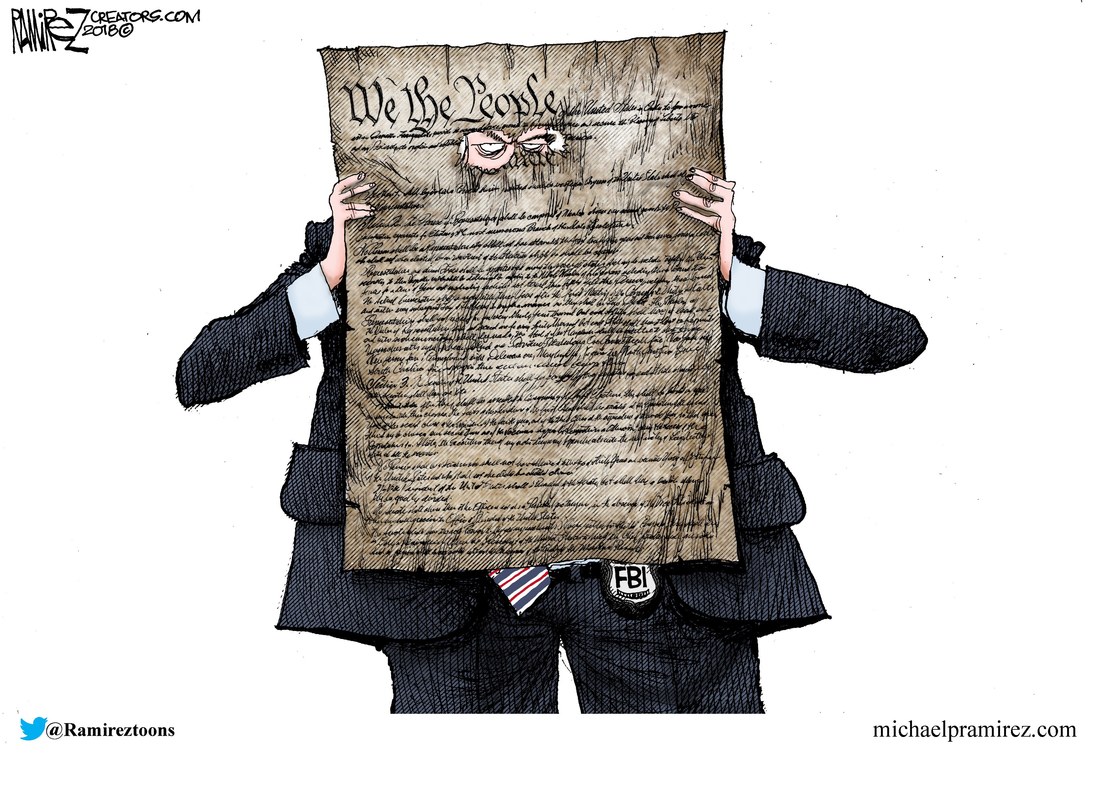 Sitting down with CNN's Anderson Cooper on last week, former FBI Director James Comey discussed the memos he'd written after his conversations with President Donald Trump in early 2017.
The first meeting between the two was in January, before Trump's inauguration. During that meeting, Comey briefed Trump on the dossier of allegations compiled by former British intelligence officer Christopher Steele, including an uncorroborated story about Trump having had sex workers in his room at the Moscow Ritz-Carlton when he was in the city in 2013. That incident was brought up repeatedly by Trump in ensuing conversations with Comey.
In two of his seven memos, Comey wrote that Trump made a surprising claim about that alleged incident: He never even stayed the night in Moscow, meaning that the incident couldn't have happened. Cooper asked about that.
COOPER: "You also said in your memos that the president told you twice that he did not spend the night in Moscow around the Miss Universe pageant. Since then, flight records, social media posts, congressional testimony, also photographs, prove that he actually did spend the night in Moscow.
"What's the - I mean, do you think it's significant that the president lied to you twice about that?"
COMEY: "It's always significant when someone lies to you, especially about something you're not asking about. It tends to reflect consciousness of guilt, as we would say in law enforcement."
COOPER: "You've noticed that in past interactions with a prosecutor. If someone is lying about stuff you haven't asked about, that's a tell?"
COMEY: "Right, two tells. If they bring things up you didn't ask about, and if they bring it up and make a false statement about it, that's - it's not definitive, but it certainly makes you very concerned about what might be going on there."
Underlying all of this is an interesting question. Four people associated with Trump's 2016 campaign or individuals within that campaign have thus far pleaded guilty to offering false statements to investigators from the FBI or special counsel Robert Mueller's team. Trump allegedly gave a false statement to the head of the FBI. Could that be a criminal offense?
In essence, we're asking where the line is drawn between legal and illegal falsehoods. Clearly, telling an FBI agent something untrue during an interview at FBI headquarters as you face criminal charges subjects you to charges of making false statements. Equally clearly, if an FBI agent friend of yours asks to borrow a dollar and you lie and say you don't have any cash, that's not going to get you taken away in handcuffs. But where is the line drawn between the two?
At issue is 18 U.S. Code, Section 1001, the law dealing with false statements being given to government officials (in this case, investigators from the executive branch).
"The law is very broadly worded," said Georgetown Law professor Paul Butler, a former federal prosecutor. "The main limitation is that the lie has to be about something that's material to a government inquiry. But beyond that, it's extremely broad. It's a very controversial law."
The origin of the law, he said, was an effort to curtail false claims for pensions after the Civil War. Over time, it broadened, even to include untrue denials of guilt (an expansion upheld by the Supreme Court). If the FBI asks you in an interview whether you broke the law and you falsely say you didn't, you could face additional charges for that lie.
But notice what Butler said: The lie has to be material to an inquiry. Jennifer Rodgers, executive director of the Center for the Advancement of Public Integrity at Columbia Law School, reinforced that point in the context of Trump's comments to Comey.
"The first question is: Do we have a matter or investigation to begin with?" she explained. "I think it's pretty clear," she said, that "you have to have an ongoing investigation or matter within the jurisdiction of the executive branch."
"And then the second issue is: Is this conversation - and that statement that was made about 'I didn't even spend the night there' - within that matter? Are they talking about that in connection with that open matter or investigation - and do both parties understand that?"
The first point is an interesting question. We know that, as of late July 2016, there was an active counterintelligence investigation into any connections between the Trump campaign and Russian actors. We know, too, that the Steele dossier was eventually given to federal investigators, who worked to corroborate its allegations where possible, including, presumably, the story about the hotel in Moscow.
In his memos, Comey indicates that Trump himself pressed for an investigation into that story in particular. In a memo dated Jan. 28, 2017, Comey noted Trump's denial of having stayed in Moscow and then described a request from the president:
"[Trump] said he thought maybe he should ask me to investigate the whole thing to prove it was a lie. I did not ask any questions," Comey wrote. "I replied that it was up to him, but I wouldn't want to create a narrative that we were investigating him, because we are not and I worried such a thing would be misconstrued. I also said that it is very difficult to disprove a lie. He said 'maybe you're right,' but several times asked me to think about it and said he would also think about it."
The implication here is that there wasn't any active investigation into the Moscow hotel incident anyway.
Then there's "materiality": Is the lie relevant to the inquiry? In this case, Rodgers thinks that Trump's denial probably would be (if there were an inquiry about the hotel incident).
"It is material, I think, if the president would say something untrue if what they're doing is trying to confirm or deny pieces of the dossier," she said.
"I just think the issue is: Do they understand in this conversation that that's what they're talking about, and that's not at all clear to me," she added. This goes back to her earlier point that false-statement charges depend on the person making the statement understanding that the conversation is about the criminal inquiry.
Why? Probably in part because the statute at issue also establishes another criterion for charges: The comments must be made "knowingly and willfully." Willfully misleading an investigator probably depends on knowing that you're talking about an investigation.
But this issue is broader than that.
"Was he just misremembering or was it kind of an intentional lie?" Butler noted. "With Trump, he often says one thing and then says something that's the opposite." It can be hard to tell whether that's intentional or just sloppiness.
During his interview with Fox News' "Fox and Friends" on Thursday morning, Trump denied having said what Comey documented him as saying.
"He said I didn't stay there a night. Of course, I stayed there. I stayed there a very short period of time, but, of course, I stayed," Trump said. "Well, his memo said I left immediately. I never said that. I never said I left immediately."
For a casual observer, this may seem fairly easy to adjudicate: Comey's memos were written contemporaneously for what he believed to be a private audience, while Trump's assertions were meant to rebut those claims to a national television audience. But it's not that simple from the standpoint of filing charges. The four people who'd pleaded guilty to false-statement charges all admitted to doing so, probably after being presented with evidence proving that their testimony was untrue.
Both Butler and Rodgers noted that, in this case, there's another question that would apply: Is it worth trying to charge a sitting president with lying to government officials even if the evidence were more solid and the situation more clear? That assuming that a sitting president even can be charged with a crime, which is a debate of its own. Butler pointed out that Trump's assertions might get him in trouble in the context of possible obstruction, if perhaps Trump's denial of staying in Moscow was an effort to impede an investigation. But that, of course, is a different issue.
It's worth noting, by the way, that Comey's conversation with Cooper had at least one viewer who might be able to answer the question about what Trump said to Comey: Trump. He told "Fox and Friends" that he was tuning in.
"I did watch the liar-leaker," Trump said of Comey, "and his performance, by the way, was horrible."