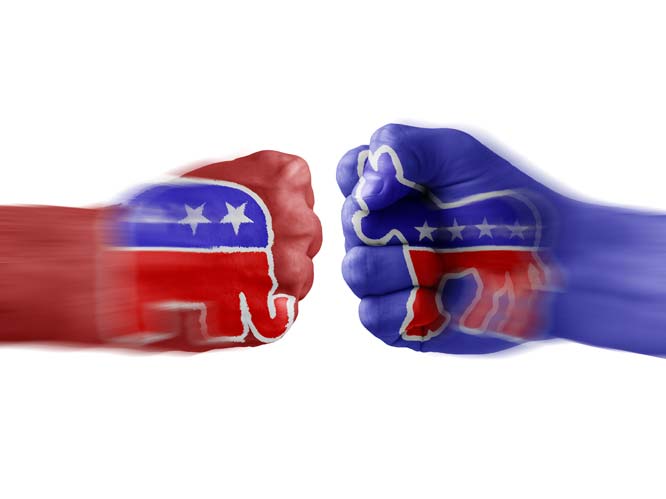 The results from Georgia's special election should scare Republicans, but Democrats shouldn't overread the results.
With all the precincts reporting, Democratic candidate Jon Ossoff pulled 48.3 percent of the vote in the open House race to replace Health and Human Services Secretary Tom Price. He needed to break 50 percent in the jungle primary to avoid a head-to-head June runoff with the top Republican finisher. For perspective, Ossoff got 92,390 votes. If he had rustled up 3,700 more, he would have won outright.
Instead, he'll face former Georgia Secretary of State Karen Handel in a June 20 runoff. She pulled close to 20 percent of the vote in a field that included 11 GOP candidates. "Tomorrow we start the campaign anew," Handel said around midnight.
• Ossoff shouldn't have come as close as he did. He is a 30-year-old documentary filmmaker and former congressional staffer who has never run for office before and doesn't even live in the district. Republicans, from Newt Gingrich to Johnny Isakson, have easily held the Sixth District since the 1970s. Price just won reelection with 62 percent before giving up his seat. "This is already a remarkable victory," Ossoff said in a statement sent at 1:35 a.m. "We defied the odds, shattered expectations, and now are ready to fight on and win in June."
• National Republicans had to pour in millions just to keep Ossoff under 50 percent. The super PAC aligned with Speaker Paul Ryan spent more than $3 million on a rescue mission. After seeing polling on March 24th that showed Ossoff at 42 percent and rising, the group deployed an organizer to Atlanta the next day. He oversaw a full-time paid field team of 100 that has knocked on doors seven days a week since. "If we had waited another couple of weeks, it would have been too late," said Corry Bliss, executive director of Congressional Leadership Fund, told the Washington Examiner's David Drucker.
• President Donald Trump waited up late to watch results. He celebrated Ossoff staying below 50 percent as some kind of validation of his leadership. The president tweeted about the race four times Tuesday and posted this after midnight: "Despite major outside money, FAKE media support and eleven Republican candidates, BIG "R" win with runoff in Georgia. Glad to be of help!"
• But Handel kept more distance from Trump than most of the other Republicans. She handled him carefully. She had a common refrain whenever reporters asked: "Do I support the president? Absolutely. But my job, if I have the privilege of being the next congressman, is not to be an extension of the White House. It is to be the best representative."
Robert Costa, who was on the ground in the home stretch for The Washington Post, relays that Republicans he talked with veered between wanting a typical party man to preferring a Trump-style hard-liner. In interviews, some voters genteelly tried to sidestep questions about loyalty to Trump. "We didn't support Karen based on who she supported for President," said Allison Newman, a 42 year-old special education teacher, when asked why she and her husband supported Handel. "We supported Karen based on her track record, she's ethical and she's a good person."
• The candidates who embraced Trump the most didn't get traction. Bob Gray, a city councilman in the suburb of Johns Creek, closely tied himself to the president and said he was running to back him up. His slogan paid homage: "America First. Conservative Always." But Gray underperformed the public polls, pulling only 10 percent. Others who took a similar tack barely registered. A headline on the Atlanta Journal-Constitution homepage is: "Trump loyalists flail in Georgia special election."
At Gray's election night event at an Italian family restaurant in Roswell, he implored his supporters to rally behind Handel. "No one cheered; there was no applause for party unity," Jonathan Lee Krohn reports. "And why should there be? For at least some of Gray's most hardcore supporters, they had supported him specifically because of his love for Trump. 'He's willing to support the president, and I voted for the president,' said Brittany Evrard, a 27 year-old substitute teacher from Fulton County who volunteered for both Trump and Gray."
From Jim Galloway, the AJC's veteran political reporter:
"Ten minutes into a speech claiming the second spot in the Sixth District runoff, Karen Handel hadn't mentioned the words "Donald Trump."
From Erick Erickson, the Atlanta-based founder of the conservative RedState blog, who now writes for The Resurgent:
"Significant to note that among the GOP tonight in GA06, the more closely aligned a candidate was with Trump, the worse said candidate did."
This will make GOP recruiting harder. Some House Republicans might become scared about being vulnerable and change their behavior. Congressional Democrats are going to become less likely to bail out House GOP leadership on tough votes. Democratic campaign committees will face more pressure than ever from the left flank to spend money in red districts, even if there's no realistic path to victory.
Contrary to the gelling D.C. conventional wisdom, Democrats could still win the Georgia race in the runoff. A lot of the overnight press coverage suggests that Handel is now the favorite against Ossoff because he couldn't crack 50 percent. The assumption is that all the non-Handel Republicans will now coalesce behind her over the next two months and turn out to vote for her in June. This isn't necessarily so.
While it votes Republican, the district's demographics - affluent and highly educated suburbs north of Atlanta
• make it well-suited for Democrats to pick off in the age of Trump.
Consider this: Democrats control nine of the 10 congressional districts with the highest percentage of college-educated voters. Georgia-6 is the only exception, Dante Chinni pointed out last week in the Wall Street Journal.
A lot of these center-right, upper-middle-class, well-educated professionals view Trump warily. That's why Mitt Romney won the district with 61 percent in 2012, and Trump pulled just 48 percent. That was one of the biggest swings anywhere in the country.
Moreover, even months before the primary, Democratic operatives were telling me privately that Handel was the Republican against whom they would fare the best.CNN's Eric Bradner explains: "Handel lost a 2010 race for governor and a 2014 Republican Senate primary and was accused of overspending as a county commissioner in a 2017 jungle primary attack ad from the conservative Club for Growth. She was hammered by Republican foes in the runoff who aligned themselves with Trump
• raising the prospect that those Trump voters could skip the runoff entirely. Handel's efforts as secretary of state to purge Georgia's voter rolls by requiring voters to prove their citizenship led to fights with the Justice Department's Civil Rights Division. . . . Democratic National Committee Chairman Tom Perez
• who led the Civil Rights Division during Barack Obama's first term
• said voters would hear 'a lot' about Handel's efforts to require voters to prove their citizenship."
• An under-covered dynamic: Handel advancing is a win for the pro-life movement. She was last in the national news in 2012 when she resigned from a top job with Susan G. Komen for the Cure after unsuccessfully trying to cut off the breast cancer foundation's ties with Planned Parenthood. Handel even wrote a book about the episode called "Planned Bullyhood" in 2014. The fight made her a hero of anti-abortion groups, which promoted her and celebrated last night's news:
• Money mattered. Ossoff raised more than $8.3 million with the help of celebrities and the liberal netroots. About 95 percent of that haul came from outside Georgia. Ending Spending, the conservative group bankrolled by the billionaire Ricketts family that owns the Chicago Cubs, poured in $1.3 million to boost Handel, potentially pivotal in such a free-for-all race. There will now be a crazy amount of spending on Atlanta TV before June.
BUT, BUT, BUT - CONSIDER THE BIGGER PICTURE:
Picking up 24 seats to win control of the House will still be very hard for Democrats. Despite all the national help Ossoff got, he only outperformed Hillary by about 1 point in the district.
"To win back the House, coming close won't be enough," National Journal political editor Josh Kraushaar wroted Wednesday. "Republicans were able to use their traditional playbook (to force a runoff), painting Ossoff as a down-the-line liberal to stunt his momentum. If that strategy works in the midterms, they'll be well-positioned to hold their House majority. Democrats need to win these types of diverse, affluent Republican districts to regain control of the lower chamber. . . . All told, it doesn't look as if many typical Republican voters
• even those who don't care for Trump
• were inclined to vote for a Democrat to send a message. . .
"If there's anything that should concern Democrats, it's that they know what they're against but not what they're for," he added. "They've mastered the art of mobilization in the age of Trump, but are still struggling to persuade winnable voters. Ossoff's campaign ads struck all the right notes, portraying him as a fiscal conservative and a pragmatist who's tough on national security. But on the stump, Ossoff never really articulated much beyond bland Democratic talking points. With their pumped-up base, Democrats should have a productive midterm election. But to capture a House majority, they'll need to pick off Republican-friendly seats with candidates who can reassure GOP-leaning voters with a moderate message. Balancing the energy of the progressive activists with that sort of pragmatism won't be an easy task."
TAKING THE LONG VIEW:
• Doug Sosnik, who served as Bill Clinton's White House political director, believes Democrats are unlikely to win control of the House next year. Barring a complete Trump meltdown, the Democratic strategist thinks that the path is just too tough because the last round of redistricting was so effectively controlled by Republicans in many states.
The way he sees it, the significance of the 2017-18 cycle is largely about the 2020 presidential campaign and, as importantly, political power in the next decade surrounding reapportionment and redistricting.
The GOP's performance in the 2010 midterm election positioned the party to dominate in the House for the entire decade. Consider that, in 2012, Republicans controlled the chamber despite getting 1.2 million fewer overall votes across all the House races. That's how important it is to be able to draw the lines.This also helps explain why there has been a steady decline in true swing seats since the 1990's. Red districts have gotten redder and blue districts bluer. There are fewer and fewer split districts.
Most of the tea party incumbents are unlikely to lose, so the action is going to be more in the moderate districts. House races still matter, of course. How many seats the Democrats gain will affect Trump's ability to govern. That will impact whether he can hold the White House in 2020.
• Here are a few other notable takeaways: Due to the nature of the states with elections in 2018, Sosnik also thinks the Democrats are unlikely to take back the Senate for the rest of the decade. Again, barring a complete Republican meltdown.
Governors who win in 2018 will likely drive the redistricting process across the country. There are 38 governors races this cycle. Half are in open seats. There are contests in nine of the country's 10 largest states. The outcome in these races will go a long way in determining who is in charge until the end of the 2020s.
History says that the party out of power should be highly motivated and do well. There seems to be signs of that now, but is it real? The greatest single question mark, which no one got right in 2016, is who is going to vote. That is even more difficult to predict in an off-year election. An under-appreciated early warning sign will be mayoral races.