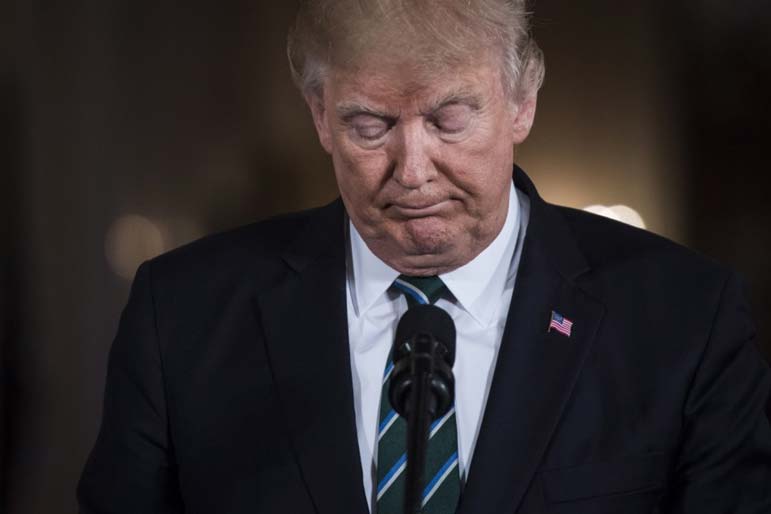 If Mark Sanford's "hiking trip" on the Appalachian Trail with his Argentinian mistress couldn't stop him from getting elected to Congress, it is hard to imagine how mean tweets from Donald Trump will.
Trump dispatched Mick Mulvaney to threaten the South Carolina congressman last week. "The president asked me to look you square in the eyes and to say that he hoped that you voted 'no' on this (health care) bill so he could run (a primary challenger) against you in 2018," Sanford said the OMB director told him, according to the Charleston Post and Courier.
"I've never had anyone, over my time in politics, put it to me as directly as that," the former two-term governor told his local paper. "To state the obvious, I'm not a guy who responds to threats well ... It's contrary to all that I believe in in politics." He said it also contradicts the South Carolina Republican Creed, which reads: "I will never cower before any master, save my G0D."
Sanford won reelection with 59 percent in his coastal district last year. Trump got 53 percent. "I mentioned this to a couple of colleagues, and they said it sounds very Godfather-ish," Sanford added. "Their point was that this approach might work in New Jersey, but it probably doesn't work so well in South Carolina."
• Trump tried carrots, offering pizza parties and invitations to the White House bowling alley. Since that hasn't worked, he's using the stick. Nicolo Machiavelli wrote that one should try to be loved and feared. "But, because it is difficult to unite them in one person, it is much safer to be feared than loved," the Italian diplomat explained in "The Prince."
This approach makes much less sense in America circa 2017 than it did in the Italy of 1532.
In practice, throughout the history of our republic, this has almost never been an effective way to govern. Franklin Roosevelt, vastly more popular than the current occupant of the Oval Office, went all-in during the 1938 midterms against Southern Democrats who weren't consistently voting for New Deal programs. The ensuing debacle, in which all but one primary challenger FDR supported lost, is a cautionary tale Trump may want to consider before he follows through on his threats to knock off members of the House Freedom Caucus if they don't quickly fall in line.
The defiance we saw from several members of the Freedom Caucus this week, including Sanford, strongly suggests that Trump's gambit will fail. Rather than cower, principled movement conservatives wore the attacks as badges of honor. They saw the threats as testaments to their courage. And they pledged to never back down. The fact that Sanford went to the Charleston paper to say Trump had threatened him reflects the degree to which these guys are not scared.
"I have zero worries about it," Rep. Mo Brooks, R-Ala., told the Heritage Foundation-backed Daily Signal. "Trump's tweets reaffirm that the Freedom Caucus is having a major impact on public policy in Congress - that the Freedom Caucus is not a force to be ignored. . . . If you want me to vote for a piece of legislation, either persuade me it is good for America or change it so that it is good for America."
Rep. Scott DesJarlais, R-Tenn., one of Trump's earliest endorsers, said the Freedom Caucus won't change no matter what the president does. "We're elected as Republicans to put forth good conservative policy, and I'm on board as soon as we start doing that," he told Roll Call. "In my district, we're very conservative, so if he gets me out office, he's going to get someone more conservative than me."
"If somebody can get to the right of me in the primary, G0D bless him," added Freedom Caucus member Trent Franks, R-Ariz.
• A host of other dynamics, from redistricting to Citizens United, also make what Trump is doing much riskier than it might have been in the past.
The president cannot cut off funding to intransigents. The Koch political network has pledged to give air cover to people who Trump attacks because they opposed last week's bill. Groups like Club for Growth also promise to mobilize for conservatives facing primary challenges. In the past, major donors might be afraid to cut checks to someone targeted by the president. Now, some will give because of it. The National Republican Congressional Committee, the House GOP's campaign arm, also has a long-standing policy of supporting incumbents and could not back a primary challenger. "As long as they pay their dues, we're gonna be there for them," said NRCC chairman Steve Stivers.
"Trump's own romp through the Republican primaries last year - vanquishing a raft of contenders more favored by the GOP establishment - was testament to how little control party leaders now have in channeling the passions and enthusiasm of the rank and file," The Post's Karen Tumulty notes. "Now at the head of the party himself, and struggling to rack up some legislative achievements, Trump is fighting against some of the same forces that helped get him elected."
The president is also not coming into this from a position of strength. His approval rating is in the mid-30s, and he is belatedly going to the mat for a bill that fewer than one in five Americans support. Meanwhile, the cloud of scandal continues to hang over the White House, and continuing revelations related to Russia threaten to imperil his very hold on power. The botched attempt at damage control, spearheaded so ham-handedly by Rep. Devin Nunes, R-Calif., has only made Trump's life worse. Now his former national security adviser is seeking immunity to testify. All of this makes the bully pulpit less impressive.
The bottom line is that Trump needs the members of the Freedom Caucus more than they need him. Democrats are not going to work with the president. He has poisoned the well too much. Nancy Pelosi is an effective leader who will hold her caucus together to extract maximum concessions. If we wind up at a point when impeachment is seriously on the table, especially after expected Democratic gains in the midterms, how hard do you think the Freedom Caucus members will fight to protect a guy who went to war against them? Especially when an authentic movement conservative, Mike Pence, could replace Trump.
• After attacking the Freedom Caucus generally this week, Trump singled out three leaders of the group: Reps. Mark Meadows, N.C., Jim Jordan, Ohio, and Raúl R. Labrador, Idaho.
Trump's tweets: The Freedom Caucus will hurt the entire Republican agenda if they don't get on the team, & fast. We must fight them, & Dems, in 2018!
If @RepMarkMeadows, @Jim_Jordan and @Raul_Labrador would get on board we would have both great healthcare and massive tax cuts & reform.
Where are @RepMarkMeadows, @Jim_Jordan and @Raul_Labrador?#RepealANDReplace #Obamacare

Each of these guys won reelection with a higher percentage of the vote than Trump received in his district. Jordan won with 68 percent in his northwestern Ohio district. Trump got 64 percent. Trump pulled 63 percent in both Labrador's and Meadows's districts. The Idaho congressman got 68.2 percent, and the North Carolinian got 64.1 percent.
Ironically, the roughly three dozen members in the Freedom Caucus were, overall, much more loyal to Trump during the general election than the squishy moderates he's now trying to make his bed with. Meadows stumped with him. Labrador interviewed to be Interior secretary. When the "Access Hollywood" video came out last October, in which Trump boasted about being able to get away with groping women because he's a celebrity, Ohio Sen. Rob Portman withdrew his endorsement. But Jordan went to a Toledo-area tea party meeting to explain why conservatives should stand by the GOP nominee.
Meadows said this week that the president is "not being well served" by his advisers. "The narrative is not surprising in the White House because I think some of his advisers are suggesting that it was consensus that we pulled the rug out from underneath the president's agenda and nothing could be further from the truth," he told the Washington Examiner.
"I don't accept the premise. My guess is the American people won't accept it either," Jordan said during the same interview. "I don't know how keeping your promise to the American people, doing what you told them you're going to do, doing what they sent you to do - how is that overplaying your hand?"
Labrador replied to POTUS on Twitter: @realDonaldTrump Freedom Caucus stood with u when others ran. Remember who your real friends are. We're trying to help u succeed.
Rep. Justin Amash, R-Mich., who represents Grand Rapids and has already beaten back primary challenges funded by the establishment, said Trump's approach would be "constructive in fifth grade." "It may allow a child to get his way, but that's not how our government works," he said, tweeting: It didn't take long for the swamp to drain @realDonaldTrump. No shame, Mr. President. Almost everyone succumbs to the D.C. Establishment.
Another libertarian-leaning Republican, Kentucky Rep. Thomas Massie, piled on, tweeting: .@realDonaldTrump it's a swamp not a hot tub. We both came here to drain it.
The official Freedom Caucus account later pushed back in a stream of tweets:
• @RealDonaldTrump We are where we've always been: committed to keeping our promise.
• @RealDonaldTrump We can do better than a plan that only 17% of Americans support. #KeepOurPromise
• @realDonaldTrump .@RealDonaldTrump Repeal includes eliminating the costly Obamacare regs that are driving up Americans' premiums.
The group's spokeswoman added: Politically, the GOP should thank the cons & mods who helped stop this bill 4 not sending them in midterms w/ higher premiums under AHCA.
And: The HFC roots for Trump's success. The group could not in good conscience send him into '20 reelection w/back-to-back yrs of higher premiums
• A new report suggests that the base stands with the Freedom Caucus, not Trump. The fact that the president thinks otherwise merely reflects his hubris.The Associated Press deployed five reporters to interview voters in House districts represented by members who opposed the bill, and they found that conservatives are proud of their representatives for holding firm. Take Mary Broecker, president of the Oldham County Republican Women's Club and a strong proponent of fully repealing Obamacare. She's a constituent of Massie's in Kentucky. "When he came out against this bill, I thought, 'I trust him so this must be the right way,'" the 76-year-old retired teacher said at a coffee shop in Buckner, Kentucky.
The AP says this kind of praise was a common refrain during interviews from Iowa to Tennessee. "In Meadows' North Carolina district, 77-year-old Hendersonville retiree Don Lee said he voted for Trump to 'bring Republicans together,' but added that the president 'needed to take some more time with this bill and try to find some unity,'" the story notes.
• Once you use the stick, it is hard to start handing out carrots again. If the Freedom Caucus caves at this point, they will look weak.
• Trump has become the boy who cries wolf. If he doesn't follow through after drawing this red line, his words will seem hollow. Bluster works better in business than politics.
"By targeting individual congressmen, as Trump has now done, he runs the risk of looking pathetic if they remain unintimidated," former George W. Bush speechwriter Michael Gerson explains in his column Friday. "And will he really carry this campaign beyond his Twitter feed? Have rallies in their districts? Criticize them on conservative talk radio? Raise money for their more moderate opponents? If he takes this route, then the GOP civil war will reach a new stage of bitterness, with legislative progress postponed until a core faction of the party is tweeted into submission or defeated. . .And all this has come in the course of the president's political honeymoon. What, for goodness' sake, will the marriage be like?"
• Notably,the president is still not trying to sell health or tax reform on its merits. He's framing this entirely as a test of personal loyalty. You're either with him or you're against him. There is no gray in his world view. Only black and white.
Peggy Noonan argues artfully in her column for Saturday's Wall Street Journal that Trump's mishandling of this Obamacare fight, including the latest attacks on the Freedom Caucus, shows that he really doesn't understand who makes up his base or how to pass legislation:
"A president dealing with a national issue that arouses anxieties has to take time and speak repeatedly on the plan and the goal, with the kind of specificity that encourages confidence. 'You win the argument, then you win legislatively,' Newt Gingrich said in an interview this week, paraphrasing Margaret Thatcher. And a president must always appear to be leading, not meekly tagging leaders within the Congress."
The former speechwriter for Ronald Reagan relays that her friends who backed Trump last year are standing by him, and she thinks this is because they do not fully understand what being president entails.
"Whenever I used to have disagreements with passionate pro-Trump people, I'd hear their arguments, weigh their logic and grievances. I realized after a while that in every conversation we always brought different experiences to the table," Noonan writes. "I had worked in a White House. I had personally observed its deeper realities and requirements. Their sense of how a White House works came from . . . TV shows such as 'House of Cards' and 'Scandal.' Those are dark, cynical shows that more or less suggest anyone can be president. I don't mean that in the nice way. Those programs don't convey how a White House is an organism demanding of true depth, of serious people, real professionals. A president has to be a serious person too, and not only an amusing or stimulating talker, or the object of a dream."
• Speaking of TV distorting reality: A White House official says that the president's threats to back challengers followed days of frustration with the amount of media attention that members of the Freedom Caucus were getting. "We are sick and tired of seeing them on TV," the Trump person told The Post's Bob Costa. "Jim Jordan has been on every five seconds, almost as much as Adam Schiff," a reference to the ranking Democrat of the House Intelligence Committee. "It's unhelpful and counterproductive. . . . Our view is: there's nothing as clarifying as the smell of Air Force One jet fuel. So if he needs to bring in the plane and do a rally, he's going to think about doing that."
• To be sure, many House Republicans share Trump's hostility toward the Freedom Caucus. Paul Ryan said this week that he sympathizes with where Trump is coming from. "I understand the president's frustration. I share his frustration," the speaker said, saying that 10 percent of the conference killed the bill.
Rep. Adam Kinzinger, R-Ill., complains that the ideological purists in the Freedom Caucus won't take any deal, even when they get what they ask for. "They move the goal posts, and once that happens, they still refuse to play," Kinzinger writes in an op-ed for Friday's New York Times. "We are the Charlie Brown party, hoping that this time, things will be different. But time and again, the Freedom Caucus is Lucy - pulling the ball out from under us, letting us take the fall and smiling to themselves for making a splash. It's a cheap tactic, not a way to govern, and enough is enough."
But Republican leaders have taken aim at Freedom Caucus members before. "A spate of 2015 ads purchased by the American Action Network, a nonprofit issue advocacy group with ties to House GOP leaders, targeted Jordan and two other hard-liners for opposing a Department of Homeland Security funding bill," The Post's Mike DeBonis notes. "Those ads infuriated members of the caucus, then only months old, and spawned a confrontational relationship that culminated in John Boehner's resignation six months later." On the other hand, last year, an establishment-backed candidate unseated Rep. Tim Huelskamp in Kansas because he voted against the farm bill.
• Finally, few mainstream conservative thought leaders are coming to Trump's defense in his newest feud. Charles Krauthammer frets in his column Friday that Trump will embrace Medicare-for-all to get Democrats on board. "Obamacare may turn out to be unworkable, indeed doomed, but it is having a profound effect on the zeitgeist: It is universalizing the idea of universal coverage," Charles writes, defending the House Freedom Caucus.
"Look at how sensitive and defensive Republicans have been about the possibility of people losing coverage in any Obamacare repeal. A broad national consensus is developing that health care is indeed a right. This is historically new. And it carries immense implications for the future. It suggests that we may be heading inexorably to a government-run, single-payer system. It's what Barack Obama once admitted he would have preferred but didn't think the country was ready for. . . . I wouldn't be terribly surprised if Donald Trump, reading the zeitgeist, pulls the greatest 180 since Disraeli 'dished the Whigs' in 1867 (by radically expanding the franchise) and joins the single-payer side. Talk about disruption? About kicking over the furniture? That would be an American Krakatoa."