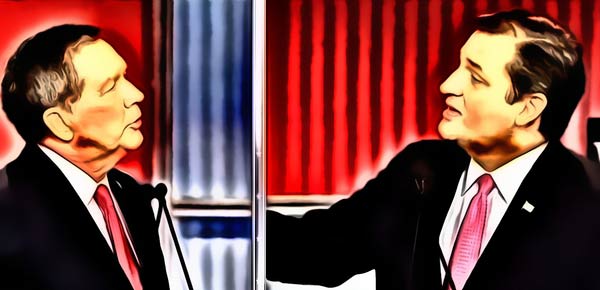 Donald Trump is getting some unlikely assistance from his opponents in his uphill effort to win a majority of Republican presidential delegates. Ted Cruz and John Kasich remain too busy battling each other to unite in opposition to the front-runner.
Cruz and Kasich have the same goal: to prevent Trump from getting close to the 1,237 delegates he needs for the nomination. Yet in remaining contests in New York, California, New Jersey and elsewhere, the battle between the two of them sets back that effort.
Instead they could be colluding — that's perfectly legal — effectively dividing up some states, playing to their respective strengths.
Take New York, which has its primary next Tuesday with 95 delegates at stake. Under the Republican rules, if Trump wins over 50 percent of the statewide vote he gets all 11 at-large delegates. Additionally, majorities in any of the 27 congressional districts would give him all three of that district's delegates.
He's being challenged in some places by Kasich, the governor of Ohio. If, as Cruz has demanded, Kasich dropped out, it would ensure a Trump sweep in New York.
If Cruz and Kasich were to focus their time and resources in different venues — the Texas senator in more conservative upstate districts and the Ohioan in several New York City and in suburban districts — they would have a better shot at denying the front-runner half the votes in a number of districts. Trump almost certainly will win a majority of New York's delegates, but the difference between, say, 85 and 60 could matter a lot in his quest for 1,237.
Similar allocation formulas apply the following week in Connecticut and Maryland, where polls show Trump ahead. Kasich could challenge him more effectively in some suburban areas and Cruz in regions where there are more Christian conservatives.
In a number of districts, and in states like Indiana, where all three Republican contenders have strengths, Kasich and Cruz have to compete against each other.
But the final primary day, June 7, underscores the potential advantages of cooperation between the two Trump challengers. California elects 172 delegates, most by winner-take-all vote in each of the 53 congressional districts; New Jersey picks 51, all awarded to the winner of the statewide vote.
A smart challenger strategy would look like this: Kasich would make a concerted effort in a dozen or so California districts, mainly in the northern part of the state; Cruz would wage a major fight against Trump in most of the others.
In New Jersey, Kasich is best positioned to take on Trump and his chief supporter, Gov. Chris Christie. Kasich's technocratic centrism fits the profile of a good New Jersey candidate, and he has a gubernatorial record demonstrably better than that of Christie, whose hapless presidential run cost him popularity in his home state. In a three-way Garden State race, however, few doubt that Trump would prevail.
But in the past several weeks, Trump's rivals have been throwing as many punches at each other as at Trump. Cruz's strategy has been to get to a one-on-one contest with Trump, while Kasich's has been to win late primaries to demonstrate electability in hopes of being chosen at a deadlocked convention in Cleveland in July.
These plans have been overtaken by events; sticking to them helps Trump.

Previously:
• 03/07/15: Hillary's hubris still could trip her
• 02/24/15: Free trade is bipartisan target in 2016 election
• 02/19/15: On Planet Clinton, where everyone's a critic
• 02/09/15: Questions for Bernie Sanders' establishment guy
• 02/03/15: From steadfast Iowa to contrarian New Hampshire
• 02/01/15: Bush's journey from front-runner to straggler
• 01/27/15: Another election, more phony promises on taxes
• 01/19/15: How Cruz supporters differ from Trump fans
• 12/23/15: Why Trump and Cruz aren't Forbes or Cain
• 12/21/15: Speaker Ryan sails through the easy part
• 11/25/15: As the GOP candidates emerge Hillary's weaknesses will be revealed
• 11/05/15: OK, candidates: Ask the questions yourselves. Seriously
• 10/28/15: Imagine an endgame of Cruz vs. Rubio
• 10/26/15:Ted Cruz has a Ben Carson problem in Iowa
• 10/20/15: Will Paul Ryan follow James Polk's playbook?
• 10/20/15: If only Trey Gowdy could meet with Sam Ervin
• 10/13/15: Voters don't like revisiting the trials and tribulations of Clintonland --- but that doesn't mean Hillary can't win
• 09/23/15: Why Jimmy Carter couldn't win the South today
• 09/17/15: Gov. John Kasich's standout record in Ohio
• 09/03/15: Republicans chart 4 paths to stopping Trump
• 08/31/15: Here's how Biden-Warren sort of makes sense
• 08/28/15:Trump upends New Hampshire's substantive tradition
• 08/26/15:Jeb Bush is hugging the wrong president George
• 08/24/15: Underestimating Ted Cruz? That's a mistake
• 08/19/15: US holds steady in a world of economic trouble
• 08/12/15: Who will capture Iowa conservatives after Trump?
• 08/10/15: Debate fireworks that won't make much impact
• 07/29/15: A plea for conservatives to speak from the heart
• 07/09/15: Ex-Im Bank's undeserved rap for crony capitalism
• 06/24/15: All presidential candidates should be in debates
• 06/03/15: Foreign policy traps await Republicans and Hillary
• 06/01/15: It's small stuff that wrecks presidential runs
• 02/04/15: Can Walker be president without a college degree?
Comment by clicking here.
Albert R. Hunt is a Bloomberg View columnist. He was formerly the executive editor of Bloomberg News, directing coverage of the Washington bureau. Hunt hosts the weekly television show "Political Capital with Al Hunt." In his four decades at the Wall Street Journal, he was a reporter, bureau chief and executive Washington editor, and wrote the weekly column "Politics & People." Hunt also directed the Journal's polls, was president of the Dow Jones Newspaper Fund and a board member of the Ottaway community newspapers. He was a panelist on the CNN programs "The Capital Gang" and "Novak, Hunt & Shields." He is co-author of books on U.S. elections by the American Enterprise Institute and the Brookings Institution.