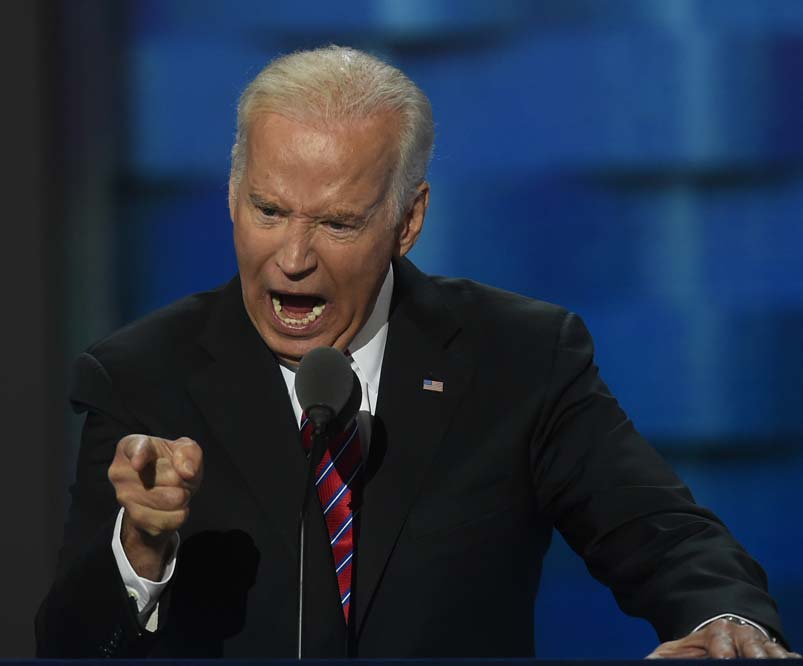 Imagine an alternate universe in which Jimmy Carter, 32 years after his first presidential run (this is assuming Carter wasn't a winner back in 1976 and lost again in 1996), decided the third time would be the charm.
This would be the 2008 election and Carter, facing the likes of Barack Obama and Hillary Clinton, would have some major problems. For starters, he wouldn't enjoy same historic narratives -- shattering racial and gender barriers -- as his main rivals. Some would suggest Jimmy Earl was past his prime. His candidacy would likely turn on an axis of temperament and electability (i.e., a Democrat who can compete in the South).
Should Joe Biden announce for president, as is anticipated, similar problems exist. Biden first sought the presidency 32 years ago and ran a second time in the aforementioned 2008 contest. Biden will turn 77 in November – if nominated, he'll demolish Hillary Clinton's record as the oldest Democratic nominee (she turned 69 in October 2016).
And yet another problem for a Biden candidacy, much like the hypothetical Carter run: it too would rest on pillars of personality (a more likeable, more adult alternative to President Trump) and electability (the only Democrat who can reconstruct the "blue wall" in the Upper Midwest).
Maybe these thoughts crossed Biden's as he kicked back in St. Croix this past week (is it my imagination, or is this the most played-out "decision" since LeBron James opted "to take my talents to South Beach?").
Here are a few other things that Biden hopefully considered while working on his tan:
Anti-Semitism. Two days ago, after a weak-kneed House voted on a resolution broadly condemning racial animus rather than singling out a freshman Muslim congresswoman for her anti-Semitic comments, Trump called the Democratic Party "anti-Israel" and "anti-Jewish."
The President has a point – the opposition party went out of its way to avoid offending Minnesota Rep. Ilhan Omar and her penchant for indefensible comments at the expense of Jews. And it came at a time when liberal media are questioning Israel's lobbying influence in the nation's capital.
Biden's Israel record? He made this clumsy statement back in April 2016, in describing the Israeli government as a source of "overwhelming frustration": "The present course Israel's on," Biden declared at the time, "is not one that's likely to secure its existence as a Jewish, democratic state – and we have to make sure that happens."
But how would Biden play the question of Democratic indifference to anti-Semitism?
During a speech last December at the Lantos Foundation, Biden suggested a link between the Trump presidency and a rise in anti-Semitism: "We are in a battle for the soul of this nation. We have to recognize trend lines are moving in the wrong direction."
Maybe that's the Biden play: try to pacify the anti-Israel left with a Trump distraction.
But is that enough to get Ilhan Omar's endorsement?
Trade. Hillary ran into a free-market buzzsaw in 2016 – first raving about the benefits of the Trans-Pacific Partnership before dumping it when faced with a strong protectionist push from Bernie Sanders.
Bernie's running again – and there's not a trade-friendly Democratic of any real prominence in this field (typical of this: California Sen. Kamala Harris, who has to balance the interests of her trade-rich state with a base that wants to wage war against multinational corporations).
Biden voted for NAFTA and opposed Bush 43's Peru Free Trade Agreement (that was in 2007, when he was competing against Clinton and Obama).
As for TPP, Biden hasn't stepped away from it in his post-veep years (not yet, anyway). In a November 2017 speech to the Chicago Council on Global Affairs, Biden defended the trade pact by claiming it would have allowed the U.S. to "have written the rules of the road [as to] what constituted fair trade."
Does this mean the Biden strategy is to be openly, defiantly anti-Bernie?
(For what it's worth, Biden and Sanders are at the top of the field in Iowa, per this CNN/Des Moines Register/Mediacom poll.)
Corporations. Speaking of evil corporations, Massachusetts Sen. Elizabeth Warren wants to dismantle tech giants like Amazon, Apple, Facebook and Google.
Facebook-bashing is low-hanging fruit. Google? I don't know. Apple? Maybe folks are bitter over the cost of AirPods. But breaking Amazon into smaller pieces? Sen. Warren may run afoul of voters who like the web site's variety and Prime's quick delivery (this YouGov rating shows Amazon as the most popular web site and online service with a negative opinion of just 7%).
Biden's approach to corporations? He voted in favor of the 2005 bankruptcy bill (it was backed by credit-card lenders, many of which are based in Biden's Delaware), a detail that Warren pointed out in the run-up to the last presidential election.
Perhaps we have another piece of the Biden strategy: not just anti-Bernie, but anti-Liz?
(Perhaps Biden and Warren could hash out their differences in a debate at Amazon-owned Whole Foods?)
Money. Getting back to corporate money, Biden may need a lot of it to compete in the modern world of cyberstalking for dollars. David Axelrod, Obama's political mastermind, has already hinted as much: "Biden obviously has a lot of friends among the Democratic donor community. But fundraising today is turbo-charged by social media. He's not of the social media generation."
Should he enter the race, Biden has two financial challenges. First, he has to raise a gaudy pile of money in a hurry. Harris raised $1.5 million within 24 hours of her announcement (an average online contribution of $37); Sanders raked in $6 million in his first 24 hours (a New York Times analysis found that Sanders entered the race with about 2.1 million online donors who've give money in the past six years).
If "Middle-Class Joe" can't morph into "Cyber Joe", then he'll have to collect dollars the old-school way – time-consuming phone calls and fundraisers and asking donors to max out early, so as to enable the campaign to spend more pre-Super Tuesday.
Here, Joe might want to recall what happened to "Jeb!"– the son and brother of former Republican presidents who built a massive war chest, only to suffer an ignominious defeat once the voting started.
By the time he departed the GOP at the end of January 2016, Jeb Bush had raised more than $118 million through his Right to Rise Super PAC and only $32 million via his campaign. After seven-and-a-half months of campaigning (Bush didn't formally declare until June 2015) and just three referenda in Iowa, New Hampshire and South Carolina, Bush managed to blaze through all but $2.5 million of that $118 million in super PAC money.
With large social networks generating relatively small donations, tech-savvy operations like Sanders' are able to replenish constantly throughout a primary season. Biden, assuming he can't build a similar operation, will have to rely upon early success – matching of beating expectations in Iowa and New Hampshire – to remain solvent.
Small wonder Biden kicked back in St Croix. The Caribbean sun beats the stormy clouds on the primary horizon.
Sign up for the daily JWR update. It's free. Just click here.
(COMMENT, BELOW)
Bill Whalen is a research fellow at the Hoover Institution, where he studies and writes on current events and political trends. In citing Whalen as one of its "top-ten" political reporters, The 1992 Media Guide said of his work: "The New York Times could trade six of its political writers for Whalen and still get a bargain." During those years, Whalen also appeared frequently on C-SPAN, National Public Radio, and CNBC.