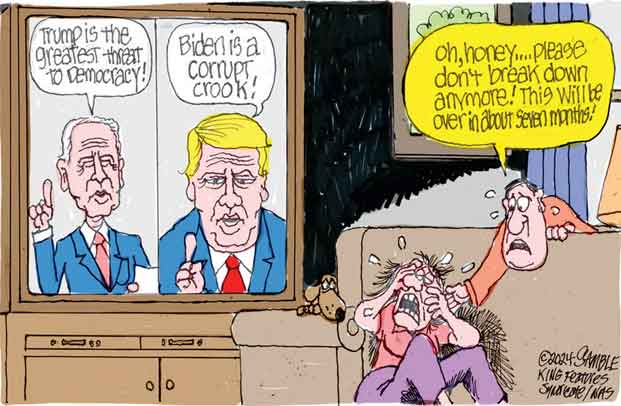 On Monday, the Democratic-controlled House Ways & Committee sent letters across the nation's capital asking for information (Russian business dealings, the firing of former FBI Director James Comey, hush payments to women) from President Trump's sons, business associates and political aides and allies.

That same day, former Colorado Gov. John Hickenlooper announced his intention to seek the presidency, while Hillary Clinton said she's out (at the same time, telling a local television station: "I'm not going anywhere").

In all, the committee issued about 80 letters.

It only seems like that many Democrats are running for president.

I count 14 Democrats who've entered the fray. Alphabetically, they are:

New Jersey Sen. Cory Booker; South Bend Mayor Pete Buttigieg; ex-HUD Secretary Julian Castro; Maryland Rep. John Delaney; Hawaii Rep. Tulsi Gabbard; New York Sen. Kirsten Gillibrand; California Sen. Kamala Harris; Hickenlooper; Washington Gov. Jay Inslee; Minnesota Sen. Amy Klobuchar; Vermont Sen. Bernie Sanders; Massachusetts Sen. Elizabeth Warren; spiritual author Marianne Williamson ("join the evolution"); entrepreneur Andrew Yang (he's for a $1,000 monthly Universal Basic Income for all U.S. adults).

That doesn't include another 10 who've hinted at running, or haven't killed the media speculation (the list was a full dozen when I started this column earlier today, but then Oregon Sen. Jeff Merkley and former New York City Michael Bloomberg announced that they're no-go's).
The 10 still thinking it over:

Former Vice President Joe Biden; Ohio Sen. Sherrod Brown; Montana Gov. Steve Bullock; New York Gov. Andrew Cuomo; former Virginia Gov. Terry McAuliffe; Massachusetts Rep. Seth Moulton; former Texas Rep. Beto O'Rourke; Ohio Congressman Tim Ryan; California Congressman Eric Swalwell; Virginia Sen. Mark Warner.

This doesn't mean we'll be looking at two dozen Democrats on the ballot 11 months from now when Iowans caucus. Yet three more Democrats in the race would be historical – 15 Democrats ran in 1972; a high-water mark of 16 gave it a try in 1976.

But the more the merrier? Not necessarily.

Here's why:

Dating back in 1988, in only one election cycle (1992) has neither party failed to produce a double-digit field of presidential contenders (it'll be a minor miracle this ever happens again for a party out of power, given how simple it is to e-file with the FEC).

In the six elections since 1992, only three times has a double-digit field produced a presidential winner – 2000, 2008, 2016. You might have noticed: those were all non-incumbent elections. The three times a challenging party had 10 or more presidential candidates (1996, 2004, 2012), it lost in November.

Perhaps Democrats can buck the trend in 2020, given that Trump seems to have knocked the nation off its political axis.

At least three factors will play into that.

Lightening The Load. At one point in 2015, 17 Republicans were running presidential efforts. By December, that number was down to 12. Another seven departed by the end of February. By mid-March, the race was down to four candidates – Ted Cruz, John Kasich, Marco Rubio and Trump.

In other words, the GOP field quickly tapered – to the point where it was Trump versus the field.

If the Democratic field swells to, oh let's say 18 contenders, then six of those hopefuls could be done by the year's end. Chalk it up to a lack of traction and an inability to raise money.

How fast would the next six vanish? Let's assume Iowa and New Hampshire do their usual cleanse. It's the final group of survivors that fascinates. Three candidates, four, five, six?

One person who'll have a say in that . . .

Biden . . . His Time? Samuel Beckett gave us Waiting For Godot. In early 2019, it's "Waiting For Joe" – will or won't Joe Biden run?

If Biden gets in: he's the dart board for a lot of heated debate conversations (past vs. present vs. future; electability vs. ideological purity; plus the dynamic of older white males vs. younger, more diverse alternatives).

If Biden doesn't get in: the polls get scrambled (look how well he does in early-primary states); a lot of establishment money gets freed up; the less progressive alternatives to the likes of Sanders and Warren and Harris – that would be Hickenlooper and Klobuchar, plus maybe Cuomo and McAuliffe – may get their moments to shine.

Clarity. I won't waste your time with the "this could be the year we finally get a brokered convention" talk. The media can't resist the speculation; you know what happens – no delegate walk-outs; first-ballot nominations.

But 2020 is problematic for Democrats in this regard: it's not a reach to come up with a scenario in which the first four primaries and caucuses produce at least three different winners. That's not including the press declaring their own victors based on surpassed expectations in Iowa and New Hampshire.
This happened to the Republicans in 2012, with Mitt Romney, Rick Santorum and Newt Gingrich each winning at least one of the early-five races (Florida moved up that year). Although he lost the next three nonbinding contests in Colorado, Minnesota and Missouri, Romney went on win 11 of the next 15 contests up to and through Super Tuesday, pretty much cementing his frontrunner status.

Try this for 2020: Biden and Sanders split Iowa, with the media declaring the surprise third-place finisher the "real winner". Nevada becomes a "free-for-all" as candidates compete for labor love in Clark County. Harris wins South Carolina.

Four days after South Carolina, 10 states will participate in 2020's "Super Tuesday." What happens to the field if it's a split verdict among native sons and daughters: Harris (California); Klobuchar (Minnesota); McAuliffe (Virginia); O'Rourke (Texas); Sanders (Vermont) and Warren (Massachusetts)?

Maybe a pre-determined national convention (in a location still yet to be determined) isn't out of the question. Or maybe, as per usual, Lucy yanks the football and this thing is pretty much settled if someone manages to sweep Iowa and New Hampshire.

Perhaps that's why Hillary said au revoir to a third presidential run.

But not farewell.
Sign up for the daily JWR update. It's free. Just click here.
(COMMENT, BELOW)
Bill Whalen is a research fellow at the Hoover Institution, where he studies and writes on current events and political trends. In citing Whalen as one of its "top-ten" political reporters, The 1992 Media Guide said of his work: "The New York Times could trade six of its political writers for Whalen and still get a bargain." During those years, Whalen also appeared frequently on C-SPAN, National Public Radio, and CNBC.