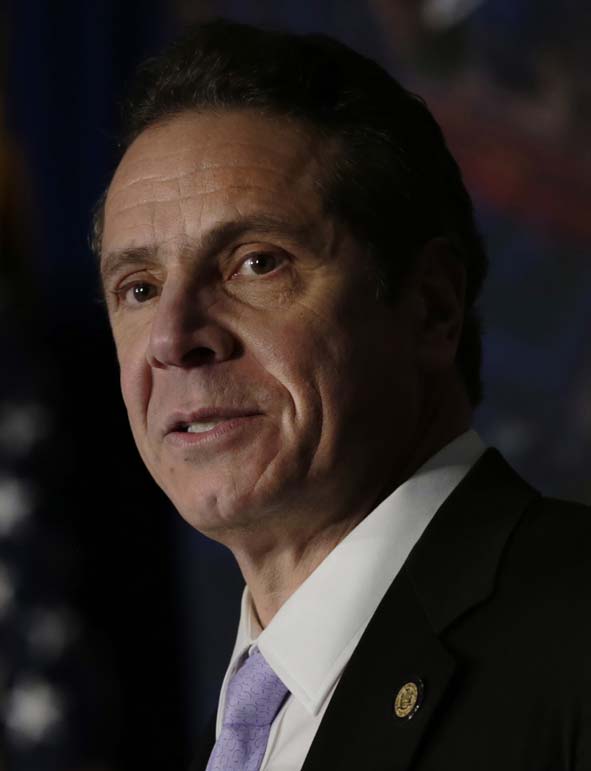 Any look back at American presidential politics in the 1980's would include at least two narratives.
One would be Republican dominance. The two Reagan campaigns and one Bush effort carried 133 of 150 states and amassed 1,440 of 1,614 electoral votes.
The other narrative: Democratic disarray. A quarter of a century after John F. Kennedy's death, the party couldn't find a forward-thinking 40-something standard-bearer.
Actually, there was a third narrative: the spectacle that was the late Mario Cuomo, at the time the governor of New York, agonizing over whether to seek the presidency.
A Shakespearian drama, reporters considered it – all the way to dubbing Cuomo "Hamlet on the Hudson" for his "to be or not to be" brooding, carried to an extreme in late 1991 when Cuomo dragged out the suspense for nearly three months before waiting until 90 minutes before the filing deadline in New Hampshire before taking himself out of the competition.
And in 2019, we may be looking at a revival of that play.
According to this report published over the weekend, son Andrew Cuomo is mulling a 2020 run. If he were to do so and went as far as managing to bump off President Trump, he'd become the third sitting New York governor (and seventh incumbent governor overall) to relocate to the White House. The other two from the Empire State: Franklin Roosevelt and Grover Cleveland.
But a Cuomo candidacy in this latest incarnation of the Democratic Party?
Only if New York's governor, in keeping with our Hamlet theme, is ready to endure "the slings and arrows of outrageous fortune" in a growing field that presents "a sea of troubles" for an establishment figure (Cuomo is not only a third-term governor, but a former HUD Secretary during the Clinton Administration and, for 15 years, a Kennedy son-in-law– getting married, no less, in the same church that was the site of JFK's funeral mass).
Should Cuomo gaze at poor Yorick's skull and seriously assess his chances of earning the Democratic nomination ("to thine own self be true"), he'd see at least three problems.
They are:
The Establishment. As mentioned before, Cuomo is not only someone who's knocked around the halls of power for the better part of four decades (his father was first elected governor in 1982), but the Kennedy and Clinton lineage gives him a particularly strong establishment zing.
Change it's not.
Moreover, the "establishment lane" of the Democratic swim meet could soon grow crowded should Joe Biden and Michael Bloomberg jump into the pool.
Biden complicates Cuomo's ability to collect money in well-heeled Democratic circles. That's why any real talk of a Cuomo run begins with Biden taking a pass, as he did in 2015.
Adding Cuomo and Bloomberg to a field that likely will include Sen. Kirsten Gillibrand (she's still at the "exploratory phase at the moment) begs the question of just how many New Yorkers the party can tolerate.
The Record. Cuomo hasn't had a serious challenge in each of his three gubernatorial runs (54% or more each time). But last month's Siena College poll had some troubling numbers – a record-low 43% favorable rating (down eight points from January), an unfavorable rating now at 50%.
Cuomo advertises New York as a progressive exemplar under his watch. But the record he'd have to sell to party activists, for whom progressivism is not a calculation but a practicing religion, is more complicated.
That begins with his re-election last year at the expense of the actress/activist Cynthia Nixon, who challenged the governor from the left ("a better, more equal New York").
In order to stave off any real threat of Nixon taking him down in the Democratic primary, Cuomo did some head-swimmingly rewriting of his record (a bad habit of fellow New Yorker Kirsten Gillibrand, by the way).
After Nixon entered the race, Cuomo reversed his opposition to marijuana legalization, became a fan of banning single-use plastic bags (a year after signing a bill taxing them), declared a state of emergency at New York City's public-housing authority and used his pardon authority to give up to 35,000 felons the right to vote.
Consistent, it's not. And the AOC wing of the party might not buy into Cuomo as a true believer.
Speaking of Rep. Alexandria Ocasio-Cortez . . .
The Woke Factor. She's given no indication that she'll formally endorse any of the Democratic contenders. Still, that hasn't stopped candidates from seeing the world through a decidedly AOC prism – most notably, endorsing her "Green New Deal" and the concept of raising taxes on the wealthiest Americans.
Ocasio-Cortez presents at least two problems for Cuomo, the first being Amazon's decision not to open its second headquarters in New York. AOC said good riddance; Cuomo reportedly has since begged the e-tail giant to reconsider.
The second problem: appealing to the AOC wing requires the ability to come across as sufficiently and convincingly "woke" (clued in to racism and social justice). Which doesn't seem to be in Cuomo's skill set – for example, claiming that he too was an undocumented person because of his Italian-American heritage and a certain racial slur.
One thing Cuomo does that his late father would likely approve: playing head games with the media.
Thirty years ago, the Mario Cuomo head game was a reporter trying to land an interview with the governor, having it scheduled then postponed then re-scheduled, making the pilgrimage to Albany, waiting outside the great man's office and hearing his voice so as to ramp up the anticipation, entering the governor's office and seeing firsthand the same desk that FDR used (complete with wheelchair nicks), then coming away from the interview with the realization that Cuomo had saying nothing committal and very little of real consequence. I can attest to this as I played this game in a past life as a political correspondent.
The son plays a similar game ("Cuomo can be irritating, confounding, and egotistical," The Atlantic notes. "He can also be engaging, egotistical, intense, and charismatic."). Indeed, what started the buzz of a presidential run is his skill in knowing how to tease the media.
To be or not to be? Maybe it's best for Andrew Cuomo not to be a presidential candidate in this political climate.
And instead, to think of his father – and what might have been.
Sign up for the daily JWR update. It's free. Just click here.
(COMMENT, BELOW)
Bill Whalen is a research fellow at the Hoover Institution, where he studies and writes on current events and political trends. In citing Whalen as one of its "top-ten" political reporters, The 1992 Media Guide said of his work: "The New York Times could trade six of its political writers for Whalen and still get a bargain." During those years, Whalen also appeared frequently on C-SPAN, National Public Radio, and CNBC.