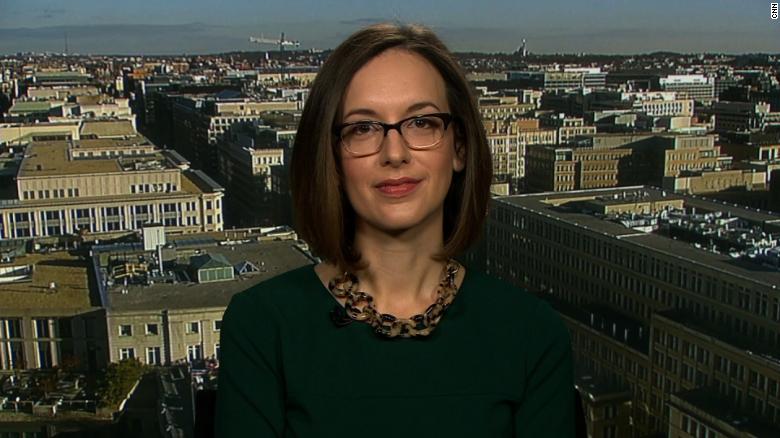 A controversial new CNN hire may have just gotten a little less controversial.

Sarah Isgur, a prominent conservative with ties to the Trump administration, was all set to become one of the cable network's political editors, a job in which she would help direct coverage of the Democratic primaries and Trump's reelection campaign.

But CNN and Isgur appear to have had a slight change of plans.

Isgur, until recently the chief spokeswoman for the Department of Justice, announced Friday on Twitter that she would still be joining CNN, but that she won't be doing so as a political editor. She'll be a political analyst only, offering commentary but having no direct role in coverage decisions.

"It's been a great vacation but I am back on twitter!" she tweeted. "And news: I will go to CNN as a Political Analyst instead. Will start next month on air and on line. See y'all soon!"
Isgur's hiring touched off criticism inside and outside CNN when it was announced three weeks ago. The decision was unusual for several reasons: Isgur has no journalism experience as well as none managing a TV news operation. She has instead spent much of her professional life as a Republican advocate; her résumé includes stints working on behalf of such candidates as Mitt Romney, Ted Cruz and Carly Fiorina, and for the Republican National Committee.

She also reportedly pledged her loyalty to President Trump to land her job in his administration as a spokeswoman for attorney general Jeff Sessions, whom Trump forced to resign in November.

Critics suggested that such a background made her less than a neutral arbiter and thus ill-suited to guide CNN's political coverage fairly. Among others, Democratic Rep. Alexandria Ocasio-Cortez wondered on Twitter whether Isgur was qualified. "Sorry," she wrote, "didn't get the latest memo after 1,000 experienced + qualified journalists of all stripes were let go w/o warning a few weeks ago and still looking for work: are we still pretending that hires like these are evidence of a meritocracy?"

Isgur evidently asked for the reassignment, having rethought her position since she was hired last month. A CNN spokeswoman, Lauren Pratapas, said Friday that Isgur proposed changing her role from editing the news to analyzing it instead. "We agreed and we look forward to her starting in that role," she said.

Analysts tend to have far more leeway to offer opinions than reporters, so Isgur's partisan background may be less problematic in speaking about politics on the air and online than in taking a decision-making role behind the scenes. CNN has a stable of contributors who consistently offer opinions favorable to Trump or Republicans.

Many political operatives have become TV commentators or hosts, including MSNBC's Chris Matthews, Joe Scarborough, Nicolle Wallace and Lawrence O'Donnell, Fox News's Dana Perino, ABC's George Stephanopoulos and Diane Sawyer, and the late NBC moderator Tim Russert. But it's unusual for them to direct news coverage.

In her various jobs working for Republican candidates, Isgur has disparaged CNN before, once calling it "the Clinton News Network," a reference to its alleged bias in favor of Bill and Hillary Clinton.
Sign up for the daily JWR update. It's free. Just click here.
(COMMENT, BELOW)

Previously:
• 03/07/19: Democratic National Committee rejects Fox News for debates, citing New Yorker article
• 02/20/19: CNN hires a prominent conservative to help direct its political coverage. Staffers are fuming
• 02/18/19: CNN's town halls: The network won't say why it gives a few the star treatment and keeps the rest of the field guessing
• 02/04/19: A tip from a 'concerned citizen' helps a reporter land the scoop of a lifetime
• 01/24/19: BuzzFeed, HuffPost latest digital giants to set giant-sized layoffs
• 01/21/19: BuzzFeed's stumble is highest-profile misstep at a time when press is under greatest scrutiny
• 12/20/18: Tucker Carlson is in BIG trouble, right? Not quite
• 08/29/18: A legend of Watergate fame faces new questions about a blockbuster Trump story
• 07/12/18: Once partners, 'Game Change' co-authors are at odds over their shattered franchise
• 06/01/18: MSNBC host Joy Reid faces new questions about her old blog
• 05/01/18: Cut the comedy? The White House Correspondents' Association is considering it
• 04/30/18: Prez's absence at White House correspondents' dinner turns it from schmooze-fest to snooze-fest
• 03/07/18: A chatty former Trump aide with a wild but wavering story raised some questions about live interviews
• 02/16/18: Reporting on tragedy: To explain or exploit?
• 01/04/18: The provocative, plugged-in author of new Trump book has previously been accused of playing fast and loose with facts
• 12/05/17: Blunderer Brian (Ross') staggering screw-ups
• 11/27/17: New news? Not on 'Morning Joe.' Hosts pass off a taped show as the live version
• 01/06/17: Why losing Megyn Kelly probably won't even dent Fox News' armor
• 05/09/16: Obama official 'fesses up: 'Narrative' created by administration sold Iran nuclear deal to clueless press
• 03/16/16: Despite the beatdown, reporters love the Trump beat
• 03/10/16: What really gets under Trump's skin?
• 03/04/16: Megyn Kelly leaves Trump sputtering to defend himself at debate
• 02/29/16: Think Trump's wrong? Fact checkers can tell you how often (hint: a lot)