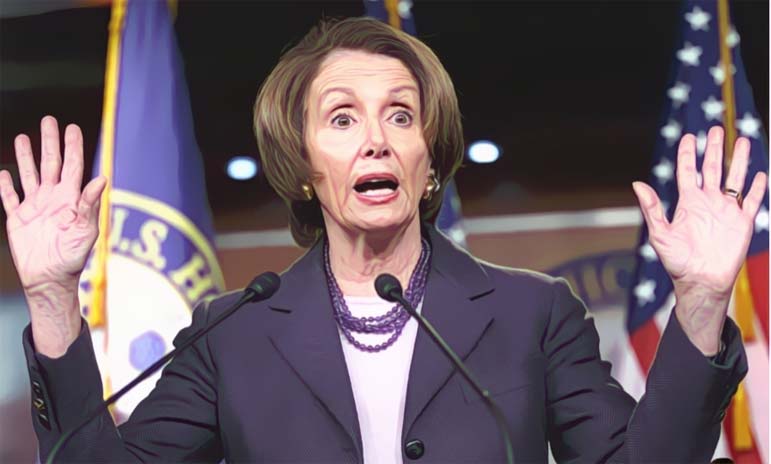 Newt Gingrich is deeply, deeply concerned.
The former House Speaker and big political thinker believes it's time for a wake-call in the White House. Otherwise he fears, the Trump Administration will be dealing with (translation: being investigated to death by) a Democratic-controlled House a year from now.
Pat Buchanan's also alarmed (then again, when isn't he?). The venerable conservative author and former GOP White House aide (he served under both Nixon and Reagan) fears a repeat of the 1930 midterm election, when Republicans dropped 52 House seats, thus ushering in an era of Democratic domination in the nation's capital.
Which of these titans of the right is right?
I'm with Newt: President Trump needs to rethink his midterm strategy — letting politics play out locally, rather than parachuting into contests as he did in the Pennsylvania House special election that went the Democrats' way.
As for Mr. Buchanan, I'm not so sure.
Yes, Republicans could be headed for a midterm beat-down of epic proportions. The Real Clear Politics average of generic ballots gives Democrats a 7.9% advantage. In 2010, the average going into the November vote was Republicans +6.8%. All the GOP did in that election was pick up 63 seats and regain control of the House.
It doesn't take an advanced degree in political science to figure that a +7.9% advantage could give the Democrats the 24 seats they need to retake the House (the Senate, where Democrats are defending 25 seats — 10 in states that voted for Trump — is more problematic).
Nor does it take a degree in American history to notice this election trend: in 18 of the last 20 midterms, the President's party has lost seats. On average, it's a sell-off of 33 seats. My primitive math skills suggest that this gives the Democrats room to spare this fall.
Now, a word of caution if you're planning on buying Nancy Pelosi a gavel lapel pin.
As easily attainable as 24 House seats may seem at the moment (especially when 23 districts voted for Hillary Clinton and a GOP congressman in 2016), it's not. Per the Cook Political Report, seven GOP-held seats likely/lean Democratic and another 22 GOP seats are "toss ups". As for what ground House Democrats could give, only three of the minority's seats are rated as toss-ups and only one is deemed lean or likely Republican.
But congressional elections are a blend of both quantity and quality. Democrats are betting heavily on the former — last December, the Democratic Congressional Campaign Committee revealed that it intends to unseat over 100 House Republicans. That includes some places where Democrats don't normally plan, such as the northern portion of South Carolina and Maryland's conservative Eastern Shore.
But is that the wisest strategy?
Twelve years ago, House Democrats found themselves in a similar situation — minority status, but the luxury of running against both an unpopular presidency and an unpopular war.
However, there was a big difference of opinion within party ranks. Howard Dean, at the time the Democratic National Committee chair, wanted to implement a 50-state strategy. His critics questioned whether that was the Democrats' best use of time and money — setting up ground games in states where Democratic candidates simply weren't competitive.
One of Dean's most vocal critics was Rahm Emanuel — today, Chicago's mayor but back in 2006 a Democratic congressman tasked with taking back the House.
Emanuel's strategy as the DCCC's chair: instead of 50 states, target 50 House districts. That, and tie the incumbent to the GOP presence in Washington (Emanuel kept trotting out a Republican "rubber stamp of the week or "crony of the week."
As for candidates, Emanuel had one standard: electability. "I'm cutthroat about this," he once told a roomful of potential donors. "I don't give a crap where I pick up seats. I plan on winning. There is no emotional attachment."
An example of how Emanuel won back the House (he need a net gain of but 15 seats at the time): Heath Shuler.
In 2006, Shuler was best known as a pro-football bust — the third pick in the 1994 NFL draft, but ultimately deemed the Washington Redskins' worst-ever quarterback.
However, Shuler was a football legend at the University of Tennessee and a successful real-estate businessman in his post-NFL days — not to mention a pro-life evangelical who opposed gay marriage and gun control. That made the ex-jock a perfectly pragmatic fit for North Carolina's 11th Congressional District (today, repped by Mark Meadows, the Freedom Caucus Chair).
Such is the question for Democrats in 2018: can they find the right fit? Are they willing to let electability take precedence over progressive purity?
Let's put it another way: in the spirit of Dolly the cloned sheep, can the party out of power find more Conor Lambs, the real-politik Democratic fit in this past week's Pennsylvania special election?
One other thing that the Democrats might need in 2018: a break or two in California.
The nation-state that reliably provides 55 electoral votes to Team Blue every four years presents a challenge in the form of its top-two primary system. Rather than allowing the two parties to hold separate primaries, California lumps all candidates on the same ballot with the top two vote-getters advancing to the general election regardless of political affiliation.
Here's where things could go wrong for California Democrats: in districts where House Republicans are vulnerable, too many Democrats on the ballot could produce a weak fall candidate — or, even worse, allow two Republicans to advance.
This could happen in three Southern California districts that are part of the 24-seat equation: the 39th CD, where nine Democrats are competing for the right to replace retiring GOP Rep. Ed Royce; the 48th CD, where eight Democrats are on the ballot (two Republicans conceivably could get the most votes); and the open seat in the 49th CD (Rep. Darrell Issa retiring), where four Democrats are in the mix.
Things are already strange as is in California: a survey of 34 Democrats running in GOP-held seats in the Golden State California found only two willing to endorse a Pelosi speakership.
Stranger yet: if California somehow contributed to Republicans holding onto the House.
Comment by clicking here.
Bill Whalen is a research fellow at the Hoover Institution, where he studies and writes on current events and political trends. In citing Whalen as one of its "top-ten" political reporters, The 1992 Media Guide said of his work: "The New York Times could trade six of its political writers for Whalen and still get a bargain." During those years, Whalen also appeared frequently on C-SPAN, National Public Radio, and CNBC.