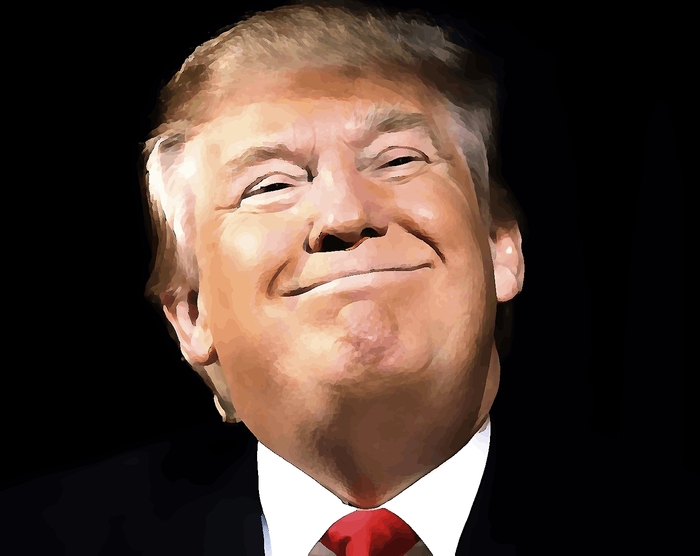 There's no honor among thieves.
That said, I'll try to claim the moral high ground by giving credit where it's due — to the Harvard Lunch Club political podcast, which this week had a very clever take on President Trump's unorthodox way of telling the world that he intends to seek a second term.
The podcast's take: "Trump breaks the mold again. No one for a minute thinks that he *won't* run for president in 2020. What, really, is the point of being coy about it?"
I have two thoughts, the first being that I was always in the camp that it was entirely feasible that Trump could have been the first president in modern times to pull off a "mike drop" — surprising the world by declaring he won't seek a second term (yes, LBJ did this in the spring of 1968, but he'd been re-elected four years previously).
I first wrote about this, for this publication, about 10 weeks before Trump shocked the world and was elected president. My thinking at the time: Trump had a chance to be the biggest blue-collar anti-hero this side of Married With Children's Al Bundy ("scored four touchdowns in a single game for Polk High") to align himself with America's 11th President. That would be James K. Polk, the Tennessee Democrat widely regarded as the rare example of a one-term president considered a success by presidential historians. What I
wrote seemingly a lifetime ago:
"Trump, like Polk, could frame three or four policy proposals as the core of what he plans to accomplish over the next four years.
And leave it at that — and, leave after that."
I had other reasons for buying into the Trump "one-and-done" scenario. He'll turn 74 in the summer of 2020. Maybe Trump would conclude life is short and there's too much golf to be missed.
And there's the dime-store-psychologist view of Trump's political motivation: he sought the presidency more to prove a point (that he could play the game better than career politicians) than engage in eight years of policymaking.
In a word: narcissism.
My second thought: while Trump has done what presidents inevitably do in wanting an extended stay in Washington, the oddball way of how he did it shows he hasn't lost his originality.
Which would seem the key to holding on to his base: don't become one of them.
Trump filed his re-election papers with the Federal Election a mere 980 days before the next Inaugural Day (JFK served all of 1,036 days in office). And he rolled out a new campaign manager who likewise is an orthodox choice. Given that the White House sees more in the way of turnovers than a corner bakery (that includes four communications since Trump was sworn in), a fun 2020 prop bet will be the number of campaign managers that candidate Trump blazes through before the election's end.
But none of that may matter, as long as . . . well, Trump keeps being Trump.
And that was what the Harvard Lunch Club podcast cleverly noted. Hyper-ambitious politicians all but sell their souls to win the highest office in the land, yet they play a cat-and-mouse game for three years pretending they're not sure about wanting to stick around for the entire eight years.
Puh-leeze.
Then along comes Trump, who breaks the mold by announcing for re-election earlier, rather than later — and it resonates with a Trump base that sees the act of non-conformity as another example of their idol doing what cookie-cutter candidates don't (thus also the defense of his sometimes-indefensible tweets, personal insults and chaotic West Wing management style).
Trump took unconventionality to a new level this week — the surprise announcement that he wants to imposed tariffs on aluminum and steel imports.
Yes, Trump suggested tariffs would be on the way during the course of the 2016 campaign. But how many presidents would have done while they were in the midst of a public conversation about guns and school safety (that would include embarrassing members of his own party)?
And how many presidents would have gone the extra step of poking China in the eye by dropping the tariff bomb at the same time a visiting Chinese delegation was not too far away from the White House, engaging in trade talks?
Maybe Trump is right, as his tweets blithely dismiss, and the tariffs will work to the nation's benefit. I posed this question during a podcast the other day with Michael Auslin, a Hoover Institution expert on Asian affairs. He didn't predict an outcome good or bad, but did suggest that it wouldn't be a surprise if the Chinese reaction was mild given that it enjoys its status atop the Davos pyramid.
That would be an unpredictable result. Then again, this is a president who thrives on acts and deeds unconventional.
Comment by clicking here.
Bill Whalen is a research fellow at the Hoover Institution, where he studies and writes on current events and political trends. In citing Whalen as one of its "top-ten" political reporters, The 1992 Media Guide said of his work: "The New York Times could trade six of its political writers for Whalen and still get a bargain." During those years, Whalen also appeared frequently on C-SPAN, National Public Radio, and CNBC.