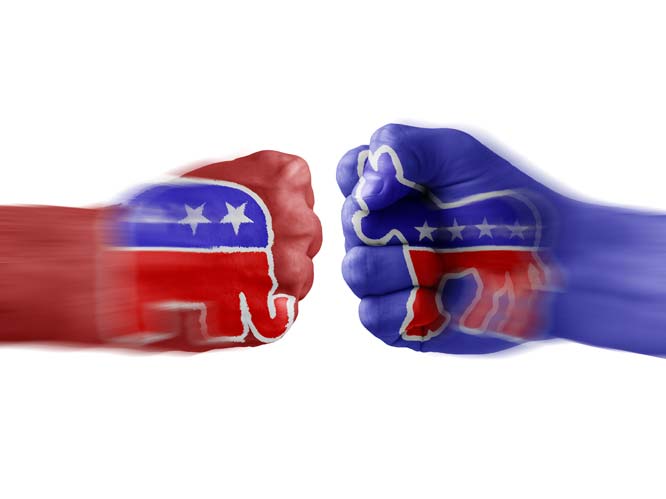 Here's why everyone in Washington is talking about a special congressional election in Pennsylvania: It's a very real possibility that a Democrat could win Tuesday in a district that President Donald Trump won by 20 points in 2016. As of Wednesday morning, Democrat Conor Lamb and Republican Rick Saccone are virtually tied, waiting on absentee ballots to decide the winner.
This election is the first chance both sides have to gauge how their party will do in the first midterm elections of Trump's presidency. If Democrats can win or even come close to winning the mostly white, blue-collar southwestern Pittsburgh-area district, it will be an an indication of their shot in more moderate districts, like the 23 Republican-held seats that also voted for Hillary Clinton, in their pursuit to take control of the House.
But Washington is often guilty of hyperventilating about a special election. The race to replace a GOP congressman who resigned amid a sex scandal isn't a perfect test case for November, for a few reasons.
With the help of Stuart Rothenberg, a nonpartisan elections analyst, here's a better sense of how we can interpret Tuesday's results and what about this race is overhyped.
Why this special election could foreshadow November's midterm elections
1. It comes more than a year after Trump's election: You may remember special elections last summer in Georgia and Montana to fill seats vacated by Trump's Cabinet. Back then, it was unrealistic to expect Trump voters to break away from a party headed by someone they'd elected less than a year earlier, Rothenberg said. But enough time has passed between the presidential election that if there is any kind of weakening in Trump's coalition, Rothenberg said, "now is when you might see it."
Losing a Senate race in deep-red Alabama in December already had Republicans on edge. But the GOP also hoped that was a one-off situation driven by allegations of sexual misconduct by candidate Roy Moore. In Pennsylvania, there's no such excuse if they lose.
2. There are lots of opportunities for Democrats to show their strength: Lamb has declared victory. And he may win after thousands of absentee and provisional ballots are counted, but he doesn't have to win to raise legitimate alarms for Republicans.
That 20-point margin Trump won the district by in 2016 gives us a baseline of Trump support in the district. (It's high.) The only way Lamb has been able to come close to Saccone has been by converting a sizable number of Trump voters. Meanwhile, anything other than a comfortable win for Saccone is likely to be seen as a blow for Republicans.
3. Trump is all in for the Republican: The average voter doesn't pay much attention to a special election, so this race, like most special elections, probably says more about how voters feel about the president than the specific candidates.
And the more a race is nationalized, the more that race can tell us about voters' moods going into November.
Trump's done a lot to reinforce the narrative that this special election is a referendum on him. He endorsed Saccone and on Saturday night, he held a rally for him. On stage in Moon Township, Pennsylvania, Trump kept the spotlight on himself, while Saccone flew under the radar. A notable number people didn't seem to notice or recognize Saccone at the entrance of the rally, reported The Washington Post's Jenna Johnson.
Why aspects of this special election may be overhyped
1. The reason there's a special election in the first place: Tim Murphy, an antiabortion Republican, resigned in October after allegedly encouraging a woman he was having an affair with to get an abortion. It's not like Saccone is running on Murphy's legacy, but he does need to convince voters who may have been turned off by Murphy's alleged behavior why they should give a different Republican a chance.
2. This district won't exist in November: Pennsylvania is one of the most gerrymandered states in the nation, and last month the state's Supreme Court redrew the congressional districts so they don't heavily favor one party. Since Republicans drew the original maps, the new maps now favor Democrats in more districts. That includes the 18th district, where Tuesday's special election takes place. It will be split up into four different congressional districts. One of those four will be the new 18th district, which will be smaller and more Democratic.
3. Republicans are pouring money into this race at an extraordinary rate: When Democrats seemed like they might win a Trump district in Georgia last summer, Republicans warned me behind the scenes against reading into it too much. Democrats were spending so much money on one race that it was inflating its importance, they argued.
Well, now the tables are turned. The Post's Paul Kane reports that Republican groups have spent some $7 million on advertising alone to boost Saccone, a remarkable amount, meaning he has a 2-to-1 edge in TV and radio advertising. Republicans clearly don't want to lose this district. But if they win, how much can they credit their policies vs. their willingness to spend millions on the race?
4. The national mood now may not be the national mood in November: Special elections can be bellwethers of the national mood, but that national mood isn't set in stone. Right now employment numbers are good, Trump is championing a tariff policy that could do well in this manufacturing-heavy district, and it's an open question if voters will reward Republicans for a new tax plan. All of that could change in eight months when the rest of the midterm elections will be held. Because especially in this fast-paced news cycle, eight months is like a century in political years.