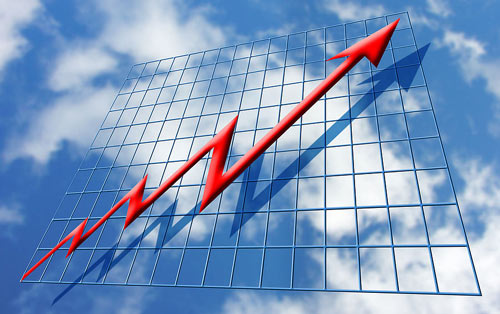 WASHINGTON - The U.S. economy added 313,000 jobs in February, according to Friday's employment report from the Bureau of Labor Statistics, smashing analysts' expectations.
The unemployment rate held steady for the fifth straight month at 4.1 percent, a 17-year low. Average hourly pay grew by 2.6 percent from this time last year, a drop from January's year-over-year improvement of 2.9 percent.
February produced the most jobs in a month since July 2016, when the economy grew by 325,000 positions, government data show. Economists appeared split over what caused the higher-than-projected surge of jobs.
Andrew Chamberlain, chief economist at Glassdoor, a jobs website, said the surprise burst of new positions - 200,000 was the expected number - likely stems from the tax plan President Trump signed last December that slashed corporate rates.
"This is a result of fiscal stimulus - in other words: a $1.3 billion tax cut," he said. "Businesses are making decisions on a forward-looking basis. Even if the dollars aren't in the pockets of companies yet, they're making plans."
Cathy Barrera, head economist at ZipRecuiter, an employment site, questioned that interpretation, asserting it's still too early to see an impact from the tax measure.
"Really for businesses, what matters is demand for their products," she said. "If demand for products hasn't gone up, there's not more work for these companies to be doing."
Josh Wright, chief economist at iCIMS, a hiring software firm, said companies might just be ramping up for a potentially sunnier business climate.
"It's more about increased confidence," he said. "They like the outlook for growth and how supportive federal policy will be for it."
Construction, retail, manufacturing and health care drove most of the growth in February.

Specialty trade contractors saw employment gains of 38,000, while building assembly jobs jumped by 16,000. (Overall, the construction sector has added 180,000 positions over the last four months.)
Retail trade expanded by a whopping 50,000 jobs, with general merchandise stores leading the way (18,000 positions), according to the BLS data. The growth spurt follows a year of layoffs: About 67,000 positions disappeared from stores in 2017 - a plummet from the 203,000 jobs that were added in 2016.
Consumer spending increased by .4 percent in January, and retailers seem more optimistic, said Barrera, the economist.
"That speaks directly to the growing demand for retail and the need for more retail services," she said.
Manufacturing, meanwhile, maintained a course of steady growth in February, increasing by 31,000 jobs, with most of them sprouting in transportation equipment (8,000) and fabricated metal products (6,000).
Labor Secretary Alec Acosta doubled down on the stance Trump's tax moves unleashed growth in a statement Friday.
"President Trump's tax reform continues to boost economic confidence with more than 400 companies handing out bonuses, raises, or other benefits to more than 4 million Americans," he said.
"The 313,000 job gain is more than triple that necessary to meet the demand of new entrants into the work force, which if it sustained will continue to put downward pressure on the unemployment rate," said Joseph Brusuelas, chief economist at RSM US, an international consulting firm.
Economists point out that Baby Boomers are retiring faster than young people are entering the workforce to replace them, but they still don't know why so many workers appear to be stuck on the sidelines. Some blame the opioid epidemic, which, studies show, has knocked a chunk of potential hires out of the workforce.
One alarming example: The number of truck drivers, commercial pilots, railroad operators and pipeline workers who failed drug tests in 2017 has spiked 77 percent since 2006, according to federal data .
Brian Krenke, president of KI Inc, a furniture maker in Green Bay, Wisconsin, said his firm has raised wages and expanded its recruiting efforts into high schools but still struggles to fill vacancies.
"In the next 90 days, we need to identify and train 390 employees to do skilled positions," Krenke said. "But individuals are failing drug tests and that, combined with low unemployment, makes it hard to find people."
Researchers at the Bureau of Labor Statistics make their estimates based on a sample of employer payrolls (and the numbers are recalculated as more companies transmit information). The figures have a margin for error of about 100,000 in either direction.