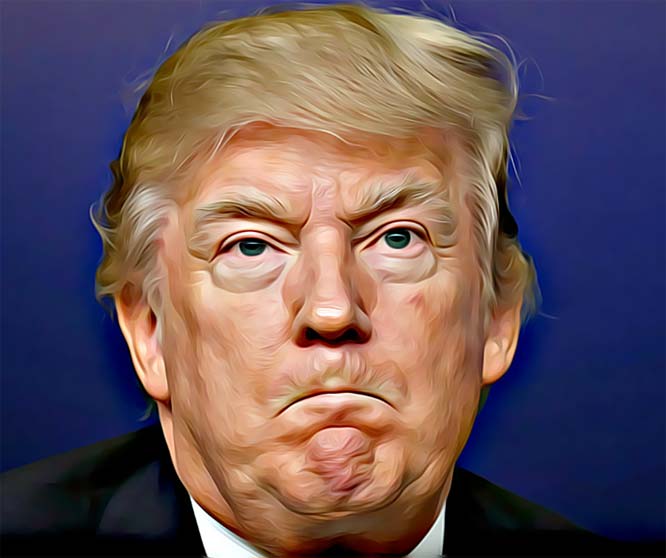 WASHINGTON - Senate Democrats have created a logjam for President Donald Trump's executive branch nominees. But now it's fellow Republicans who are causing headaches for some of his major Cabinet selections.
With the absence of Sen. John McCain, R-Ariz, as he battles brain cancer, Senate Majority Leader Mitch McConnell, R-Ky., begins each confirmation fight knowing that there are, at most, 50 Republican votes he can count on. And already his home-state colleague Sen. Rand Paul has jumped out quickly to announce his opposition to Mike Pompeo as secretary of state and Gina Haspel as CIA director, filling Pompeo's slot.
The other 49 Republican votes aren't guaranteed, either.
"I have a lot of questions, on both," Sen. Jeff Flake, R-Ariz., said Tuesday after his courtesy meeting with Pompeo. He declined to state what those were but added that he is not yet supportive of either nominee. "I raised a couple of issues that I want answers on first."
Haspel, in particular, has a bigger hurdle to clear because most senators know very little about her. "I know nothing about the CIA nominee, couldn't pick her out of a lineup, okay. Never met her. I have no input there," Sen. Bob Corker, R-Tenn., said Tuesday.
This is a potential new development in the Trump-Senate relationship. A few nominees were withdrawn because of scandal, but none have actually reached the full Senate for a vote and lost. Education Secretary Betsy DeVos came close, needing Vice President Pence to cast a tie-breaking vote after two Republicans defected and left the roll call at 50-50.
How Mike Pompeo went from one of Trump's biggest critics to one of his biggest fans
Recently Republicans and White House officials have focused their ire on Democrats and the delay tactics they used to stall the confirmation process, even on nominees who eventually received more than 80 votes. Democrats have often forced McConnell to burn up every hour allowed for debate, stretching debate on some sub-Cabinet posts across several days and leaving little time to do much else.
This has created essentially a two-tier system of nominees, according to a senior GOP senator familiar with the views of leadership and White House officials. Trump's advisers select those nominees who are deemed the most important and McConnell devotes the cumbersome time to get them confirmed - letting others languish in confirmation purgatory.
But on these next round of high-level confirmations, it's not just Democrats who are the problem. Wavering Republicans who might leave them short of a majority from within the GOP give Democrats the power to torpedo the nominee.
Take the Haspel nomination. Democrats have raised serious questions about her role in the CIA's interrogation techniques on suspected terrorists last decade. Paul, an ideological libertarian on national security, opposes her based on her interrogation background, which he likened to torture.
And if McCain were to return to the Senate by the time of her confirmation, he is not a sure yes vote. The former prisoner of war in Vietnam issued a statement expressing concern about her interrogation role.
If all 49 senators who caucus with the Democrats vote in a bloc against Haspel, she would be short of the 50 votes needed for confirmation because of Paul and McCain. Democrats have voted for plenty of Trump's Cabinet-level picks - but they have yet to provide the margin of victory if fewer than 50 Republicans backed the selection.
Some Republicans worry that the entire nomination process, beyond just these two Cabinet-level posts, would get even more partisan if Trump's continued public attack on special counsel Robert Mueller 's investigation into the 2016 presidential campaign leads him to try to force the Justice Department to fire Mueller.
Republicans sent veiled warnings to Trump to steer clear of meddling with the investigation and to allow Deputy Attorney General Rod Rosenstein to continue overseeing it.
"The deputy attorney general has already said, in response to a question from me at a public hearing, that he would not carry out what he viewed to be an unlawful order," said Sen. Susan Collins, R-Maine.
A possible cushion for Trump's Cabinet nominees: Democrats with elections in 2018
Even if there is no Mueller fallout, Haspel faces a narrow path to confirmation.
Democrats want to know precisely what her role was in the destruction of nearly 100 videotapes of the interrogations of a captured al-Qaeda leader in 2002, and if the answers are not to their liking, it could spell her doom.
"What role did the prospective CIA director play in the destruction of evidence and what role did she play in enhanced interrogation? That's a critical question," Sen. Richard Durbin, D-Ill., said.
Each Republican has a certain amount of leverage if they want to use it to extract some concession from the administration on other issues in exchange for supporting Haspel.
Pompeo probably has an easier road to confirmation, having spent six years as a member of the House, some with Flake and a few other senators who first served in the House. He received 66 votes, including 15 from members of the Democratic caucus, in his January 2017 CIA confirmation.
"My sense is there's Democratic support," said Corker, chairman of the Senate Foreign Relations Committee.
Of the 10 Democrats now on that committee, just two voted to confirm Pompeo as CIA director. There is a chance that the committee could give a negative recommendation to Pompeo, in an 11-10 vote, after the confirmation hearing later this spring, but it would still probably advance to the full Senate.
Corker remains optimistic. "My first meeting, I will say, could not have gone any better," he said of Pompeo.
Still, McConnell may need to do something he has yet to do on any confirmation fight in the Trump presidency: Plead for Democratic votes because of insufficient GOP support.
Durbin is not sure how his more moderate Democratic colleagues will react. They would have the power to put Pompeo over the top, possibly appealing for those Democrats running for reelection in states Trump won.
"I don't know what to expect," Durbin said.
Previously:

• 02/06/18: Paul Ryan's defense of FBI sets him apart from loudest voices within GOP
• 12/02/17: If Cotton moves to the CIA, it would say a lot about how the GOP star views his party's future
• 11/02/17: Senate Majority Leader Mitch McConnell finally has something to brag about: Conservative judicial appointments
• 08/29/17: In the Year of the Deciding Vote, one Dem's corruption trial could change the Senate --- or not
• 08/28/17: President is distancing himself from Hill GOPers to inoculate himself from blame for midterm losses. He may be helping Dems take the House
• 07/27/17: GOP senators warn Trump that getting rid of Sessions would be terrible move
• 05/30/17: Rahm Emanuel on Dem problems: 'You're not going to solve it in 2018'
• 05/29/17: Sen. Lindsey Graham: Comey needs to be 'held accountable' over Clinton investigation decisions
• 05/29/17: Montana election proves liberal outrage isn't enough
• 03/22/17: Gorsuch steals Dems' line of attack
• 02/27/17: 'All politics is local'? Not any more
• 02/01/17: Fight over Supreme Court nominee could forever change the nature of ... the Senate
• 01/23/17: A possible cushion for Trump's Cabinet nominees: Dems with elections in 2018
• 01/12/17: Trump outsmarts Dems and their media sycophants yet again
• 01/11/17: Rubio is the man to watch in Tillerson's confirmation hearing
• 11/08/16: Sometimes even the best Senate candidates can't win
• 07/14/16: The likely end of vice presidents as congressional emissaries
• 05/02/16: Is the 2016 election about to change again? Dem Schumer, a one-man super PAC?
• 03/31/16: And now for some good newsCan Trump become so unpopular that Dems take back the House?